Choosing DIY Home Security
Systems
Diy home security systems aren't the right choice for everyone. So, how do you know if you should install one?
I'll show you what skills and tools are required, and how much time you'll need to do the job. I'll guide you through the details related to cost, monitoring, and even your physical abilities. You'll then be able to decide if you should choose a DIY home alarm system, based on your own situation.

Find out if a DIY Home Alarm System is Right for You.
Find out what types of alarm installation tools you may need to do the job.


Getting free price quotes is a good step in deciding on going do-it-yourself or not. Knowing how much you can save by doing the work yourself can be a good motivator!

On the other hand, you may find that a professional alarm installation isn't as expensive as you thought. That may sway you toward buying a system through a local company.
Get Free Home Security Systems Quotes!


Click the link above, and answer a few simple questions about the alarm system you have in mind. You'll get free quotes for home security prices from alarm companies in your area. There's no obligation to buy, and no credit card info is asked for.

Want to keep tabs on your house, even while you're away?
Home monitoring companies like Link Interactive have DIY home security systems that combine security, home automation control, and video surveillance in one package. You can operate the Link Interactive system with a touch-screen keypad while at home, like any standard system. When you're away from the house, you can use your smartphone to arm and disarm the system, view cameras, receive alerts, and control thermostats, door locks, and more.

If you're interested in using cameras, more and more systems allow you to use your smartphone for home video monitoring. This lets you check on activity around your home even while you're on the go!


Another do-it-yourself option for video comes from Logitech, and uses your existing house wiring to transmit images. The system is expandable by adding more cameras, and video is stored on a standard flash drive.



DIY home security systems have been around for years, and maybe you've thought about giving one a try. They can be a great way to protect your home, while at the same time saving you money.

Right now there are two great reasons to consider getting a DIY alarm. I'll explain what they are and how they may affect your decision to buy a system of your own.

Click here to Find out why now may be the best time to install a DIY Alarm System.
DIY Home Alarm Monitoring
(Self-Monitoring)
There are more and more options for DIY home security systems that allow you to "self-monitor" than ever before. Self-monitoring isn't for everyone, but it can be a big moneysaver on alarm monitoring costs.

New Systems for Self-Monitoring
One option is to buy a new DIY home security system specifically designed with a self-monitoring option. Among the available choices are systems from SimpliSafe, Piper, Canary, and iSmartAlarm.

You typically order one of these systems online, and the company pre-configures it to fit your needs and desired options. When it is shipped to you, you self-install the system and begin using it.
None of these choices require a monthly monitoring fee, although monitoring options are available at additional cost.


Discount Monitoring for Existing Systems
Another option is to use one of the discount alarm monitoring ompanies, like AlarmGrid, GEOARM, or AlarmRelay to monitor your existing alarm system. These companies offer professional alarm monitoring at prices much lower than the larger national dealers.
For most popular systems, they will ship you an adapter module, which you install yourself. The module converts alarm signals from your existing panel into a format the new central station receiver can interpret. 


DSC Power & Ademco Vista Owners
If you happen to have a DSC Power-series or Honeywell/Ademco Vista-series system, you have an additional option. The EyezOn Envisalink 4EZR module can be installed by most homeowners fairly easily, and allows you to receive Push Notifications, SMS alerts, and Email alerts to your smartphone.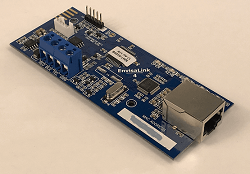 You can also view system status, arm and disarm the system, etc., right from your mobile device. For more info, see my pages here:
Envisalink 4 Installation & Account Setup
Most Older Alarm Systems can also be self-monitored!
Another product has recently come to market - The Nexx Alarm NXAL-100. Adding this module to almost any panel made by Ademco, ADT, DSC, among others, allows you to receive alerts and remotely control the system right from your smartphone!


This is a huge benefit for the many owners of systems that are older, but are still in good working order.
Learn more on these pages:

Nexx Alarm NXAL-100 Setup and Installation
For more information on self-moitoring, see my page here:
Should You Self-Monitor Your Own Alarm System?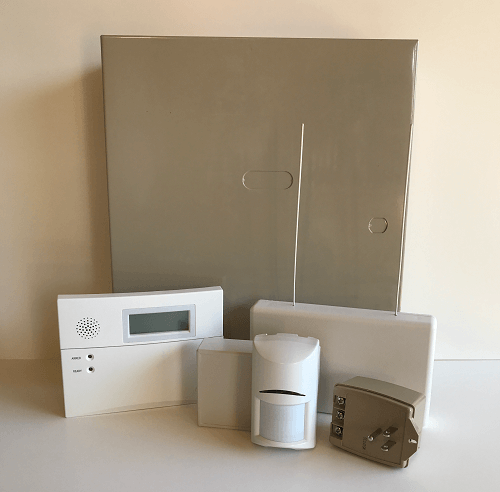 Are There DIY Home Security Systems I Can Install Fast and Cheap?


Pressed for time? Want to put in a DIY home security system, but you're also busy with other commitments? A basic wireless security alarm system may be your best solution.
Find out more about Wireless Home Alarm Systems.


The Ademco Lynx system shown here is one of the fastest ways to secure a small house or apartment. It combines the keypad and circuitry in a single unit, saving time and money. Learn more about this cool little system at Ademco Lynx System Code Programming.
You can install a basic wireless do it yourself alarm system quickly, yet still be able to expand it later into a complete system.
By starting out with a panel, keypad, a motion detector, and the door transmitters, you get the system up and running in the shortest possible time.
Later, you can add other alarm devices like window transmitters, more wireless motion detectors, smoke detectors, and more.

This is also a good way to build DIY home security systems on a tight budget. The initial cost is low, and you can add more protection as your finances allow.
Find out about the best wireless home alarm for apartments and rentals.

More information on Honeywell Security Systems.
---
Wireless versus Wired Alarm Systems


Diy home security systems can be hardwired or wireless, but how do you know which one you should get? Both types of systems are offered in many sizes and price ranges. Wireless and hardwired alarms each have their own advantages and disadvantages. For the do it yourselfer, some of these factors far outweigh others.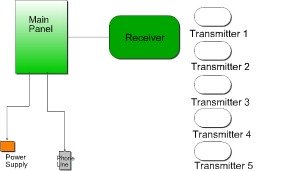 Hardwired alarm systems are normally preferable to wireless alarms. They are more reliable, tend to cost less, and there are no batteries to change.
One big exception to this rule is for do it yourself home alarm systems. Because of the increased difficulty of having to run wires, a wireless home system is probably your best choice.

Depending on the type of house you have, a hardwired alarm installation might require additional tools, like an electric or cordless drill, long bits, and a fish tape. If you're fairly handy with tools, a hardwired alarm may be right for you.
Want to see what's involved? Check out these pages:
Hardwired Home Security Systems
Hardwired Home Security System Advantages
Home Alarm Wiring for a New House
Alarm System Wiring for the Main Panel
Burglar Alarm Wiring for Securing Doors
Burglar Alarm Wire for Protecting Windows
How to Run Motion Detector Wiring
Alarm Wiring for Glassbreak Sensors
Fire Alarm Wiring for More Complete Home Security
How to Install Switches


For surface mount switches, see How to Install a Magnetic Door Switch - Surface Mount Type
For recessed door switches, see Installing Magnetic Door Switches - Recessed Type
To find out how to keep a window or door partially open, and still arm the alarm system, see this page on
Adding a Vent Zone to a Home Alarm System.

If you're planning to protect an overhead garage door, see these articles:
Garage Door Alarm Contacts - Tips & Techniques
Sentrol Garage Door Sensor - Track Mount Model 2315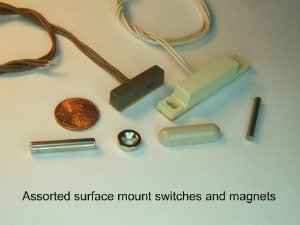 How to Drill Holes for Alarm Wiring
See how to drill doors for a hardwired home alarm system here: Using Long Drill Bits for Alarm Wiring in Doors.


For more tips on drilling with long drill bits, visit Using a Flexible Drill Bit the Right Way.


Drilling holes for DIY home security systems will eventually make your drill bits dull. Instead of buying new ones, check out these pages:


How to Sharpen Drill Bits Using a Bench Grinder
The Best Ways to Sharpen Drill Bits
How to Install Home Alarm System Wiring

After you've drilled holes, you'll need to run the wiring. See how to send a fish tape up through the drilled holes at Using a Fish Tape to Install Home Alarm Wiring.


To see how to pull alarm wiring through the attic, check out Fishing Wires for a Home Security System.


For detailed tips about fish tapes, check out Choosing Fish Tapes for Home Alarm Wiring.
---
DIY Home Security System Maintenance
Maybe you already have an alarm system, and you just want to save some money on upkeep. It's easier than you might think! Many routine maintenance chores are not difficult to do.

Battery changes can be done without any tools, saving the cost of a service call from your alarm company.
See details on DIY Alarm System Battery Replacement for the main panel.
See how to change other kinds of Alarm System Batteries.


For some ways to keep an existing alarm panel running, see this page on DSC 832 Tips and Advice for Older Systems.

For an easier way to reprogram an existing system, see this Alarm Programming Quick Keypad Connector.


Security systems of any brand can have problems. Click here for help if your alarm keeps beeping for no obvious reason.


Do you have a smoke detector that won't stop beeping? See How to Stop a Beeping Smoke Alarm.

Is your security system beeping out of control, and you can't shut it up? Learn how to turn off the system in an emergency here: How to Disable the Alarm System in Your Home.


Tips on maintaining older Brinks Home Security Systems.

Are you upgrading your windows to new energy-efficient units? If so, the magnetic reed switches and magnets will have to be removed, then re-installed once your new windows are in. This is an easy do-it-yourself alarm system project for a handy person. See all the details in these two articles:

Magnetic Reed Switches Removal DIY

Magnetic Reed Switch Re-Installation DIY
For additional protection for your valuables, see this page on "Small Wall Safe Installation".


Not sure you have the skills needed to install an alarm system yourself?

Or, do you have plenty of skills, but not enough time?
I understand completely. These are two of the reasons I've partnered with BuyerZone. Using their connections with alarm dealers across the country, you can quickly get free alarm quotes from companies in your area.


Just answer a few easy questions below, and you'll receive your free price quotes shortly.

Try it now!

Return to Home-Security-Systems-Answers from DIY Home Security Systems



Note: Feel free to print any of the articles on this site for personal, non-commercial use. Just look for this button:

If you found this website especially helpful, you might want to consider making a small donation. Since 2011, AzAlarmGuy has been providing free help and advice on home security systems to all of those in need.
Your gift, in any amount, will help me keep this website a free resource for anyone needing help with alarm system issues or questions.