The Best Wireless Home Alarm System
for Apartments and Rentals


If you're a renter, the best wireless home alarm for you will have to meet some special requirements.
 You need a wireless system, since running wires (and making holes in the walls) is likely out of the question.
 Your home only has a few openings, so you don't need to pay for a large system with many zones.

You probably have a tight budget, and don't want to waste money on fancy bells and whistles that won't give you any added protection.


Will you be buying a home soon? Check out the best wireless alarm systems for homeowners.
Looking for an alarm you can install almost instantly? Read about Apartment Security System Plug-n-Play Solutions.
Here is my list of the top considerations for renters like you, along with some details on how to best meet them. Later, I'll show you a few examples of security systems that would likely be good choices for your apartment, condo, or townhouse.
Best Wireless Home Alarm Features for Apartments and Rentals

No (or few) holes in the walls
Most rental agreements do not allow you to put holes in the walls to run wiring for an alarm system. "Wireless" alarm systems are hardly ever totally wireless, since most require power and telephone connections. Wirelessly monitored alarm systems that use cellular-based reporting don't need a phone line, but they must still be plugged into a power outlet to keep their backup battery charged.


Even so, the few wires needed to connect a wireless system can usually be installed with a few very small holes. Or, wires can be surface-mounted using staples or stick-on anchors and tie straps. Any potential drywall damage will be minimal, and can be easily repaired with patch from the local home center and some touch-up paint.
If you haven't done so already, get a few Free Home Security Systems Quotes from companies in your area.

This will give you a good idea of what it would cost to have a system installed, as well as how much you could save by doing it yourself.

All-in-One Design
In keeping with the requirement of little-to-no drywall damage, wireless all-in-one systems are probably the best wireless home alarm for renters. Panels like the Ademco Lynx system combine the main control board, keypad, digital communicator, and back-up battery in one compact unit. Wireless door and window transmitters make up the perimeter protection, while wireless motion detectors are used for interior coverage.


Wireless all-in-one alarms can sometimes have somewhat less zone capacity than full-size systems, though these days not by much. Since most apartment/condo layouts only have three doors or less, and maybe a handful of windows, lots of zones aren't really needed. Each of the wireless home security alarm systems shown below has at least 24 zones, which is enough for a basic system in a medium-sized 3-bedroom, 2-bath house.


Obviously, just because a wireless system has a capacity for lots of zones doesn't mean you have to use them all. You'll only need to buy enough wireless door and window transmitters to cover your particular floorplan, along with a motion detector or two.


The small size of apartments and condos also means that you only need one keypad location to arm and disarm the system. The one-piece control unit also makes this type of system very do-able DIY wireless alarm, so a handy person can install one themselves.
Portable, so you can take the system with you if you move
An all-in-one-type apartment security system and its associated wireless door and window transmitters are not only easy to install, but they can be easily removed. This allows you to take them with you when you move out of your apartment (This assumes, of course, that you own the equipment.)
Low System Cost
Almost everyone is on a tight budget these days, and those who rent are no exception. The best wireless home alarm systems are reasonably priced, and do not require monitoring.


Many of these systems are offered as a wireless home security alarm kit. They usually contain the all-in-one main control unit with plug-in transformer and backup battery, 2 or 3 wireless door/window transmitters, and a wireless motion detector. Many also include a wireless keyfob or two for remote arming and disarming of the system. If you have a larger condo or townhome, you may need to buy additional door or window transmitters, and possibly an extra motion detector to get good coverage.


Many wireless burglar alarm kits range in price from $200-400. If you don't plan on paying monthly for the alarm to be monitored, there won't be any further expense for the system.

Best Wireless Home Alarm Choices for Apartment Renters


Ademco Lynx Touch 5200 System


Type: Wireless All-in-one
Wireless Zones: 64, plus 16 dedicated to keyfobs
Hardwired Zones: 1
User codes: 32
Reporting Modes: Reports via telco; optional modules for GSM, IP
Reports to: to Central Station, pager, mobile phone
Additional Features: Family message center; Optional X-10 control devices



I have long considered the original Ademco Lynx system to be one of the best wireless home alarm systems available. They are quick to install, easy to program with built-in voice prompts, and very reliable.

Honeywell has now introduced an updated (and upgraded) version, the Lynx Touch 5200. It's an all-in-one system like the original Lynx, but with a 4.7" Full-color Touchscreen and many new capabilities.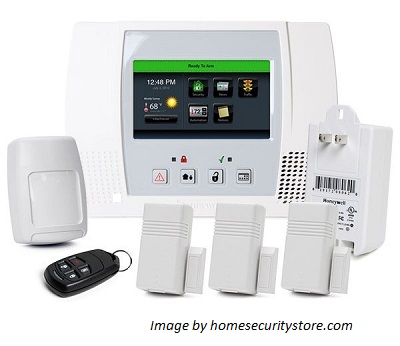 Like the older Ademco wireless alarm system, the newer version is a wireless alarm panel with 1 hardwired zone, voice prompts for status and programming annunciation, and full compatibility with 5800-series Honeywell/Ademco wireless transmitters.

For the average user, the obvious improvements are an increased zone capacity of 64 wireless zones (up from the original Lynx's 40) and 32 user codes (previously 8).

The Lynx Touch also has a long list of enhanced functions, many of which require additional equipment and/or service fees. These advanced features aren't needed to use the Lynx Touch as one of the best wireless alarm systems for your apartment or smaller rental home.
Update - December, 2016:
Honeywell has introduced a successor to the original 5200, the L5210 LYNX Touch 5200 All-In-One Home & Business Control System. This system offers enhanced features for video viewing, home automation and, and control through Wi-Fi enabled iOS or Android™ devices using the LINX Connect App.
Update - June, 2017:
Even though the Lynx 5200 was discontinued in early 2016, panels and kits are still available from several online sources. It is unknown how much longer these supplies will last.



Update - February, 2021:
Honeywell has introduced its latest wireless system: The Lynx Touch L7000. It features a 7" color touch screen display, 80 zone capability, and 48 user capacity. 
Learn about Ademco Lynx system code programming.
---


GE Interlogix Simon XT Wireless Security System

Type: Wireless All-in-one
Wireless Zones: 40 (Or 38 if 2 hardwired zones are used)
Hardwired Zones: 2
User codes: 9
Reporting Modes: phone line; Optional modules for GSM or IP reporting
Reports to: Central Station, mobile phone
Additional Features: Latchkey Mode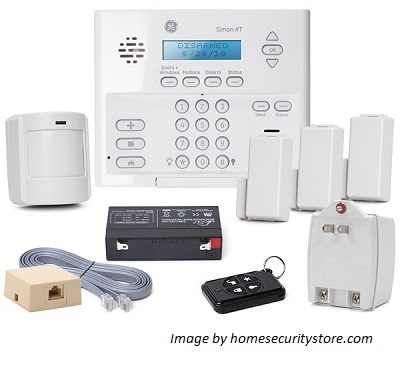 The GE Simon XT is very similar to the Lynx system above. An available upgrade to the basic GE wireless alarm system is a two-way Talking Touch Screen keypad. This keypad gives enhanced visual and voice feedback on system status, and can be used for home automation control.

Learn more about the GE Security Simon XT system.
---


Visonic Powermax Plus


Type: Wireless All-in-one
Wireless Zones: 28
Hardwired Zones: 2
User codes: 8
Reporting Modes: Telco; Optional modules for GSM, GPRS, and IP
Reports to: Central Station, mobile & regular phones, pager, SMS text messages
Additional Features: Latchkey function; Family message center; many wireless accessories available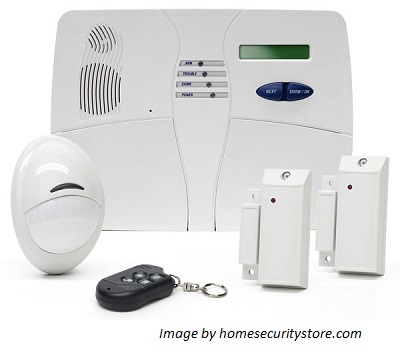 The Visonic Powermax Plus is another feature-packed all-in-one system. Besides standard alarm functions, it can report to many different devices via several connection method. It supports two-way voice communication between you and an alarm monitoring station.

The Visonic Powermax also has options for remote home management, allowing control of lights, appliances, A/C, and other functions. It even supports connecting up to 4 cameras, with additional equipment.
---
Any of the systems above would be a good choice for the best wireless home alarm for apartment renters.

Each one meets the key factors I listed earlier:
Minimal holes in walls
All-in-one design
Portability
Low cost
The "best wireless home alarm" for you may include other requirements that I haven't considered here. Always check with your alarm dealer/supplier for the specific features of any system before you buy.
To learn more about what goes into the cost of an alarm system, see this page on home security prices.


Related Articles:
Best Wireless Alarm System for Homeowners

Ademco Lynx System Code Programming

GE Security Simon XT

Home Wireless Security Systems Layout

Wireless Burglar Alarm Systems with Wireless Remote Controls

Wireless Driveway Alert System


Product Links:

LYNX Touch Wireless Security Alarm
at AlarmSuperStore.com



Return to Home Security Systems Answers from Best Wireless Home Alarm

Return to Wireless Home Alarm Systems from Best Wireless Home Alarm
Note: Feel free to print any of the articles on this site for personal, non-commercial use. Just look for this button:

If you found this website especially helpful, you might want to consider making a small donation. Since 2011, AzAlarmGuy has been providing free help and advice on home security systems to all of those in need.
Your gift, in any amount, will help me keep this website a free resource for anyone needing help with alarm system issues or questions.