Your Guide to Hardwired Home Security Systems
Hardwired home security systems have all components connected to the alarm panel with low-voltage wiring. Every opening in the home is wired back to the main control panel, along with the keypads, motion detectors, and other home security devices.


Hard wired alarm systems are preferable to the wireless type, provided there is access to run wiring. Wiring provides a more reliable connection than wireless radio waves, so the main panel always "knows" the status of each device in the system. Also, hardwiring eliminates the need for wireless transmitters and their required battery changes.


For more details, check out Hardwired Home Security System Advantages.
Common Parts of a Hardwired Home Security System:
Main Control Panel
Keypads
Door & Window Contacts
Motion Detectors
Glassbreak Detectors
Smoke Detectors
Siren
Transformer
Battery
A hardwired Main Control Panel has a circuit board that connects to the alarm wiring from the sensors. This is the "brain" that monitors all the devices. It arms, disarms, and generates alarm signals based on input from keypads and sensors.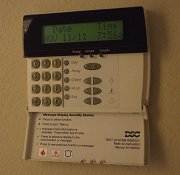 Security System Keypads display system status and allow you to arm and disarm. Most manufacturers offer "basic" and "deluxe" versions of keypads for each control panel they make. This allows the same control panel to be marketed in different price ranges.
                                           More about Alarm System Keypads

Each Door and Window Contact consists of a switch operated by a magnet. The magnet mounts on the door or window, and the switch is positioned on the frame. Opening the door or window separates the switch and magnet, breaking the circuit. This is detected at the panel, causing the alarm to sound.


Find more info, check out this page on Hardwire Contacts.
For some examples of available window and door sensors from just one manufacturer, see this page on Honeywell Switches.

For garage protection, see these articles:
Connecting a Garage Door Contact to a Home Security System.
The Best Overhead Door Contact Mounting Locations
Garage Door Alarm Contacts - Tips & Techniques
Sentrol Garage Door Sensor - Track Mount Model 2315

Motion Detectors, (also known as "passive infrared" sensors or PIR's) sense infrared (heat) energy to "see" a pattern of warmer and cooler areas in their field of view. Movement disrupts the pattern and triggers the detector.
Glassbreak Detectors listen for sounds with the distinctive frequencies generated by breaking glass. They are usually located in areas of the home with large fixed windows like master bathtubs or living room picture windows.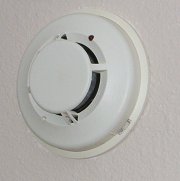 Hardwired Smoke Detectors are active 24 hours a day, even when your alarm isn't actually armed. Smoke alarms tied to a monitored alarm system can alert the fire department even when you're away. They may also earn you a 10-15 percent discount on your homeowner's insurance premiums.


Learn more about Hardwired Smoke Detectors.


Where should you install smoke detectors? Find out about Smoke Alarm Placement for Home Security Systems.


If you're installing your own system, see how to make wiring connections in Smoke Detector Circuit Basics.

If you're having a problem with a fire zone, see how to find it in these 2 pages:
Smoke Alarm Circuit Troubleshooting at the main panel.
Troubleshooting Smoke Alarm Wiring at the detectors.
Many hardwired home security systems only provide one set of terminals for adding smoke detectors. If you need to connect multiple smoke alarms to a single fire alarm zone, see how to do it at Smoke Detector Wiring - Connecting Multiple Runs.


2-wire smoke alarms are the simplest type of fire detectors to hook up. See details on how to do this at Connecting 2 Wire Smoke Detectors.


4-wire smoke detectors are the only kind supported by some alarm panels. For details on how to wire them, see Connecting 4 Wire Smoke Detectors.
Sirens can be installed inside or outside the home, or both. Interior sirens are highly recommended, since they will cause most intruders to leave quickly, saving you from possibly walking in on them. Exterior sirens are not so popular these days; many HOA's don't allow them, and neighbors of today aren't always very, uh, well, neighborly.


Your better choice is to install an interior siren, skip the exterior siren, and use that money elsewhere. For about the same price, you could add another motion detector, upgrade a keypad, or install an outdoor motion light.



Plug-in Transformer supplies power under normal conditions, and recharges the backup battery.


Sealed Lead-Acid Battery runs the system in case of a power failure. This backup battery is continuously charged by the low voltage transformer.
---
Include a Wired Home Security System in New Construction
Alarm wiring is easiest to install during construction, before drywall covers walls and ceilings. The cost of pre-wiring a house is relatively cheap, and structured wiring has become standard practice in many areas. Residential alarm systems are growing in popularity, and pre-wiring for them is a good selling point.
Hardwired home security systems are in such demand that they are not considered "optional" for many home buyers. Homebuilders commonly offer the option to pre-wire for security, and some even include a basic alarm system in every house sold.
For an overview on what to wire during construction, see Home Alarm Wiring for a New House.
See what kinds of Alarm Installation Tools you might need to install a system yourself.

For details on basic wire requirements, see Alarm System Wiring for the Main Panel
Hardwired security systems typically use magnetic contacts to protect doors and windows. For the best ways to run wiring, see these pages:
Burglar Alarm Wiring for Securing Doors
Burglar Alarm Wire for Protecting Windows
For interior protection, see:
How to Run Motion Detector Wiring
Alarm Wiring for Glassbreak Sensors
It's a good idea to include fire protection in your home security plans. Learn how to do it at Fire Alarm Wiring for More Complete Home Security.
---
Hardwired Home Security Systems in Existing Houses
You can add a hardwired home security system to your existing home, provided there is attic or basement access to run the wires. This will give you the benefits of a hardwired system, although at a higher cost than if your home was pre-wired.
Do you own an older home? Thinking about a major remodel? It's the perfect time to add alarm wiring, while the walls and ceilings are opened up. You'll probably need phone, data, and television cabling done anyway. Check with home alarm companies in your area, and you may find one that will handle all your low-voltage wiring.
Getting estimates is the easiest way to see what your options are and what they will cost.
Most companies are happy to talk with you on the phone or in person, and can help you decide on the best alarm system for you. They may want to know the approximate square footage of your home, the number of doors and movable windows (opening versus fixed), and other basic information.
You can save time by doing the same thing right now, while you're online. Just answer a few questions in the form below, and you'll receive free quotes via email from companies in your area.
Return to Home-Security-Systems-Answers from Hardwired Home Security Systems
Note: Feel free to print any of the articles on this site for personal, non-commercial use. Just look for this button:

If you found this website especially helpful, you might want to consider making a small donation. Since 2011, AzAlarmGuy has been providing free help and advice on home security systems to all of those in need.
Your gift, in any amount, will help me keep this website a free resource for anyone needing help with alarm system issues or questions.