Sentrol Garage Door Sensor

The Track Mount Model 2315
The 2315 series Sentrol garage door sensor is one of the best products ever made for protecting panel or sectional style overhead garage doors. It saves time and money during initial installation, and reduces the chance of future service calls to replace a damaged switch.


A garage door sensor is a magnetic contact used to connect a garage overhead door to a home alarm system. Note that this is an alarm device, and has nothing to do with the photocells used to stop a garage door when an object is in its path.


Not everyone wants or needs the garage roll-up door to be part of the main house alarm system, but those that do need a sensor that is dependable and trouble-free. The Sentrol 2315 garage door sensor is very reliable when properly installed for either professional or DIY security alarms.


Not sure if you want a garage security system? This page on connecting a garage door contact to a home alarm system can help you decide.
Sentrol designed the 2315 sensor to fit the track or rail of a standard sectional garage door. It can be installed much faster than the older floor-mounted garage door sensors, mainly by avoiding the need to drill into the concrete garage floor.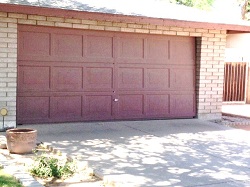 Note that the 2315 Sentrol magnetic contacts will not fit a one-piece garage door. If you have a single-panel, swing-up-type garage door, use a standard garage door sensor and magnet like the Honeywell 958.

The Model 2315 Sentrol sensor is a 2-wire device designed for standard N/C (normally closed) alarm panel zones. If you need N/O (normally open) switches, use Sentrol 2317 rail contacts. These 3-wire devices provide both N/C and N/O connections.

Sentrol Garage Door Sensor Advantages
So, what makes 2315 Sentrol contacts so much better? Let's take a look!

First, the 2315 Sentrol sensor mounts to the track or channel of a sectional panel garage door, rather than on the floor like older models. This automatically avoids some of the most common types of garage door sensor damage. These include:

Crushing of the sensor and/or wiring cable by vehicles (car or otherwise)
Snagging of the cable on passing objects
Corrosion caused by standing water pooled around the floor-mounted sensor

Second, the Sentrol garage door sensor is specially shaped to easily grab on to the roll-up door track. Simply fit the sensor and L-bracket onto the track, and tighten the setscrew with a nut driver, socket wrench, or even pliers. There's no need to over tighten the sensor set screw, it just needs to be tight enough to keep the switch from sliding up or down.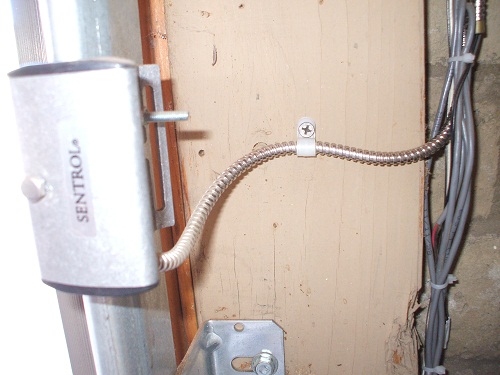 And third, the Sentrol garage door sensor can be had with factory installed rugged armored cable. Many other garage door sensors on the market don't come with armored cabling. This can allow the wiring to be easily damaged, even by objects stacked against the garage wall near the door opening.
Sentrol Garage Door Sensor Installation Tips
As with any magnetic contact, align the Sentrol garage door sensor carefully with the magnet. Do this alignment after closing the door using the garage door opener, not by hand. This will be the most "natural" and repeatable closed position.

Check to see if the Sentrol door sensor can be positioned at one of the track mounting brackets and still allow the magnet to line up. If so, you can snap off the flange of the sensor, and clamp it between the bracket and the track. This adds even more strength than using the sensors set screw alone.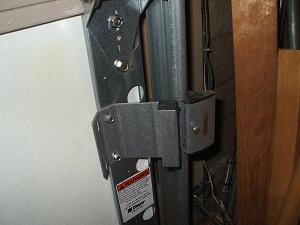 Always use cable clamps or clips to secure the armored cable of the Sentrol sensor to the wall or other surface. Loops of cable are very likely to get snagged on objects, and can easily be damaged. Place clamps every 1-3 inches or as needed to keep the cabling against the wall.

Connect the Sentrol garage door contact wiring to its own zone on the alarm panel. I actually recommend doing this for any "one-of-a-kind" device in a system, since you'll very likely program the zone to behave in a different manner than the other areas of the house.

To use the Sentrol garage door sensor as a perimeter burglary zone, be sure to program extra long entry and exit delays. This will give you enough time to disarm the system on arriving home, and time to close the overhead garage door when leaving.
Some alarm panels have an "auto-bypass/auto-restore" feature. This allows you to arm the system with the overhead door open, since the system automatically bypasses it. When the door closes after you leave, the system automatically adds the door back into the system. If your panel supports this feature, you won't need a long exit delay.
To use the Sentrol garage door sensor as a "garage door open" sensor, you'll need to program the alarm panel zone accordingly. Most modern panels have some way to display the status of a zone visually and/or audibly without having it cause an actual alarm.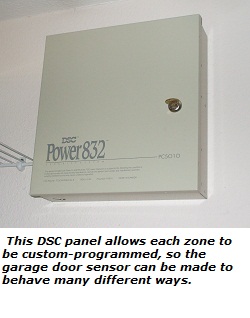 Security panel manufacturers use various terms for these "non-alarm" zones, such as "environmental", "day monitor", or "supervisory". After programming the zone, be sure to test it to be sure it behaves the way you want it to.

For more details on mounting Sentrol and other styles of switch, see this page on garage door alarm contact installation tips and techniques.

Related Articles:
The Best Locations for Overhead Door Contact Placement

Connecting a Garage Door Contact to a Home Security System

Garage Door Alarm Contact Tips and Techniques

If you haven't done so already, get a few Free Home Security Systems Quotes from companies in your area.

This will give you a good idea of what it would cost to have a system installed, as well as how much you could save by doing it yourself.

Return to Home-Security-Systems-Answers from Sentrol Garage Door Sensor


Return to Hardwired Home Security Systems from Sentrol Garage Door Sensor
Note: Feel free to print any of the articles on this site for personal, non-commercial use. Just look for this button:

If you found this website especially helpful, you might want to consider making a small donation. Since 2011, AzAlarmGuy has been providing free help and advice on home security systems to all of those in need.
Your gift, in any amount, will help me keep this website a free resource for anyone needing help with alarm system issues or questions.