Compare Home Security Systems the Smart Way
There are several ways to compare home security systems, and with so many choices it can get confusing. Systems can be wireless or hardwired, do-it-yourself or professionally installed. Installation can be done by a local security company, or by one of the national companies like ADT or Protection One. Your alarm system can also be monitored by a central station, or simply use sirens to deter an intruder.

If you're looking for alarm system prices, you can get fast, free quotes by answering a few questions below.
You'll need to compare home security systems based on your needs, situation, and type of home you live in.
If you rent, for instance, you probably won't have the option of running wires for a hardwired system.
A wireless alarm system can be installed with little or no drywall damage, and you can take it with you when you move out.
---
Compare Home Security Systems According To:


Home Security Prices

These days, cost is one of the biggest factors in any home purchase, and your alarm system is no different. To make sure you get the best value, it helps to understand exactly what you're paying for.
Is the equipment the major expense?

Or, is the equipment cost simply "rolled into" a monthly charge, along with the monitoring service?
When the contract is up, who owns the equipment?


Find out the details on what's available, and what the best choice is for your situation.
Learn more about Home Security Prices.


Home Alarm System Layout
Regardless of who installs your system, it needs to be well planned. The best alarm equipment in the world won't do much good if the devices are located incorrectly.
Learn more about the Best Home Alarm System Layout
---
Compare Home Security Systems: Wireless or Hardwired?
A hardwired alarm system should always be your first choice, if you own your home and wiring can be installed.

Wireless security systems
require transmitters at every point of protection(doors, windows, motion detectors, etc.). These transmitters use batteries which must be changed every few years. Wireless systems can also have problems with range and false alarms due to loose covers and tamper switches.


If you can't install a hardwired system, choose a wireless system from a company that installs them regularly. They'll be familiar with the problems associated with the equipment they carry, and you'll be more likely to have a trouble-free system for years to come.

Prices
between the two types are something to consider when you compare home security systems. Alarm systems using wireless equipment tend to be more expensive, but they take less time and labor to install. Although you'll be replacing batteries forever with a wireless system, battery life is typically measured in years. You can also save money by changing the batteries yourself, rather than paying for a service call.

Want to know more? Check out:
How to Compare Home Alarm Systems, Hardwired or Wireless?
The Best Home Alarm Systems for Homeowners and Renters
If you rent an apartment or house, you probably won't have many options for adding a security system. See how you may be able to install a system, and then take it with you when you move.

As a homeowner, you can install any kind of home alarm system, right? Well, yes and no. See how your home's construction may dictate what type if security system you choose.


Get more details on Finding the Best Home Alarm Systems for Homeowners and Renters.
---
Home Security Comparison:
DIY or Professional Installation?
Another way to compare home security systems is based on how they are installed. Are you a hands-on type of person? Or, would you rather get the alarm installed and move on to more glamorous pursuits?

If you want a Custom Security System, you might want to have professionals do the installation. Their experience will make the job go quickly, and they can show you ways to improve your basic alarm plan. They can also give you specialized features like adding a vent zone to your system.


On the other hand, do-it-yourself systems are widely available, and are a great option for a handy homeowner or renter. Much of the expense of installing any alarm system, especially the hardwired type, is in labor. DIY'ers save that cost right off the top, and equipment sold in kit-form is widely available and reasonably priced.
Going the DIY route isn't for everybody. Most people choose to have an alarm company install and program their system for them, as well as maintain it. You'll spend a more money this way, but it's hassle-free, and usually worth the added peace of mind.

Learn more about DIY Home Security Systems

See a
home security systems comparison
between DIY and professional installation based on cost, type of system, monitoring, and more.


---

Comparisons of Home Security Systems:
Local Dealer or National Company?
There are two basic types of alarm companies, and each has its advantages:


National Alarm Companies




These include all the names you recognize, like Protection One, ADT, and Monitronics. They often advertise a "free" or "$99" basic installation package. This commonly includes a panel, one keypad, a motion detector, and protection on a few doors. Anything above what's in the package will be an additional charge.


These companies always require a monitoring contract, usually lasting three to five years. This monitoring fee is how they make their money, and is why they are able to offer the lower initial installation cost.


Local Alarm Dealers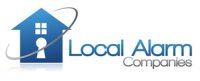 These are companies you may only know from seeing a yard sign or service truck in your neighborhood. Small, locally-owned companies typically install the same or similar equipment as the national brands. They tend to be more flexible, and are generally happy to customize a system around your wishes.

Many smaller alarm companies don't require a monitoring contract to install your system. They charge you up-front for the equipment and labor, which will probably be a few to several hundred dollars depending on the extent of the system. The trade-off is a higher initial cost, but no long-term contract to commit to.


When you compare home security systems from both types of company, the alarm equipment itself is very similar. How it's installed and serviced becomes the main issue.

Local alarm companies tend to respond more quickly to service requests. Since they don't do the volume of installations the national guys do, they want to keep the customers they do get.


Large national security companies can be slow to service existing customers; their focus is on getting new accounts and the recurring revenue they bring.
Your Best Bet?
Get several free quotes on home security prices as you compare home security systems. Price is important, but you also need a system that works for you. Look for a local alarm dealer that offers the level of system you want at a competitive price.

Most alarm companies can give you a ballpark estimate over the phone, if you tell them the size of your home, the type of construction, and what kind of system you're thinking of.


Narrow your choices down to the top two or three likely candidates. Then, set appointments to meet with each of them at your home. This will give you a very good idea which company and system are the best fit for you.
Learn more about finding a cheap home security system.

---
Comparing Home Security Systems: Monitored or Not?
Another way to compare home security systems is by their response to an alarm. All alarm systems will include some kind of audible sounder, like sirens, piezo alarms, or speakers. These are intended to scare off intruders, so you don't walk in and surprise them.

If you want the police and/or fire department to respond to your alarm, you'll need some kind of home alarm monitoring. Home security system companies use a central station, which receives signals from your alarm panel 24/7. These signals will cause police or fire department dispatch, notify you of a low battery, and many other conditions. Monitoring insures your home will be protected even while you're away.


Along with this extra protection comes the added cost of a monitoring fee, somewhere around $15 to $45 per month. This comes in the form of an alarm agreement or contract. These can range from as short as 6 months, to as long as several years in length. Generally, longer contracts equal lower cost per month.

Check with your insurance company.
Many carriers offer discounts of 10-20% if you install a monitored burglary and/or fire system in your home. This will offset some of the expense of having it monitored.
---
Looking for Free Home Alarm System Price Quotes?
You don't have to pick up the phone, or even get out of your seat!

Just click on the orange banner below, answer a few questions about what you're looking for, and get free price quotes via email.
These quotes are absolutely free, and there is no obligation to buy anything.



Back to Home-Security-Systems-Answers from Compare Home Security Systems
Note: Feel free to print any of the articles on this site for personal, non-commercial use. Just look for this button:

If you found this website especially helpful, you might want to consider making a small donation. Since 2011, AzAlarmGuy has been providing free help and advice on home security systems to all of those in need.
Your gift, in any amount, will help me keep this website a free resource for anyone needing help with alarm system issues or questions.