How Do You Find the Best Home Alarm Systems?
The best home alarm systems for you to choose from may be different if you own or rent. Wireless alarm systems can be installed almost anywhere, but hardwired security systems are preferable. To find out what your options are, here are some things to consider:
Do You Rent Your Home?
Most landlords don't allow their tenants to do additions to their properties. They frown on things like holes in walls and exposed wiring. This is all damage for them to fix when the tenant moves out, even if a security deposit covers the costs.
I've seen a few cases where a tenant and landlord agreed to split the cost of an alarm system to help each other out. The renter gets the benefit of security, and the owner gets added value to his or her property.


Unless you're in that rare situation, you probably won't be able to install a hardwired system in a rental property.
This means the best alarm systems for renters will be wireless. There will only be a wire or two to run: power, and a phone line, if you want the system monitored. These wires can usually be kept short by locating the main panel near an electrical outlet and a phone jack.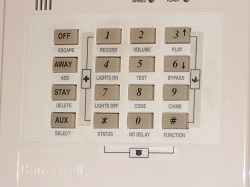 Of course, this still must be cleared with the landlord. But many won't have a problem with the few small holes left by a couple of wires. When it comes time to move out, you simply remove the system and take it with you. If you're a handy sort of person, you can probably do this yourself and save money. Small holes can easily be patched with spackle from your local home improvement center.

One of the best and most popular choices for renters is the Ademco Lynx system. Learn more about it on this page:
Ademco Alarm Systems for Apartments, Townhomes, and Rentals.

If you haven't done so already, get a few Free Home Security Systems Quotes from companies in your area.

This will give you a good idea of what it would cost to have a system installed, as well as how much you could save by doing it yourself.
The Best Home Alarm Systems for Homeowners
If you own your home, you can choose to use either hardwired or wireless, depending on construction. How your home is built may cause you to choose a wireless alarm system.

Flat-roof and multi-story homes generally have no place to run wiring. While technically there is space between floors and ceilings, you can only access it with lots of drywall damage. The best home alarm systems for these homes are wireless.

Ranch-style homes with a pitched roof and attic space usually allow for the running of wires. All doors, windows, and other alarm components can connect back to the main panel location. Hardwired types are often the best alarm systems for these houses.

Some ranch-style homes have a central vaulted ceiling, which may cut off attic access across the house. In this case, the only way to be sure is to hop up in the attic and take a look. If you have a house like this, you may want to have a professional alarm company check it out. They can help you decide which are the best home alarm systems for you to choose from.

A good choice for a hardwired system is from Ademco. Learn more about it here:
An Ademco Alarm System for a Single-Family Home - The Ademco Vista 20P.



I Can Do Either One - Which is Better?

In general, the best home security systems are hardwired, provided you have are able to run wires. Hardwired security systems are generally more reliable and need less maintenance than wireless systems.

Wireless burglar alarm systems cost a little more and need some upkeep (mainly battery changes), but are the best choice for many. If you rent or and own a flat-roof or multi-level home, a wireless alarm system can give you security and peace of mind.

To learn more about what goes into the cost of an alarm system, see this page on home security prices.



Return to Home-Security-Systems-Answers.com from Best Home Alarms

Return to Compare Home Security Systems from Best Home Alarm Systems

Return to Compare Home Alarm Systems from Best Home Alarm Systems
Note: Feel free to print any of the articles on this site for personal, non-commercial use. Just look for this button:

If you found this website especially helpful, you might want to consider making a small donation. Since 2011, AzAlarmGuy has been providing free help and advice on home security systems to all of those in need.
Your gift, in any amount, will help me keep this website a free resource for anyone needing help with alarm system issues or questions.