Honeywell Security Systems

Alarm Panels, Video Cameras,
and More


Honeywell security systems can be found in countless homes and businesses in the U.S. Honeywell acquired the Pittway Company in 1999, along with its subsidiary, Ademco home security systems. The Ademco security brand has continued to grow, and is now one of the best-known in the security industry.


Honeywell has roots dating back to the late 1800's, and has grown and branched out into many residential, commercial and industrial areas. Besides security equipment, it provides many diverse products and services including thermostats, air cleaners and filters, humidifiers, and aerospace parts.


For residential use, Honeywell security products include alarm and video surveillance equipment.


Honeywell alarm systems are available with hardwired and wireless options to meet almost any home security need.


Honeywell video systems include cameras and digital video recorders (DVR's) as well as mounts and housings.


Looking for Ademco/Honeywell manuals? Check out the Ademco Manuals page for tips and links to download free manuals.

Honeywell Wireless Security System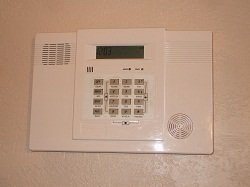 The Honeywell/Ademco Lynx system is a good wireless option for a small-to-medium sized house or apartment. The latest version of the Honeywell Ademco Lynx can use a combination of up to 40 wireless door/window transmitters, motion sensors, smoke detectors, and other devices.


This version, and many earlier ones, also has a single on-board hardwired zone. This can be used to connect a door or window located near the main panel, saving the cost of a transmitter and its future battery changes.


Hybrid and Hardwired Honeywell Security Systems
For hardwired or partial hardwired systems, the Honeywell/Ademco Vista 20P is one of the most popular alarm panels made by any manufacturer. This hybrid Honeywell system handles a combination of hardwired and wireless sensors and devices, up to a maximum of 48 zones.


This flexibility makes it popular with alarm professionals, since it fits the majority of home applications. It also makes the Vista 20P a good choice for DIY home security systems.
Honeywell Switches

Many alarm companies use Honeywell switches, even those who don't install or service Honeywell security systems at all. Hardwire contacts are fairly generic, and any major brand name of switches and magnets can be used in most hardwired alarm systems.

Honeywell/Ademco Video

Honeywell/Ademco Video cameras are available in many configurations:

Box Cameras with separate lenses
Mini-Dome Cameras
Bullet Cameras
PTZ (Pan/Tilt/Zoom) Domes
IP Cameras

Many of these Honeywell CCTV cameras feature day/night vision operation. This allows them to give full-color video images during daylight hours, when scenes are well lit. In darkness, producing color video isn't possible. During these times, the cameras switch to black-and-white mode.


The day/night feature gives you the best of both worlds. Color images during the day provide more information than black and white alone. At night, falling back to black and white allows the best quality video in low-light conditions. All this in a single camera!


Many Honeywell cameras also have built-in infrared (IR) illuminators. These provide additional light in low-light conditions, and even allow viewing in complete darkness.


For more information on camera systems, see these articles:
Honeywell CCTV Systems - For the home.

Home Security Camera Systems – Affordable choices can be used with or without a standard alarm panel.

Wireless Security Camera Kit – Wireless makes it easy to do-it-yourself.

Choosing DVR Camera Systems – What to look for in a digital video recorder.

DVR Security Camera System with 8 Channels

Video Security Camera System with 4 Channels

Choosing a Smoke Detector Spy Camera
---
If you're a security professional, you're probably already familiar with Honeywell security systems and their reputation for high quality.

If you're just starting out in the security business, or if you're a do-it-yourselfer, you can't go wrong choosing Honeywell alarm and security equipment. You can find Honeywell security systems including alarm panels, cameras, and digital video recorders at Amazon.com.

Visit Honeywell.com camera pages.
Find Honeywell alarm manuals.


---

Related Articles:
Ademco Vista 20P Wiring Diagram

Ademco Alarm Systems for Apartments, Townhomes, and Rentals

Ademco Alarm System for a Single-Family Home

Ademco Home Alarm Systems for Large Houses

Ademco Home Alarm System Code Programming

Ademco Lynx System Code Programming

If you haven't done so already, get a few Free Home Security Systems Quotes from companies in your area.

This will give you a good idea of what it would cost to have a system installed, as well as how much you could save by doing it yourself.

Return to Home-Security-Systems-Answers from Honeywell Security Systems


Note: Feel free to print any of the articles on this site for personal, non-commercial use. Just look for this button:

If you found this website especially helpful, you might want to consider making a small donation. Since 2011, AzAlarmGuy has been providing free help and advice on home security systems to all of those in need.
Your gift, in any amount, will help me keep this website a free resource for anyone needing help with alarm system issues or questions.