Choosing a Smoke Detector Spy Camera



A smoke detector spy camera is a popular version of hidden home security camera. Standard dome security cameras are usually easy to spot, but many smoke detector cameras can look so real that they go unnoticed.
When using a spy security camera as part of a hidden surveillance system, keep in mind that some things never change.
Hidden cameras have all of the same concerns as regular cameras: light levels, wireless or hardwired connections, image quality, etc.



The biggest difference? The covert spy cam must also blend in with its surroundings to remain unnoticed.


---
Things to Consider for All Home Security Camera Setups:

Color or Black & White?
Look for this to be listed prominently in the "Features" section, if not in the basic product description itself. This isn't much of an issue these days, since color cameras are virtually the standard from most manufacturers.

Unless you're recording video in extreme low-light conditions, always choose color cameras for home security whenever possible. Color equipment has become more prevalent and more affordable in the CCTV world, and is practically required if you need to use the video as evidence of a crime.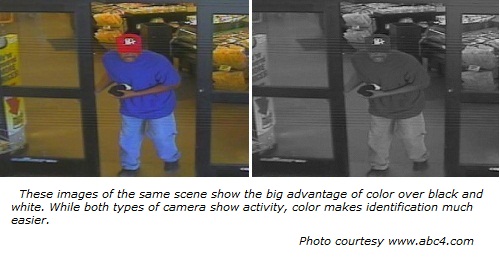 ---
Be aware that just as the human eye can't see colors in low light conditions, color cameras can't either.

A color camera image will be full of color in bright lighting conditions, and then turn grainy and almost unwatchable as light levels drop.


To counter this problem, many manufacturers use a feature that allows a color camera to switch to black and white imaging when the ambient light level falls too low for good color viewing. These cameras are often referred to as "day/night cameras", and is a good feature to look for if you need to view/record color pictures outdoors, or in poorly lighted areas.


With or without day/night cameras, always use additional lighting whenever possible. Even adding a night light or small table lamp will help improve the quality of your images.

If extra lighting isn't available, the normal solution is to use a low light security camera. These "night vision" cameras have on-board infrared LED's, allowing the camera to "see in the dark". Unfortunately, this feature isn't usually found on smoke detector spy cameras, for one obvious reason: The built-in illuminators give off some visible light, which sort of ruins the "spy" part of the spy camera…



Wireless or Hardwired?


When choosing any camera, those that use hardwired power connections are always the first choice.


In general, cameras are very power-hungry devices. Wireless home security camera systems make sense for temporary setups, but aren't a good long-term solution. A battery-operated smoke detector spy camera can be good choice if you are fairly sure where and when an event of interest will happen.


For permanent installations, try to use a wired smoke detector spy camera. Choose camera locations that make running wires as easy as possible, or locate the DVR or PC recorder nearer to the camera position.


If you just can't get a wire to the desired camera location, consider getting a wireless security camera kit with a plug-in transformer to power the unit. It will then transmit video back to the DVR location, but the power supply can plug into any wall outlet close to the camera. If you go this route, be sure to look for cameras that list a power supply as one of the available accessories.
---
Are you wondering how much a video surveillance system would cost?
A quick way to find out is by requesting a few Free Video Surveillance Systems Quotes from BuyerZone.com. Just answer a few easy questions below, and you'll receive quotes from video security companies in your area.

There is no cost or obligation on your part. Just choose the options you would like in a potential system (number of cameras, indoor and/or outdoor, etc.) and your quotes will be sent to you via email.
To get started, here's the first question:
---
"Self-Recording" Cameras Versus a DVR Security Camera System?
Cameras are now commonly available with built-in recording capabilities. They can store varying amounts of video, often saving it on a removable flash drive or memory card.



If you only need one or two cameras, this might be the perfect way to go. You would probably want to use at least two memory cards per camera, swapping a fresh card in when you remove a "full" one for viewing. This would save time, and allow continuous recording.


If you plan on a more complete system with several cameras, standard cameras would be a better option. Connecting all cameras to a central DVR (digital video recorder) would make watching recorded video much more convenient.

A DVR security camera system will typically have fast-forward, rewind, and search features that make it easy to find activity from multiple cameras.
Learn more about choosing DVR camera systems.


---

Specific Issues for Smoke Detector Spy Cameras:

Do You Need a Functional Smoke Detector?


Some smoke detector spy cameras contain an actual working smoke alarm, while many others are simply a camera disguised to look like a smoke detector. So, which kind should you look for?


I don't recommend buying smoke detector spy cameras with functional smoke detection, for a few reasons:
First, most smoke detector spy units don't list detailed specs on the smoke detector portion. This is necessary to be sure the unit is compatible with the alarm panel you'll use it with. Even though most spy cameras use 4 wire smoke detectors which are fairly "generic", this information isn't always included in the product listing.


Second, units with true smoke detection capability tend to cost more than the regular "dummy" detectors.


Third, and maybe most importantly, be aware that all smoke detectors have an "end of life" date, after which they should be replaced. For most units, this is 10 years of use. This means that ten years after installing your smoke detector spy camera, you'll need to replace it to maintain your fire protection.
Since the smoke detector and camera are built into the same unit, you will be sacrificing your camera investment as well as your fire alarm investment.

For more on this, see my page on smoke detector problems.


---

Does it Look Real?

Aside from functionality, a covert spy camera should actually resemble the object it's trying to impersonate. If you can match the appearance of the existing units and still get the camera features you want, then go for it.

Does the spy camera you're considering look similar to the existing smoke alarms in your home, or not? I've seen a few "smoke detector spy camera" ads for units that look like nothing more than a standard dome camera with some black designs added!


Having said that, don't worry about the appearance too much. If your "dummy" smoke alarm camera at least vaguely looks like a real smoke alarm, and meets all of your other requirements, don't hesitate to use it.


Your may not look exactly like the other units you may have, but this may not be a big problem.

It's not uncommon to have two dissimilar smoke detectors in the same area of a home, since low-voltage and 110-volt units are often installed together. Click here for more info on smoke alarm placement.


---

Camera Viewing Angle: Down-Look or Side View?

Some smoke detector spy cameras are designed with the camera facing downward, as the detector mounts to a ceiling. These units would allow viewing a room from directly above, when installed near the center of the ceiling. These same cameras can be used to look across a room or down a hallway when mounted on a wall.


Other smoke detector cameras have the lens facing out one of the sides, often hidden in what would be the smoke chamber passageways on a "real" smoke detector. These units would give a good overall view of a room when ceiling-mounted near a corner.


Choose a smoke detector spy camera that gives you the best viewing angle for your intended mounting position, whether on a wall or a ceiling. Check out the product description, spec sheets, and customer reviews on how easy or difficult it will be to adjust the point of aim of the camera.


Be aware that many cameras achieve a wider field of view by using a fairly short focal length lens, something like 2.5-4.0 millimeters. These "fisheye" lenses will usually produce a slightly distorted image.


---

Accessories Included?

I know, easier said than done, but try to be sure that any necessary power or video cables are included with the kit you buy. While anything you need can be probably be found through a local source, getting it along with your original order is much easier.


Depending on your needs, you may also want to consider buying additional memory cards (for self-recording units). Many "basic" kits will have a minimal amount of storage capability included, but adding a larger memory card is a cheap way to increase your recording capacity.


Related Articles:
Click here for information on Honeywell CCTV Systems. 
Smoke Detector Spy Camera Info

Using a Varifocal Camera can improve your live and recorded video by "zooming in" on just what you want to see. 
Learn about the Ring Video Doorbell.

---
All images this page courtesy of Amazon.com, except for surveillance screenshot.



Return to Home-Security-Systems-Answers from Choosing a Smoke Detector Spy Camera

Return to Home Security Camera Systems from Choosing a Smoke Detector Camera
Note: Feel free to print any of the articles on this site for personal, non-commercial use. Just look for this button:

If you found this website especially helpful, you might want to consider making a small donation. Since 2011, AzAlarmGuy has been providing free help and advice on home security systems to all of those in need.
Your gift, in any amount, will help me keep this website a free resource for anyone needing help with alarm system issues or questions.