DSC Security Systems
DSC security systems have been one of the most popular brands of home alarm panel for at least twenty years. "DSC" is short for "Digital Security Controls", and their systems compete well on both pricing and features with major brands like Honeywell/Ademco and Bosch (Radionics).
Compared to some other alarm manufacturers, DSC has done a very good job of meeting the needs of residential security customers. They offer hardwired and wireless systems in several price ranges, and keypads are available in basic versions up to touchpad technology.

DSC security products are widely available, and the manuals are well written. DSC programming tends to be very similar from model to model, so it's fairly easy to pickup. All of this makes DSC a good choice for a do-it-yourself alarm system. To learn more, check out DIY Home Security Systems.

---
Some Key Features of DSC Security Systems
Escort Module
The DSC Escort 5580TC module is an optional device that can be added to several models of DSC panel. Installing this handy module allows you to dial your home number from anywhere, then enter a security access code for the Escort module.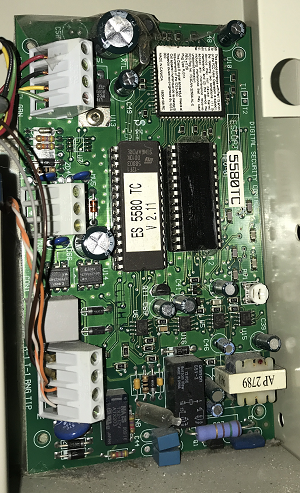 Once into the system, a voice menu gives you several options. By following voice prompts and pressing digits on your phone, you can check system and zone status, bypass or un-bypass zones, arm and disarm the system, and more.

The Escort feature allows you to monitor and control the system remotely, with nothing more complicated than a telephone! I use mine to check the status of the garage overhead door. If it's been left open, I can activate a relay output from the DSC 832 to close it.

In the last several years, a newer module has been available for use with DSC Power-series systems. The Envisalink EVL-4EZR module from EyezOn allows connection to a home data network, and enables signals to be sent to PC's, smartphones, and other mobile devices. 


The basic Envisalert plan is free, while enhanced features including professional alarm monitoring are available with paid upgrades.


You can learn more about the EyezOn EVL-4 on these pages:

Envisalink 4 Installation & Account Setup

EyezOn Envisalink EVL-4EZR Operation
---

Bell Supervision
Most DSC security systems have a bell supervision feature not found on most other brands of alarm panel. This function constantly monitors the connection from the main alarm panel to the sirens. If this connection is broken, the panel alerts with trouble beeping and lights on the keypads.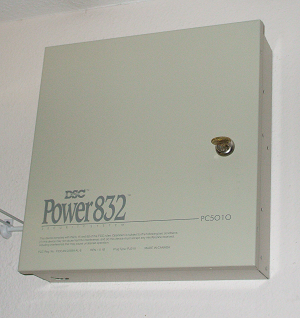 The advantage of this feature is that DSC security systems can't be accidentally left without a connection to an audible sounder. During routine battery changes and other service, a security technician may disconnect the siren/bell wiring. After the service work is finished, the siren wires should be re-connected. And they always would be, in a perfect world!

If the siren wiring isn't re-connected properly, DSC security systems will show a trouble condition at the keypads. This virtually eliminates the possibility that a technician would leave the house without noticing the trouble display, and restoring the connection.
For more on DSC security products, visit www.dsc.com.

For another security brand that I highly recommend for DIY alarm systems, see Ademco Home Security Systems.
---
Inheriting a DSC System?
Many people first discover DSC security systems when they buy a new or used home with an existing home security system. Used security systems often don't come with manuals, zone lists, user codes, or other information.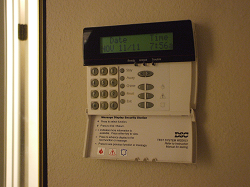 The first step in getting a system up and running is to get a copy of the instruction and/or installation manual. These will tell you the basic system operation, features, and whether or not it will be likely to meet your expectations.
You can find links to free DSC manuals on my alarm system manual sources page.
For more information, see this page on DSC 832 Tips and Advice for Older Systems.
---
DSC System with a Beeping Keypad?
If you have a DSC security system that beeps for no apparent reason, there's a quick way to find out what the problem is. DSC security systems will display a "trouble" light on the alarm keypads, along with the beeping.

To determine the cause of the trouble, you can get a copy of the instruction manual from the link above, or refer to the table below: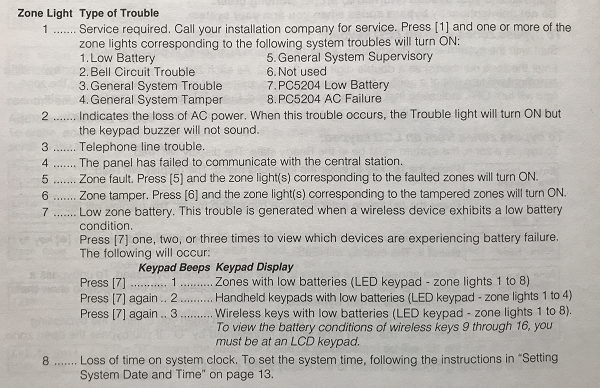 For details, see "My DSC Home Alarm is Beeping!" - Causes and Solutions
---
Security Troubles You Can Fix Yourself
You can correct some trouble conditions on security systems fairly easily. For instance, Loss of System Time is cleared simply by setting the clock.
If the trouble condition is a low battery, chances are you can fix it easily by replacing the battery. To see what's involved, check out DIY Alarm System Battery Replacement.
If the DSC keypad indicates more than one trouble condition, or if you know the security system has been out of operation for an extended length of time, you may want to consult a professional.
---
When to Get Help from the Pro's
Most Service Required conditions (except for Low Battery) will likely need an alarm professional to fix.


If you want to get your DSC system up and running, check with local alarm dealers for service rates. Most companies charge a flat fee, which covers the first hour. Additional time and any parts that may be required will add to the cost.

Keep in mind that most home alarm companies give preferential treatment to their monitored customers, which is as it should be. If you're thinking about having the system monitored, be sure to mention this to the alarm company representative when you call.

Not sure if you need home alarm monitoring? Not sure what monitoring is? No worries!
To learn about monitoring, and to see if it's right for you, see these pages:

Home Alarm System Monitoring Benefits

Home Burglar Alarm Systems Monitoring – Not Always Necessary?
---
Replacing Your System?

If you have an older DSC system and none of the tips above have helped, you may be thinking about replacing it.
If you have a hardwired DSC system, here's some good news:
Your house is already wired, which is half the battle with a hardwired system. Also, you can likely re-use your existing door and window contacts, motion detectors, and other hardwired devices on the new system.
If you're thinking about replacing your DSC alarm, you're probably wondering how much a new system would cost.
You can find out by getting some free alarm quotes from dealers in your area. Just answer a few questions below, and receive your quotes via email.

These quotes are completely free.

Related Articles:

Return to Home-Security-Systems-Answers.com from DSC Security Systems
Note: Feel free to print any of the articles on this site for personal, non-commercial use. Just look for this button:

If you found this website especially helpful, you might want to consider making a small donation. Since 2011, AzAlarmGuy has been providing free help and advice on home security systems to all of those in need.
Your gift, in any amount, will help me keep this website a free resource for anyone needing help with alarm system issues or questions.