The DSC Power 1832
Doing the DSC 832 "One" Better!

The DSC Power 1832, also known as Model PC1832, is a hardwired home security system with 8 on-board zones. More zones can be added, via hardwired or wireless expanders, up to a total of 32 zones.


"DSC" stands for Digital Security Controls, and the company has been a leader in the security industry for many years. The DSC 1832 shares similar wiring and programming with its predecessor, the DSC Power 832.

The very popular DSC 832 has been discontinued, but the Power 1832 is more than adequate as a replacement. Both the 1832 and the 832 DSC alarm systems have been workhorses in the security business for years, and have been installed by professionals and do-it-yourselfers alike.
For help in keeping an existing panel running, see these pages:
DSC 832 Tips and Advice for Older Systems.
My DSC Home Alarm is Beeping! - Causes and Solutions

Let's look at some of the best features of the Power 1832, and see why it's a good choice in so many situations.
DSC Power 1832 Basic Features
8 hardwired zones on board


Expandable to 32 hardwired and/or wireless zones

Hybrid design works for both hardwired and wireless devices


User Codes and Keypads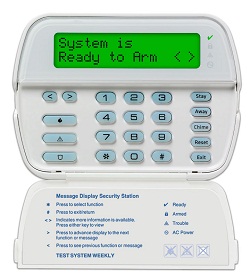 Up to 32 individual user codes can be programmed into the DSC 1832 security system. These control the system through up to 8 security system keypads, which can be of different types.
User codes can be assigned to each area of protection if partitioning is used (see the "Partitions" section below).

Expandability Using Hardwired Devices

The 8 zones of the basic Power 1832 a good fit for small-to-medium sized homes. For larger houses, zone expanders can be added to increase the number of protected zones.


Each PC5108 zone expander adds 8 zones to the main panel capacity. Each zone input can be individually programmed for any type of protection (door, window, motion detector, glassbreak sensor, etc.). Perimeter doors and windows are typically protected using hardwire contacts, and motion detectors provide interior protection.

Up to (3) PC5108 zone expansion modules can be added to the DSC 1832 for a total of 32 hardwired zones.
Wireless Expansion

The DSC Power 1832 supports up to 32 wireless zones with the addition of the RF5132 wireless receiver. You can mix and match wireless and hardwired zones to meet your needs. So, you could hardwire areas of the house with easy access for wiring. Any hard-to-wire locations could be covered using wireless door and window transmitters, wireless motion detectors, etc.
Remote Access to the DSC Power 1832

The PC5580TC DSC Escort Voice Module is an easy way to access the Power 1832 while away from home. It connects to your home telephone line and the DSC 1832 panel, and allows you to interact with the system remotely. You can check system status, arm and disarm, bypass zones, etc. by calling your home phone number, entering an access code, and following the voice menu.


This is a great feature to use while you're at work or traveling on vacation, and need to know what's going on at home. It lets you monitor whether or not a house sitter, cleaning crew, or even your own family is arming and disarming the system at the expected times.
Update, January 2020:

In the last several years, an even better option has become available for remotely accessing the Power 1832 system. The Envisalink EVL-4EZR Module from EyezOn allows viewing status and controlling the Power 1832 from anywhere with a data connection. The Basic plan is free, with enhanced functions available at additional cost.
Learn more about the Envisalink-4 by EyezOn.


Using Partitions to Create Separate Areas

Partitioning allows you to "split" the DSC Power 1832 to function as separate systems. Each partition in the system can be armed and disarmed independently from the others.

For example, suppose you have a garage, guesthouse, and workshop in addition to the main house. You could assign a partition to each area (up to a maximum of 4). Then, the main house can be armed and disarmed without affecting the armed status of the other areas.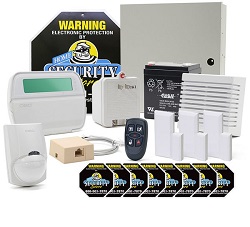 Photo by Homesecuritystore.com

This is perfect for areas that you don't use on a daily basis, like a workshop, gun safe, or jewelry closet. That area can remain armed most of the time, unaffected by routine activity in the main part of the house.


Using partitions on the Power 1832 and most other alarm brands will require some extra programming, which is covered in the programming and installation manual.
The Bottom Line

You may have inherited a DSC Power 1832 as part of an existing home security system. In that case, you have a well-known brand and model that will likely last for years to come.

If you're considering DIY alarm systems, the Power 1832 is a good choice with options for almost any size home.
If you haven't done so already, get a few Free Home Security Systems Quotes from companies in your area.

This will give you a good idea of what it would cost to have a system installed, as well as how much you could save by doing it yourself.
Related Articles:
Hardwired Home Security Systems

Wireless Home Alarm Systems


---

Return to Home-Security-Systems-Answers from DSC Power 1832

Return to DSC Security Systems from DSC Power 1832
Note: Feel free to print any of the articles on this site for personal, non-commercial use. Just look for this button:

If you found this website especially helpful, you might want to consider making a small donation. Since 2011, AzAlarmGuy has been providing free help and advice on home security systems to all of those in need.
Your gift, in any amount, will help me keep this website a free resource for anyone needing help with alarm system issues or questions.