Monitronics

Is Now MONI Smart Security


After ADT security systems, Monitronics home security is the 2nd largest residential security provider in the nation as of 2014. They were founded in 1994, and have their headquarters in the Dallas-Fort Worth area. They protect well over one million customers.
In 2016, the company underwent a leadership change, and rebranded to "MONI Smart Security".
In June of 2018, MONI Smart Security acquired the branding rights for the "Brinks" name, and is now operating as Brinks Home Security.
You can learn more about the New Brinks Security System Plans here.
Since MONI/Monitronics is the driving force behind the rebrand to Brinks Home Security, I thought it made sense to leave the rest of this page as-is, to show the history and background of how the 'new' Brinks company got its start.
Any active links on this page will re-direct to the new Brinks Home Security version of that product.


MONI uses a network of local alarm dealers across the country to install and service their systems. Their dealer program authorizes over 600 dealers in the US, Canada, and Puerto Rico.


Like other national home alarm companies, they offer residential systems for security, fire and CO (carbon monoxide) protection. Their latest systems use wireless security products, which makes installation easy.
Available Packages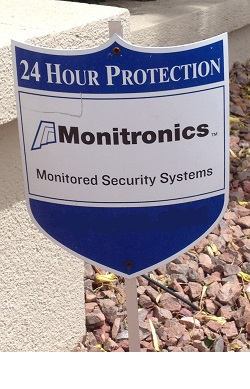 MONI offers 3 packages with different levels of protection. All 3 include 24/7 alarm monitoring, and start at about $40 per month.
Within each level of protection, various upgrades are included in the price, with additional features available for an extra charge.
---

Core Security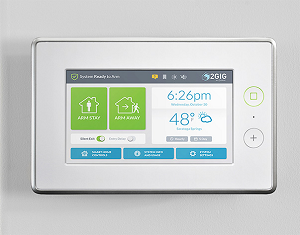 "Core" creates your basic residential security system, which includes:


(1) Color touchscreen control panel
(1) Keychain remote
(3) Door/window transmitters
(1) Yard sign
(4) Window stickers

---

MONI Connected Plan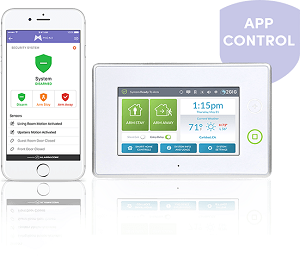 The next step up is the "Connected Plan". This includes "Core" protection, plus it adds:
Smartphone control
Download the free MONI mobile app
Arm and disarm your system using your smartphone
Receive event-based reports via email and texts
Two-way voice communication through the panel
---

MONI Comprehensive Security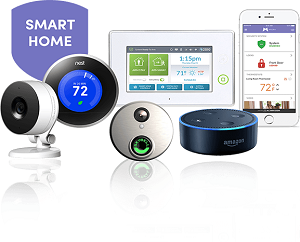 The "Comprehensive" level includes all of the Core and Connected functions, and adds more features and equipment. These include:
Free indoor or outdoor video camera
Stream live or recorded video to your mobile device
Use your phone or tablet to control compatible smart home equipment
Operate lights, locks, thermostats, appliances, and more
MONI home automation systems are compatible with Google Home, Amazon Echo or Dot, and Apple TV or Watch
The Comprehensive level gives you lots of options for remote control of various home systems. These allow you to do things like adjust thermostat settings, turn lights and appliances on or off, operate door locks, and more. If you have home video surveillance equipment, you can also watch live and recorded images.

All of these functions can be controlled from a local or remote computer, smartphone, or tablet.
---

Alarm Reporting
Monitronics seems to be embracing the idea of moving away from traditional land-line-based alarm systems toward cellular reporting. This will appeal to the growing number of homeowners who are choosing not to have a regular phone line. These customers instead use cell phones and data service for all of their communications, including their security systems.

MONI's Patented ASAPer Feature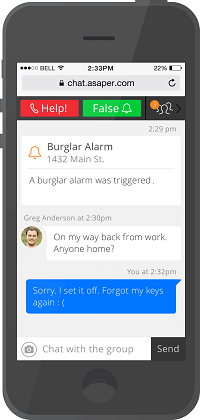 MONI is unique in the alarm industry with a new and innovative way of communicating with customers during an alarm or other emergency event.

When an alarm event occurs, MONI's ASAPer response technology notifies the owner via smartphone, tablet, or computer, and connects them in a chat room with others on their contact list. The owner, contacts, and MONI then monitor the situation as it occurs, keeping everyone aware of what's happening.

This is a huge improvement over the old days of telephoning the premises, owner, and contacts one by one, hoping to get hold of someone. It's also better than simply sending an automated text message alone, which may or may not be seen by the recipient.


---

Free Move Program

The "Free Move Program" is designed to make it easy to transfer your security protection and alarm contract from your old house to a new one.


The company will arrange to install and program a complete Monitronics security system in your new home, so that it's ready and waiting for you when the move happens. In many cases, you can even go to their company web site and schedule everything on line.


---

The Future of Monitronics
In 2014 when I first published this page, I couldn't help but wonder if ADT might attempt to acquire Monitronics at some point. After all, ADT had just bought out their previous major competition, Broadview Security (formerly Brinks alarm).

Since the re-branding to MONI Smart Security in 2016, a buyout seems very unlikely to me. With the leadership changes and rebranding, MONI is in a position to take full advantage of state-of-the-art home security, alarm monitoring, and home automation technology.


Add to this their ASAPer feature, along with a strong commitment to excellent customer service, and I think MONI should be a major player in home security for years to come.




As for customer satisfaction, I've heard some form of complaint about nearly every other major alarm company over the years. I've had limited direct experience with Monitronics systems, but I don't recall hearing any negatives. This tells me that the majority of their customers are happy.

I did discover while researching this page that MONI won the 2012 and 2013 Consumers' Choice Award® for excellence in business and customer service. They were later ranked "Highest in Customer Satisfaction with Home Security Systems" by J.D. Power for 2016.

Hmmm…

Maybe they are doing something right!


To get a free price quote and see the latest special offers, visit the MONI Smart Security website

---


To compare prices and plans, and learn how the "Big 2" alarm companies in America match up, see "Monitronics Home Security - A Comparison with ADT".

Learn more about MONI Smart Security - Security Systems, Monitoring, and Home Automation


Return to Home Security Systems Answers from here
Note: Feel free to print any of the articles on this site for personal, non-commercial use. Just look for this button:

If you found this website especially helpful, you might want to consider making a small donation. Since 2011, AzAlarmGuy has been providing free help and advice on home security systems to all of those in need.
Your gift, in any amount, will help me keep this website a free resource for anyone needing help with alarm system issues or questions.