Link Interactive

DIY Wireless Home Security Systems Made Easy
Link Interactive is a wireless home security system that also provides home automation and video surveillance monitoring. It's designed to be self-installed, saving you the added cost of having an installation crew come to your house. It allows you to easily arm or disarm your security system, control lighting and thermostats, view security cameras, and more, whether you're at home or on the go.
Convenient When You're Home


The heart of the Link Interactive (or LI) system is the Go!Control base station, which is the main control terminal. This base station connects wirelessly to security sensors, cameras, and home automation devices.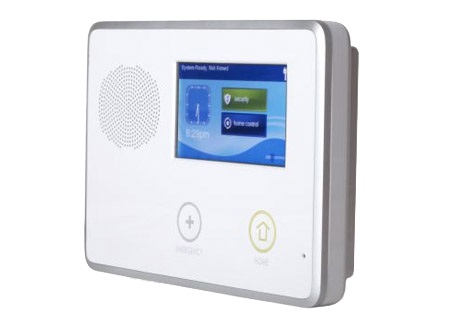 The Go!Control's touch-screen display lets you control security, automation, and video functions easily through one device. The Go!Control Unit uses 2GIG technology that is a standard in the alarm industry for GSM cellular communication.




While You're Out

Away from home, you can monitor and control all parts of your security and automation through the Alarm.com top rated mobile app. This allows you to control security, automation, and video surveillance through a single app on your smartphone, tablet, or other web-enabled device.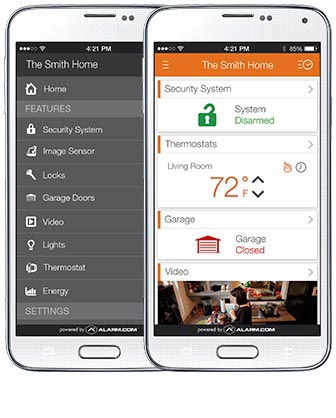 Remotely arm and disarm your security, control lights, adjust your thermostat, and view live or recorded video, all through one app!


The mobile app is available for iPhone, iPad, Android, Blackberry, and Windows Phones.
How Does the LI System Work?

After installing the devices, you set up your system following the easy instructions on the Go!Control touch-screen display. No wiring is needed, since all devices connect wirelessly with the base unit. If you've been looking at DIY alarm systems, it doesn't get much easier than this!


If you do happen to run into a problem, free expert tech support is available by phone, live chat, email, and Skype, as well as easy to follow videos.


You can add, re-assign, or remove devices later, as your needs change, you happen to move, or if you just want to expand your system.
Link Interactive Security Features


The Go!Control Unit monitors the status of doors, windows, motion sensors, and other security devices. If the system detects a problem, it sends alarm or other notification signals over the cellular network to the central monitoring station.

24/7 professional monitoring starting at $29.99 per month + $5 for video
Cellular-based wireless alarm monitoring does not rely on a hardwired internet connection
Remote access and control from your mobile devices
Smoke, heat, carbon monoxide (CO), and water/leak detection available
Crash and smash technology
2-way voice communication between Go!Control Unit and Central Station when a signal is received
Pre-programmed systems arrive at your door in days
The system is portable - pack it up and take it with you when you move
Self-installation eliminates the cost of having a crew come to your house
Over 60 years in the home security business


Did you know?

If you own your own home, an LI security system can earn you a discount of 10-15% off of your homeowners' insurance premiums. If you add fire alarm monitoring in the form of smoke detectors, your discount could be as much as 15–20%.

Insurance companies LOVE monitored home alarm systems, since they help to protect your house and property, whether you're at home or away.




The Link Interactive system is 100% wireless security – Inside the house, sensors are wireless; outside the home, alarm reporting uses the cellular network.
Wired phone and data lines can be cut by burglars, preventing other systems from contacting the monitoring station.
Cellular alarm monitoring eliminates the reliance on a telephone landline or hardwired internet alarm monitoring connections for sending critical alarm signals.


You may have an older alarm system that's starting to have problems, or maybe you don't have a system at all. Either way, LI lets you get a security system up and running quickly and easily, and at an affordable price.
Get a Free Quote Now!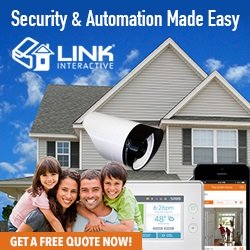 Home Automation Features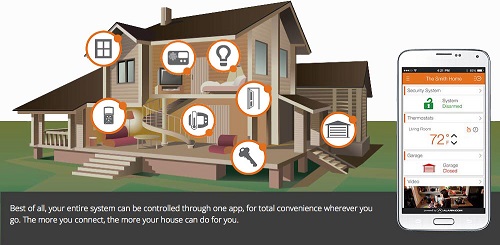 Remote lighting and thermostat control
Easily set schedules to operate lights, thermostats, access control, and more
Control door locks and other devices


Like most home automation systems, the Link Interactive system can control lighting, thermostats, door locks, and other connected devices. Through the Alarm.com intelligent services platform, you can easily monitor and control many key devices in your home.


But there's more...


Unlike stand-alone home automation products, Alarm.com's adaptive learning function uses information from all of your connected devices to better understand your activity patterns.


The LI system combines data from security arming and disarming, door and window opening, motion activity or inactivity, and more to gain the most accurate understanding of how you live in your home.
Video Monitoring Features



If you've been comparing DVR surveillance systems or other home security camera setups, consider these advantages of the LI system:



View video surveillance cameras on your internet-capable portable devices using the top-rated mobile app
Watch each home security camera live one at a time, or see them all at once in Multi Camera Mode
View clips you've recorded using motion detection or recording schedules
Get instant alerts with smart clip capture
Check on the kids or the condition of the house in real-time
In the event of an alarm, see what's going on as it happens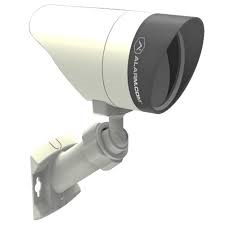 LI offers wireless cameras for both indoor and outdoor use. Feature include IR and night vision, for viewing in low-light conditions, and pan/tilt cameras for viewing entire rooms.


Alarm.com's video monitoring includes continuous high-definition recording. And, secure cloud storage keeps all your video safe, unlike on-site storage devices like DVR's (Digital Video Recorders) or NVR's (Network Video Recorders) that can be destroyed or stolen.
Building a System on a Budget?
Link Interactive is a good choice for building an expandable system.


 Start with the Basic Fire & Security Package which includes:



1 Link Interactive Go!Control Cellular Panel
3 Wireless Door/Window Sensors
1 Wireless Motion Detector
1 Wireless Smoke/Heat/Freeze Sensor

 
This  system will give you good basic perimeter and interior security, and most likely qualify you for a homeowner's insurance discount for having a monitored burglary system. Including one (or more) wireless smoke detectors adds fire protection, and should qualify you for an even bigger discount.


Later, you can customize your complete system with additional security sensors, home automation, and video cameras as your budget allows.


This plan is a smart way to quickly get you the protection you need without breaking the bank, while still allowing for future expansion.
Call 1-855-369-8383 or click here to get a free quote, get more information, or place an order.

Don't leave your home and family unprotected another day - Call or click today!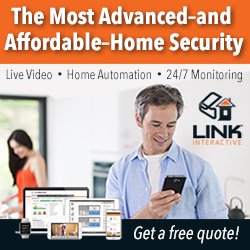 And remember:

-- Link Interactive has an A+ rating with the BBB
-- LI comes with a 30-day money back guarantee
-- LI equipment comes with a 2-year waranty at no extra charge
-- LI matches or beats the competition in pricing and features
-- Save up to 40% over ADT!

Related Articles:

Wireless Alarm Monitoring - More Secure than Phone Lines

Wireless Security Monitoring Versus a Cellular Jammer



Return to Home Security Systems Answers from Link Interactive
Note: Feel free to print any of the articles on this site for personal, non-commercial use. Just look for this button:

If you found this website especially helpful, you might want to consider making a small donation. Since 2011, AzAlarmGuy has been providing free help and advice on home security systems to all of those in need.
Your gift, in any amount, will help me keep this website a free resource for anyone needing help with alarm system issues or questions.