GE Home Security Systems
GE home security systems are provided through GE Interlogix Security, formerly a division of General Electric. Now a part of UTC Fire & Security, GE Interlogix offers fire, burglary, and video surveillance equipment for homes and small businesses.
Some of the more common GE security systems you may have seen include:

GE Concord 4 security system
GE Networx Series:
GE Security Caddx NX-4
GE Security Caddx NX-6
GE Security Caddx NX-8

GE Simon XT

GE Simon 3 security system


GE Home Security Systems Rundown



GE Concord 4 Security System
Features include:
96-Zone capacity
8 User codes
8-Hardwired zones on board
A 2-Wire smoke detector loop
2 Programmable outputs
The Concord 4 is a hybrid system, able to use both hardwired and wireless devices. It can handle 2-wire smoke detectors for fire protection, and has 2 programmable outputs for controlling auxiliary devices such as lights or relays.
The addition of an ATP1000 Alphanumeric Touchpad to the Concord 4 system allows the use of "macros". A macro allows you to fire off a string of pre-programmed keystrokes, just by pressing a single button. The ATP keypad has 4 buttons that can each handle a macro of up to 14 keystrokes.
Macros are great time-savers for repetitive sequences you tend to use often. For example, you could program a macro that would arm the system, bypass a safe room door, and bypass a motion detector in the master bedroom. The entire string of commands would then be performed through a single keypad button.
Learn more about the GE Concord 4 Security System.
---
GE Security Caddx NX-4
8-zone capacity
4-Hardwired zones on-board
4-Wire smoke loop
8-User codes
The NetworX-4 or NX-4 is one of the most basic of GE home security systems available. It's a hybrid panel that features 4 programmable zones, expandable to 8. The zones can be a mixture of hardwired or wireless, and the panel works with many GE security sensors.
This system is commonly offered as a kit or package including everything you need to get a system up and running with basic protection. This inexpensive system would be a good choice for a small condo, townhouse, or apartment. It could also be used to protect a small business or shop.
---
GE Security Caddx NX-6
16 Zone maximum capacity (wireless); 12 zones hardwired
6 Hardwired zones on-board
2-Wire and 4-wire smoke detector loop
4 Programmable outputs
40 User codes
The next step up in GE home security systems from the NX-4 is the NX-6. It has more of everything, compared to the NX-4, and would be a good choice for a small-to-medium-sized home.


For the small difference in price, I recommend choosing the NX-6 over the NX-4. It gives you more zones and user codes, in case you decide to expand you system later. It also adds the option of using 2-wire smoke detectors, which are somewhat easier to work with.


---
GE Security Caddx NX-8
48 zone capacity hardwired and/or wireless
8 on-board zones
2-wire and 4-wire smoke detector loops
4 programmable outputs
99 user codes
As you can see, GE home security systems tend to use the number of on-board zones to denote different models in the NX-series.


The NX-8 picks up where the NX-6 left off, adding more zone capacity and user codes. If you're "on the fence" about how many codes or zones you might need, choose the larger panel. While the "average" homeowner may not need 99 user codes, the ability to handle 48 zones would be an advantage if you own a larger home. The 16 zones offered by the NX-6 limit its use to small or medium sized houses, up to roughly 3,000 square feet or so.
Get more information on GE Caddx Alarm Systems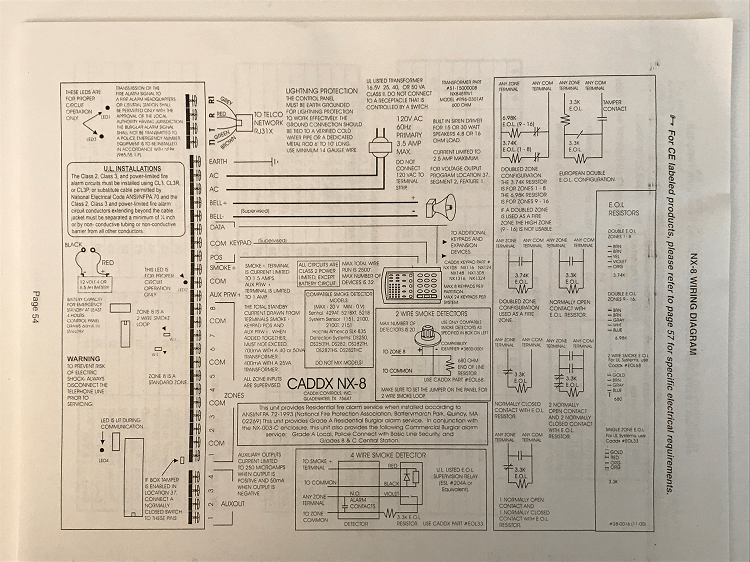 ---
Simon XT GE Home Security System
40 Zones wireless, or 38 zones wireless plus 2 hardwired
9 User codes (One master plus 8 user access codes)
Voice messaging (with optional module)
The Simon XT is one of the most popular GE wireless home security systems. It is an "all-in-one" design, very similar to the Ademco Lynx system. Like the Lynx, the Simon XT has a built-in radio receiver, keypad and display, and a speaker that provides voice prompts to help program and operate the system.
Besides the option of 2 hardwired zones, the Simon XT is totally wireless. This means it needs wireless sensors to make up a complete system. Make sure any kit or package you're considering includes all of the wireless door, window, and other sensors you'll need for your home. If you need more than the kit supplies, order them separately.
Learn more about the GE Security Simon XT.
---
GE Simon 3 Security System
24 Zones wireless / 2 hardwired
6 User codes
Latchkey reporting
Mobile phone or pager reporting
Can control up to 8 light or appliance control units
The GE Simon 3 wireless security panel is an all-in-one design like the Simon XT. It also uses voice prompts through the main console, and has a built-in wireless receiver.


The Simon 3 features latchkey notification to alert you if your child fails to disarm the system after a certain time of day. The latchkey and other alarm signals can be sent to your cell phone or pager, or to a monitoring station, or both. The ability to send signals to a cellphone or pager is good if you're not sure you want to commit to a monthly monitoring contract.

Note: The GE Simon 3 has been discontinued. If you're looking for a new system, consider using the GE Simon XT, shown above.
More information on the GE Simon 3 Alarm System.


---
Where to Find GE Home Security Systems
If you're considering DIY home security systems, you can find GE alarm equipment at Amazon.com or AlarmGrid.com.

If you'd prefer to go through an alarm company, you can get free alarm system quotes here. These are price quotes from alarm dealers in your area, sent to the email address you specify. The service is free, there is no obligation to buy anything, and no credit card or payment information is needed.
If you're thinking about installing a do-it-yourself alarm system, you may want to know how much a professional alarm company would charge. To find out, get a few free alarm quotes from companies in your area.
This will give you a good idea of what a system would cost to have installed, as well as how much you could save by doing it yourself!
Related Pages:

Hardwired Home Security Systems
How to Compare Home Security Systems
Return to Home-Security-Systems-Answers from GE Home Security Systems
Note: Feel free to print any of the articles on this site for personal, non-commercial use. Just look for this button:

If you found this website especially helpful, you might want to consider making a small donation. Since 2011, AzAlarmGuy has been providing free help and advice on home security systems to all of those in need.
Your gift, in any amount, will help me keep this website a free resource for anyone needing help with alarm system issues or questions.