Ademco Lynx System
Code Programming
The Ademco Lynx system is an all-in-one wireless alarm system, combining the keypad, circuit board, and sounder in a single housing. The Lynx is quick and easy to install, and is one of the best Ademco alarm systems for a smaller house or apartment. It's also one of the most popular DIY home security systems available.
You may "inherit" an Ademco Lynx panel when you buy or rent a home. In that case, you'll want to use your own personal code (also called a "passcode") to operate the system. If the alarm is monitored and/or serviced by a professional alarm company, they can add the code in for you.

For help finding an Ademco Lynx manual, see the page on Ademco Manuals

Find a replacement battery for your Lynx system.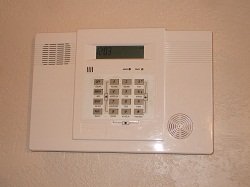 Tip:

If your system is currently monitored by an alarm company, you may want to let them make passcode changes for you. Check with your alarm company representative for specific details and help on programming your system.



If the alarm isn't under contract with a company, you'll want to program a new passcode yourself.


To do this, you'll need to know either the installer code or master code to make programming changes.


If you have no working passcode for the system, skip to "Resetting the installer code".


Ademco Lynx System Code Layout:
The Lynx has a total of eight passcodes, numbered 01-08. Code 01 is designated as the Installer Code, and is used by the alarm company for system set-up. It can also change the Master Code.


Code 02 is the Master Code, and is used to change both itself and the User Codes 03-08.


The "8" key is also the "Program" function button, and is used to make passcode changes.
When making passcode changes, don't wait too long between keystrokes, or the system will time out. If this happens, start the sequence of key presses over from the beginning.

If you already know a passcode for the system, here's how to figure out which one it is:
Enter (4-digit code) + 8 + 00.
If the Ademco Lynx wireless displays "20", you have the installer code. To leave it the same, press *99 to exit programming. To change it, press *20, followed by the desired new installer code. Press *99 to exit program mode, then skip down to "Changing the Master Code".
If the system doesn't display "20", you have either the master code or one of the user codes.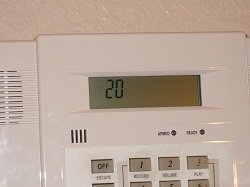 Enter (4-digit code) + 8 02 + 1234 + 1234.
If the keypad beeps three times, you have the master code, and it's just been changed to "1234". This is the factory default, so you'll want to change it to something more secure. If the unit doesn't beep, you have a regular user passcode. Skip to "Resetting the Installer Code".
---
To use the master code to change itself, follow this format:

(old master code) + 8 + 02 + (new master code) + (new master code).
Notice that the new passcode must be entered twice for the change to take effect.
As an example, to change the master to "9876", you would enter: 1234 + 8 + 02 + 9876 + 9876. After entering the new code the second time, the unit will sound 3 beeps to confirm the change.
---
Resetting the Installer Code
1. Remove the Ademco Lynx system from its base by pressing a flat-bladed screwdriver gently into each slot along the top edge of the unit.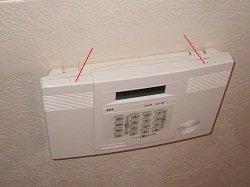 2. Unplug the low-voltage transformer, which should be located near the panel.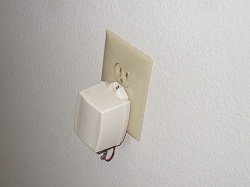 If you don't know where the transformer is, use a small screwdriver to disconnect the wire from either terminal 15 or 16. If you use this method, be careful not to let the loose wire touch any other terminals! Doing so could short the transformer and ruin it.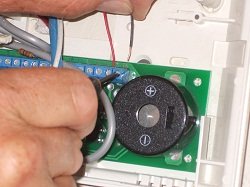 3. Disconnect the battery connector from the circuit board. Wait a few seconds, then reconnect it.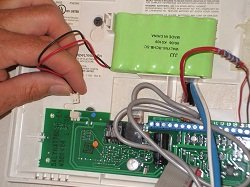 4. Plug in the low voltage transformer, or re-connect the loose transformer wire carefully.


5. Within 50 seconds of power-up, press the * and # keys at the same time. The display should show "20".
6. Press # + 2 + 0. The display will scroll through the current 4-digit installer code. Jot this down. (Note: The display shows single digits with a leading zero, so 01 = 1, 02 = 2, etc.).


7. To change the installer code, press *20, followed by a new 4-digit installer code.


8. Exit programming mode by pressing *99.
---
Resetting the Master Code
A new master code can be programmed using the installer code, using this format:
(Installer Code) + 8 + 02 + (New 4-digit master code).
Notice that when using the installer to change a master code, you're not required to enter the new code a second time.

---
Adding User Codes to the Ademco Lynx System

Use the master code to add users with the format:
(master code) + 8 + (2-digit user number 03-08) + (new 4-digit user code).

After adding any passcodes to the system, test to make sure they work. This can be done by arming and disarming the system using the new passcode. Another way to see if a code is valid is by simply entering the passcode + "Off" (1). If the code is in the system, it will beep once to confirm. If the panel doesn't beep after hitting the code + 1, it doesn't recognize that code.


If you'd like a copy of the user guide or installation manual for your Ademco Lynx system, check out my page on Ademco Manuals.


GE Security offers panels similar to the Ademco Lynx system. For more information, see these pages:

Click here for more information on wireless home alarm systems.


---
If you have an older system that's starting to have problems, you may be thinking about replacing it.

To find out how much a new system might cost, get some free price quotes from alarm dealers in your area. Just answer a few questions below, and you'll receive your quotes via email.
These quotes are absolutely free!
Note: The original Lynx system is being replaced by an updated version. If you're looking for a new system, check out the improved Lynx Touch Wireless System at Amazon.com.


Return to Home-Security-Systems-Answers from Ademco Lynx System Code Programming


Return to from Ademco Home Security Systems from Ademco Lynx Code Programming
Note: Feel free to print any of the articles on this site for personal, non-commercial use. Just look for this button:

If you found this website especially helpful, you might want to consider making a small donation. Since 2011, AzAlarmGuy has been providing free help and advice on home security systems to all of those in need.
Your gift, in any amount, will help me keep this website a free resource for anyone needing help with alarm system issues or questions.