Medical Alarm Monitoring
Small Devices
Making a Big Difference


Medical alarm monitoring systems are designed to summon help with the push of a button. Also known as personal emergency response systems (PERS), these systems can allow a person who is older, disabled, or recovering from an illness or injury to feel safe living independently.
For many seniors, these emergency medical alert systems can help avoid or delay the need for an assisted care facility or nursing home by allowing them to continue to live at home.
For non-medical systems, see home alarm system monitoring.

Dedicated Medical Alarm Monitoring Systems
Medical alert equipment has come a long way in the last few decades. Today, there are entire companies dedicated to supplying medical alarm monitoring devices and services with many enhanced features.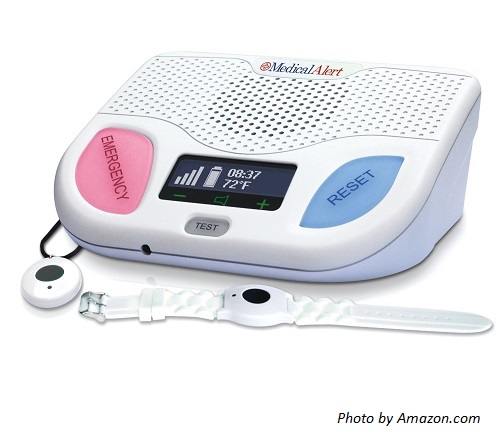 Some of the services and features provided by most medical alert monitoring companies include:
Water-resistant medical alert bracelets and necklaces
Wall-mounted medical alarm buttons for placement through the house and near the floor, for fall situations
Automatic fall detection, which sends an alert when a fall is detected without the need for pushing a button
Two-way voice communication
Ability to notify a family member or neighbor for non-emergency situations
Cellular monitoring for continued protection away from home
Water resistant wearable transmitters
Supervision to detect faulty or missing transmitters and low battery conditions
Back-up battery power to keep base unit working during a power outage
Back-up reporting via cellular network, in case of phone line failure
Extended range transmitters to reach a patio, mailbox, driveway, etc.
UL certified monitoring station to receive calls
Portable Medical Alert versus Mobile Medical Alerts
When comparing products, keep in mind the difference between a portable medical alarm and a mobile medical alarm.


Almost all medical alert monitoring systems offer portable protection, meaning the transmitters can be carried anywhere inside the home and for a short distance outside. But, they transmit signals only to the wireless base unit, so they will not work if you travel away from the house.


Mobile medical alert systems, like MobileHelp and some others, use a cellular network to transmit signals. This allows them to protect the user while they are almost anywhere away from home: taking a walk, shopping, or even out of town on vacation.

If your lifestyle involves frequent trips away from home like doctor visits, shopping, seeing friends, etc., be sure any system you are considering offers a mobile option.

Other Things to Consider When You Compare Medical Alert Systems:


Make sure any wearable transmitters are water resistant


Check the length of contract


Who owns the equipment, you or the monitoring company?


Does the company install the equipment, or do you self-install it?


Be aware that "fall detection" is not 100%. Most systems estimate a fall will be accurately sensed more than 90% of the time.


Be aware that most medical alarm systems do not offer burglary or intrusion protection


After buying and installing any personal medical alert system, follow the manufacturer's recommended testing and maintenance instructions.
Add-on Wireless Devices for Personal Medical Alarm Use
When I started in the home security business in the 1970's, there were few choices for medical alert systems. The most common solution was to add wireless receivers and portable transmitters to standard home security systems.

While this can still be done today, add-on equipment like this has several drawbacks:
No two-way voice communication


No fall detection features


Many wireless transmitter/receiver models lack supervision for RF signal loss or even low battery conditions


Many transmitters aren't water resistant
Even if you're on a limited budget, these disadvantages make add-on wireless devices a poor choice for medical alarm monitoring. Though not cheap, today's best technology and latest equipment can be had at reasonable cost (most start at about $25-36 per month after initial purchase). This is especially true when you consider what you're trying to protect - the safety of a loved one.
If you DO decide to use add-on equipment, follow these guidelines:
Make sure the receiver is able to monitor transmitter battery condition. Otherwise, the system could be rendered useless due to an undetected battery failure.


Be sure to test transmitter range during initial installation to make sure it covers all areas of the house, including outside areas if needed.


Be sure any wearable pendant or wristband transmitters are water resistant


Test all transmitters every month.


Always connect the wireless equipment to a main alarm control panel like DSC that has a phone line monitor feature. If your existing panel lacks this feature, add a line-cut monitor to it.


Use a main system with cellular back-up capabilities, in case of telephone line failure.




Also, having the home medical alert system report to a central monitoring station is mandatory, in my opinion. While self-monitoring can be a good option for security/burglar alarm systems, I don't recommend ANY form of self-monitoring for medical alert services.


As with the dedicated medical alarm monitoring systems mentioned earlier, always test your system at least once a week to make sure all devices are working correctly.
Special Considerations for Those With Memory Issues
If your loved one suffers from memory issues like dementia or Alzheimer's disease, give careful consideration before choosing a home medical alert system. Memory problems may cause (s)he to forget to put on a wearable pendant or wristband unit, or fail to take it with them when leaving home (for mobile-enabled systems).


He or she may even forget entirely what the medical alarm monitoring device is for, which could result in false-alarm button presses, or worse, failing to push the button when it is really needed.

For those with moderate to severe memory issues, senior medical alert systems may not be the safest solution.


References:

Wikipedia:
https://en.wikipedia.org/wiki/Medical_alarm


TopTenReviews:
Best Medical Alerts for 2021





Return to Home Security Systems Answers from Medical Alarm Monitoring
Note: Feel free to print any of the articles on this site for personal, non-commercial use. Just look for this button:

If you found this website especially helpful, you might want to consider making a small donation. Since 2011, AzAlarmGuy has been providing free help and advice on home security systems to all of those in need.
Your gift, in any amount, will help me keep this website a free resource for anyone needing help with alarm system issues or questions.