Protection 1 Security
Protection 1 Security is one of the largest alarm companies in America. As of 2014, Protection 1 systems monitor over 100,000 businesses, and over a million residential customers.
You may be considering a P1 security system for your home or office. If so, this page will give you some background on the company and what it has to offer.
See this page if you already have a Protection One Alarm System. It has tips for keeping your system running, and how to work around some common problems with older systems.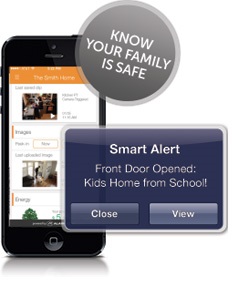 Protection One offers home security monitoring service, fire protection, home video surveillance, and home automation. Their eSecure feature allows you to access your security system via computer or web-enabled phone. There are available apps for mobile devices including iPhone, iPod, iPad and Android devices. These allow you to view cameras, arm and disarm the security system, and control home automation functions, all remotely.
Using an app, you can set up a mobile alert system that will notify you when the kids get home from school, the system is disarmed, and many other event triggers you can choose from.
Protection One Home Security History and Equipment
Since its start in the 1988, Protection One security has used many different brands of alarm panel. In its early years, Protection 1 seems to have followed a business model similar to ADT. Local authorized dealers across the country would assess each customer's needs, then choose the alarm equipment they felt was best for the situation. Protection One home security also acquired different types of systems through buyouts of smaller alarm companies.

Because P1 grew in this way, an existing Protection One alarm system could consist of equipment from GE, Ademco, Honeywell, DSC, and Radionics, among many other brands. In support of these older, pre-existing systems, their web site contains a large library of downloadable user manuals from many different brands and models of alarm equipment.

In recent years, Protection 1 Security has standardized their systems into packages. The various home security packages are designed to handle different levels of security coverage.

Their basic Home Security Package includes a wireless touch screen control panel, which is an "all-in-one" unit. Also included are (3) door/window sensors, (1) Image Motion Sensor, and (1) keychain remote. A yard sign and 3 window decals complete the package.

The Image Motion Sensor is an interesting device that combines a camera and motion sensor in one unit. When triggered by movement, it records color images, then sends them to you via text or email. You can also use your smart phone to view a live image anytime you choose.

The different packages vary in price, and include Protection One alarm monitoring. The monitoring contract is typically 3 years. Optional upgraded security devices can be added at an additional charge. For more information, click the link at the bottom of this page.
Protection 1 Security as a Company
Protection 1 states on its web site that its focus is on the customer. As much as this may sound like standard company-speak, two things make me think they actually mean what they say.

First, the company that offers a Tech Tracker feature that lets you know when their technician will arrive. This is done via text or email alerts which include updates, as well as a picture of the technician who will be arriving.

Secondly, the Protection 1 Security website has a "customer comments" section. Most companies will, of course, use this space to post glowing statements and reviews from their happiest customers. As expected, Protection 1 does display many such positive testimonials.

Not as expected, they also include some very unflattering comments from displeased customers.

This might seem like a minor point, but it's something I haven't noticed on other home alarm companies' sites. Any large company in any industry will have at least a few dissatisfied customers; Protection 1's willingness to include negative comments on their own pages shows that they acknowledge this fact, and are letting the company stand on its own merits.

To learn more, visit Protection1.com.
Related Articles:
Protection One Alarm Systems - Tips for older systems

If you haven't done so already, get a few Free Home Security Systems Quotes from companies in your area.

This will give you a good idea of what it would cost to have a system installed, as well as how much you could save by doing it yourself.
Return to Home Security Systems Answers from Protection 1 Security
Note: Feel free to print any of the articles on this site for personal, non-commercial use. Just look for this button:

If you found this website especially helpful, you might want to consider making a small donation. Since 2011, AzAlarmGuy has been providing free help and advice on home security systems to all of those in need.
Your gift, in any amount, will help me keep this website a free resource for anyone needing help with alarm system issues or questions.