Home Smoke Detectors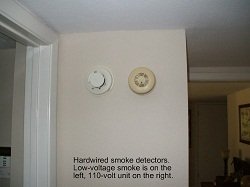 110-Volt Hardwired Smoke Detectors


110-volt home smoke detectors are required in new houses in almost all areas of the U.S., and you almost certainly have at least one in your home right now.

This page deals with vastly improving your level of fire protection by adding low-voltage smoke detectors connected to a home alarm system.


For help replacing 110-volt smoke alarms, see my page on electric smoke detectors.

110-volt smoke alarms are the first line of defense against the danger of fire. They emit an earsplitting noise when smoke is detected, alerting you to a possible fire. Multiple detectors are typically wired together in a house, and when one unit goes off, they all do.


110-volt smokes often use a 9-volt alkaline battery for backup power in case of an electrical outage. Fire codes require that the unit produce an audible signal when the battery gets low. Who hasn't had the pleasure of being awakened at 2 AM by the chirping of a smoke alarm? If you haven't had to deal with it, consider yourself lucky. If you have, find out how to stop a beeping smoke alarm.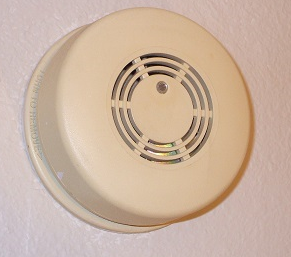 At least one manufacturer has solved the beeping smoke alarm problem. By including a sealed battery inside each unit, Kidde offers smoke alarms that never need a battery change for their entire rated life span of 10 years! Read more about Kidde smoke detectors.
Another of the most recognized names in hardwired smoke alarms is First Alert. But, they also make many kinds of wireless smoke detector. Some of these feature First Alert's OneLink technology, which connects all of the smoke alarms in the house together in a wireless "mesh" network.


These home smoke detectors can be added to an existing house, even if it was not originally wired for smoke alarms. This is a good option for fire protection, especially when there is no home security system to tie into.

Learn more about First Alert smoke detectors.

If you're looking for replacements for your aging FireX smoke detectors, your best bet is Kidde. Kidde acquired FireX products in 2007, and they have many compatible options.

---
Advantages of Adding Low Voltage Smoke Detectors

The one important thing 110-volt smoke alarms lack is the ability to signal a fire condition outside the house. In other words, they offer good protection while you're at home, but don't help you much when you're away.


Fortunately, there are low voltage smoke detectors designed for use with a home security system. System Sensor smoke detectors are just one smoke detector manufacturer that offers low-voltage units designed for use with a home alarm system.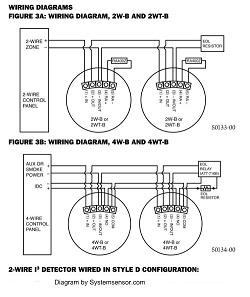 Although residential security alarms are often thought of primarily as "burglar alarm systems", most panels these days also have at least one zone available for smoke alarms. (For details, see this page on Smoke Detector Circuit Basics.)


Combining fire and burglary in one security panel gives home smoke detectors the ability to report fire signals to a central monitoring station.


If you're thinking of installing a home security system, you should definitely consider adding one or more compatible low-voltage smoke detectors. Personal safety for you and your family will be increased, and your property will be better protected from fire loss…


Oh, and one other little advantage…

Many homeowners' insurance policies give a discount of 10-15% for a monitored fire system in the home! The smoke detectors you add will pay for themselves in a few years, and in the meantime give you enhanced safety.




Main Types of Home Smoke Detectors

Low voltage home smoke detectors come in two types, 2-wire and 4-wire. They are wired a little differently, but both do the same basic job. Be aware that some home alarm systems only support connection to one type or the other, while some panels can handle both.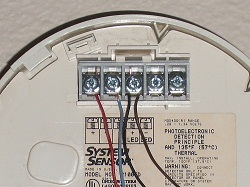 2 wire smoke alarms use a single pair of wires for power and signaling. The alarm panel is designed specifically for this, and supplies the proper voltage to the detectors. At the same time, the panel supervises the loop for any breaks in the connection. If any are detected, a trouble alert is sounded from the keypads.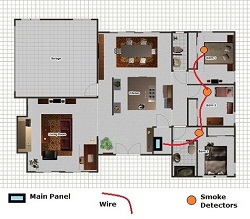 4 wire smoke alarms use two pairs of wire, one each for power and alarm signaling. The signaling loop is supervised, just like the 2-wire circuit.


Both these types of hard wired smoke detectors "latch" when they go into alarm. This provides a way to identify which detector in a group has been tripped. Once the cause of the alarm is found, a smoke reset command is entered at a system keypad. This causes the panel to momentarily drop power from the smoke alarm loop, allowing the detectors to reset.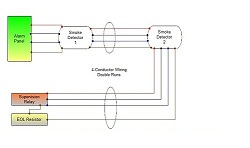 Larger homes may need more than one wire run for smoke alarms. See how it's done here: Smoke Detector Wiring and multiple runs.

Learn more about hardwired smoke detectors.



---
Troubleshooting
If you have smoke alarms that are beeping or going off for no apparent reason, find helpful tips on Smoke Detector Problems and how to solve them.


For help replacing a 110-volt detector, see this page on Replacing Electric Smoke Detectors.
To avoid smoke detector trouble before it happens, find helpful information on Preventing Smoke Alarm Problems.
If you have a home security system with connected smoke detectors, you may eventually need service done on the fire alarm circuit. Over time, wiring can become accidentally damaged due to other service work, as well as by water leaks. In some areas, rodents can find their way into attic and crawlspaces, where they love to chew on wiring.
Tracking down loose or damaged fire wiring is a job best left to alarm professionals. However, you may not want to spend the money if your system isn't monitored or otherwise under contract with an alarm company.
If you think you might like to fix the problem yourself, or if you'd just like to see what's involved, check out Smoke Alarm Circuit Troubleshooting.
One way to help avoid smoke detector problems is to regularly clean and test them. To see how it's done, check out System Sensor Smoke Detectors.



---

Smoke Detector Locations

Local building codes usually stipulate where 110-volt smoke detectors must be placed in a home. This assures the homebuyer that a certain minimum standard of fire safety has been met. It prevents home smoke detectors from being installed improperly, which could render them useless. Worse yet, a homeowner or renter could be living with a false sense of security, while having little actual protection.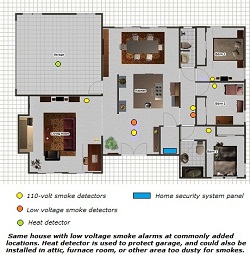 Low voltage smoke alarms connected to a home alarm panel aren't generally governed by code in most parts of the country. Instead, alarm companies use their experience to work with homeowners on where to add monitored smoke alarms.



In the end, customers have good basic fire protection from the original 110-volt units, and added safety and peace of mind from the monitored home smoke detectors.


Learn some general guidelines about where smoke detectors of both kinds should be installed at Smoke Alarm Placement.


---
If you haven't done so already, get a few Free Home Security Systems Quotes from companies in your area.

This will give you a good idea of what it would cost to have a system installed, as well as how much you could save by doing it yourself.
Return to Home-Security-Systems-Answers from Home Smoke Detectors

Note: Feel free to print any of the articles on this site for personal, non-commercial use. Just look for this button:

If you found this website especially helpful, you might want to consider making a small donation. Since 2011, AzAlarmGuy has been providing free help and advice on home security systems to all of those in need.
Your gift, in any amount, will help me keep this website a free resource for anyone needing help with alarm system issues or questions.