System Sensor Smoke Detectors

Cleaning, Testing, and Replacement

System Sensor smoke detectors have been providing fire protection for many years, and the company is a leader in the industry. System Sensor residential smoke detectors are low profile and sleek, so they aren't noticeable on a hallway wall or ceiling. They're also easy to install, test, and clean, and are compatible with most home security systems.



If you need to add or replace smoke alarms but don't have a home security system, check out the hardwired and wireless options from First Alert smoke detectors.

Kidde smoke alarms are also available in wireless and hardwired designs. Kidde even offers the Model 0910 Sealed Battery smoke alarm, which never needs a battery change throughout its entire 10 year lifespan! Read about it at Kidde Smoke Detectors.


See this page for help finding replacements for FireX Smoke Detectors.


For more information on System Sensor products, visit http://www.systemsensor.com/


To learn more about testing and cleaning System Sensor smoke detectors, read on.



Testing and Cleaning

If you're a do-it-yourselfer-type homeowner, you'll probably find testing and cleaning System Sensor smoke detectors fairly easy. In fact, most smoke detector manufacturers make their units fairly easy to clean and test, including Firex, Kidde, and First Alert, among others.


You'll need to be able to reach the "test" button on the front of the smoke detector, and then be able to aim a few blasts of compressed air into the screen area surrounding the smoke chamber of the device.

If you have System Sensor smoke detectors located higher than you can easily reach, a ladder will be needed. If you have any smokes located in a high vaulted ceiling, stairwell, or other hard-to-reach location, contact a professional home alarm company. They will have ladders, trained technicians, and can solve any other smoke detector problems.

The example unit shown here is a 2 wire smoke detector, System Sensor model 2WT-B. The "T" designates that it has a built-in thermal detector, so it can sense high temperature and trigger an alarm even if little smoke is present. For other types of smoke detectors, check the manufacturers' specifications for maintaining their detectors.

Before cleaning or testing:


Always put your (monitored) system on "Test" before cleaning or testing smoke detectors. As fine dust is blasted from the unit by the compressed air, it can trigger the detector to alarm



Disconnect the one wire from the siren terminals in the main panel, if desired. The built-in keypad sounders on most systems are loud enough to let you know when a detector has been tripped



Wear eye protection



Except for units with removable detector heads, never disassemble a smoke detector to clean it


How to Test System Sensor Smoke Detectors

For the 2WT-B System Sensor smoke detector seen here, simply use a paper clip, mechanical pencil tip, or some other object to push the recessed button on the unit. Keep the button pressed for about 5 seconds, or until the smoke detector goes into alarm.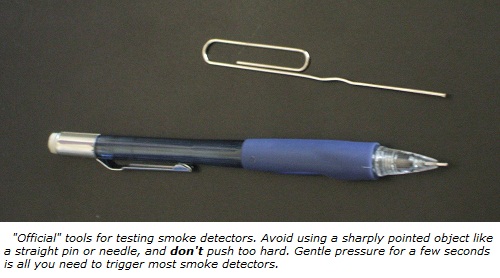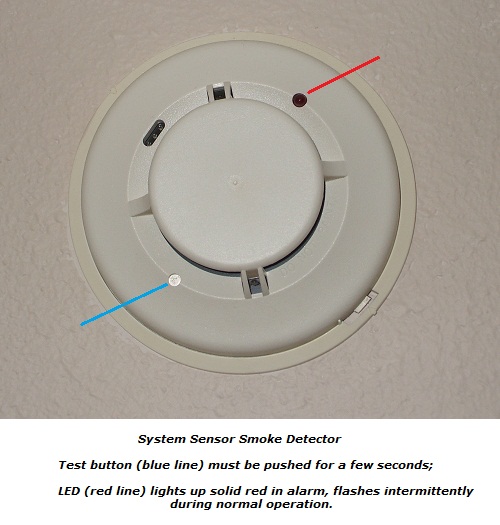 This is indicated by the red LED on the face of the detector, as well as an alarm condition for the security system.


If a smoke detector fails to alarm when tested, check to make sure it has power. Watch for the intermittent flash of the LED, about every 10 seconds or so.




How to Clean
Identify which detectors are part of your security system, and which are regular 110-volt smoke alarms. Or, to be thorough, just should clean and test ALL smoke alarms in the house, regardless of type.


Clean System Sensor smoke detectors like most other residential smoke detectors. The easiest method is with compressed (canned) air. Canned air is sold for cleaning computer keyboards and the like, and it works great on smoke detectors.


You can click here to find canned air, or get it locally at electronics outlets such as Best Buy or Radio Shack.


Most compressed air is sold along with a short piece of tubing. Insert this into the nozzle before you start, to help direct the air more easily.


An alternative to canned air is to use the exhaust port of a standard shop vacuum. Most units allow the hose to be plugged into the exhaust side of the vacuum, which can then be directed into the smoke detector to blow out any dust.
When cleaning a smoke detector with compressed air, hold the canned air as upright as possible. Bend the tube to direct a jet of air into the smoke chamber of the detector. Give it a good blast from several directions, which will remove the majority of dust particles from the unit.

If a detector goes into alarm, enter the keypad "disarm" code or sequence to silence the siren. On most systems, this will still leave the detector latched in the alarm condition, which is fine for now. The System Sensor smoke detector shown here has a solid red LED, indicating an alarm condition.


Finish cleaning the detector, then go to the keypad and enter the "reset" command sequence for your system. This will allow you to now test the unit.


Test the unit following the procedure above. Assuming the unit passes, enter another "disarm" and "reset" sequence at the keypad, and move on to the next unit.


Continue cleaning and testing until all smoke detectors are clean and have tested OK. Any unit(s) that either fail to trigger when tested, or fail to reset should be replaced. See the "replacement" section below.



Occasionally, a detector may trip shortly after you've finished testing and resetting it. If this happens, there may still be some fine particles of dust floating in the smoke chamber. Try re-cleaning and testing the unit. If it still continues to go into alarm, replace it.



Lifespan and Replacement
System Sensor smoke detectors should be replaced after they reach their rated lifespan or expiration date listed by the manufacturer. This applies to all brands of detector, not just System Sensor. Typical smoke detector life spans are about 5-10 years.


Smoke and carbon monoxide detectors can become contaminated with pollutants in the home environment. Even with proper cleaning and testing, fine dust can accumulate inside the detector housing. The housing itself will slowly deteriorate with age, even faster if exposed to direct sunlight.



Detectors are designed to be effective throughout their life span, and still be cheap enough that replacement is not a major expense.


In most cases, System Sensor smoke detectors should be replaced by a qualified alarm technician. Alarm companies are experienced in dealing with smoke detectors and wiring, and can replace and test detectors in short order.



If you're a DIY'er, and the system isn't monitored with an alarm company, you can replace your own smoke detectors. Follow the smoke detector wiring instructions included with the new units, along with help from tips in the links above. Most importantly: ALWAYS test every detector after doing any work on the fire system. A miswire could easily result in some smoke detectors not functioning, leaving you without complete fire alarm monitoring.



Related Articles:
How to Stop a Beeping Smoke Alarm

Hardwired Smoke Detectors 101

Smoke Alarm Circuit Troubleshooting

Smoke Detector Circuit Basics

Connecting 2 Wire Smoke Detectors

Connecting 4 Wire Smoke Detectors
Preventing Smoke Alarm Problems
If you haven't done so already, get a few Free Home Security Systems Quotes from companies in your area.

This will give you a good idea of what it would cost to have a system installed, as well as how much you could save by doing it yourself.
Return to Home Smoke Detectors from System Sensor Smoke Detectors

Return to Home-Security-Systems-Answers from System Sensor Smoke Detectors

Note: Feel free to print any of the articles on this site for personal, non-commercial use. Just look for this button:

If you found this website especially helpful, you might want to consider making a small donation. Since 2011, AzAlarmGuy has been providing free help and advice on home security systems to all of those in need.
Your gift, in any amount, will help me keep this website a free resource for anyone needing help with alarm system issues or questions.