FireX Smoke Detectors

And Replacement Options from Kidde
FireX smoke detectors are currently protecting countless homes and businesses, so you may recognize the name. FireX has been one of the most trusted brands in the fire safety industry.


After Kidde acquired FireX in 2007, both companies worked for a year to consolidate their product lines. As of January 1st 2009, all Kidde and FireX products were merged under the Kidde brand. FireX continues on as a sub-brand for professional hardwired detection products.


If you're a homeowner or contractor looking for repair or replacement of existing FireX smoke detectors, Kidde is your best bet. Many FireX smoke alarms are compatible with Kidde equipment, and Kidde has made it easy to find replacements for your old FireX devices. Check out the Kidde help home page.


If you need new smoke alarms, carbon monoxide detectors, or other home security devices, click on one of the articles below. Each will give you more information on different types of equipment, as well as links to product examples.

See this page for help when Replacing Electric Smoke Detectors
Looking for a specific brand of detector?

Kidde Smoke Detectors
System Sensor Smoke Detectors
First Alert Smoke Detectors


---
FireX Hardwired Smoke Alarms
Hardwired smoke alarms are used to replace existing 110-volt powered units. House wiring runs to all smoke alarms, and usually places them on the same electrical circuit. This type of interconnected fire system means that if one unit goes into alarm, all the other detectors in the home will sound also.


Most 110-volt models have a replaceable 9-volt battery, which keeps the unit working during an electrical outage.


FireX, and now Kidde offer hardwired smoke alarms that use ionization or photoelectric sensing technology, as well as units that combine both. You can also find several models that include a built-in carbon monoxide detector.


---
FireX Smoke Detectors - Battery Powered


Battery smoke alarms can be installed anywhere you need them. No new or existing wiring is needed, and installing one is very easy. Adding one or more battery powered smoke alarms can be a smart and easy addition to a DIY home alarm system, or as added coverage for remodeled rooms. Battery-powered smoke alarms continue working even if there is a power outage.


You can find FireX/Kidde battery smokes that in ionization and photoelectric varieties. Kidde also offers battery powered smoke/CO combo alarms, saving the clutter of multiple devices on walls and ceilings.


---
Do You Have a Chirping FireX Smoke Alarm?
The most common causes for a beeping smoke detector are a weak battery and a dirty smoke chamber. If you're even a little bit handy, you can fix both of these smoke detector problems yourself.



First, try replacing the battery with a fresh 9-volt unit. This should stop the beeping. If it doesn't, you may need to reset the detector. The procedure differs slightly depending on the type of detector you have. For details, visit the FireX Manuals page.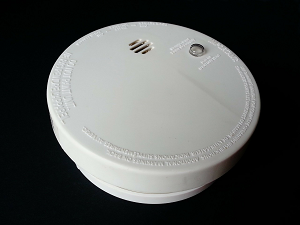 Image by PublicDomainPictures at Pixabay

Even the cleanest home can have very fine dust particles in the air. These particles can sometimes collect inside a smoke alarm, causing it to chirp or even go into alarm.


You can quickly clean a smoke alarm using a vacuum cleaner with a crevice attachment. Vacuum around the perimeter of the detector housing, where the cover meets the base plate. This should remove the majority of fine dust that may be inside.


Another method that I prefer is to use canned air, sold for cleaning computer keyboards and the like. Direct several short blasts of compressed air into the unit to blow out the dust. Canned air often comes with a small tube you can attach to the nozzle, which makes it easy to aim the jet of air where you want it.


The reason I prefer the compressed air method is that I can see how much dust is blown out of the unit. With the vacuum cleaner method, you really don't know how effective your cleaning efforts have been.


For more details on cleaning smoke detectors, see "How to Stop a Beeping Smoke Alarm".




Related Articles:


Hardwired Smoke Detectors
Home Smoke Detectors
Smoke Alarm Placement
Troubleshooting Smoke Alarm Wiring

Return to Home-Security-Systems-Answers from FireX Smoke Detectors

Return to Home Smoke Detectors from FireX Smoke Detectors


Note: Feel free to print any of the articles on this site for personal, non-commercial use. Just look for this button:

If you found this website especially helpful, you might want to consider making a small donation. Since 2011, AzAlarmGuy has been providing free help and advice on home security systems to all of those in need.
Your gift, in any amount, will help me keep this website a free resource for anyone needing help with alarm system issues or questions.