Smoke Alarm Placement
for Home Security Systems
For houses built in the U.S., smoke alarm placement is dictated by local building codes. This assures that all new construction provides an acceptable level of fire protection.
Most inspectors are only concerned with 110-volt detectors, since that power source is usually specified. Battery backup is also required in most areas of the country.


The information supplied here is for general planning purposes only. Regulations change constantly, and are subject to interpretation by local authorities. Always check with your local building inspection office for requirements in your particular city or area.


Low voltage smoke detectors tied to home alarm systems aren't usually required by code, but can be a very important part of an overall fire safety plan.


Let's see what's involved with each kind of detector.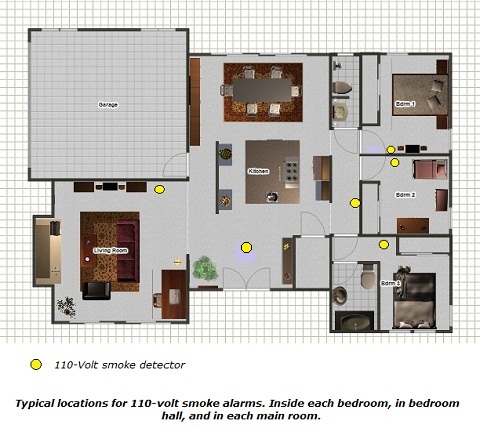 110-Volt Smoke Alarm Placement
Each city has its own set of restrictions and guidelines for 110-volt smoke alarm installation. These vary across the country, but tend to comply with recommendations of the National Fire Protection Association (NFPA). Some of the most common locations where smoke detectors are required are:

Inside each bedroom
In hallways outside sleeping areas
At least one unit on each level or floor
At the tops of stairwells
At the highest point in the home


As an example of how codes can differ, Scottsdale Arizona has required for years that smoke detectors to be installed in every bedroom of a new house. Nearby Phoenix only required them outside the sleeping areas.
Low Voltage Smoke Alarm Placement
Many areas of the U.S. don't have code restrictions for placement of low-voltage residential smoke detectors. Installing alarm companies usually try to match key locations of selected 110-volt smoke detectors with the low voltage units. Some of the areas most commonly covered are:

Outside sleeping quarters
Top of stairs
Each floor or level of the home
Highest point of dwelling
Combining Both Types of Smoke Alarms for Added Safety
Standard 110-volt smoke detectors contain loud sounders, and are very good at alerting people to a fire. However, they don't have any way to notify anyone outside the house.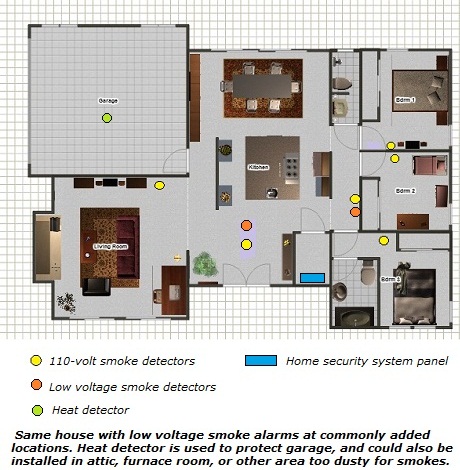 In a home where 110-volt smoke detectors already exist, adding low voltage smoke alarms will give the ability to report alarms off-site. These detectors can be connected to a home security system, which is programmed to communicate with a central monitoring station. In case of an alarm, the central station operator can send the fire department or other authorities to the premises.




Low Voltage Smoke Detectors and Insurance
Insurance companies are increasingly requiring homeowners to install monitored smoke detectors, for houses above a certain value. Some may even specify smoke alarm placement according to floor plan, square footage, etc.
This only makes sense, since damage by fire typically costs several times as much as a burglary loss.


Installing smoke detectors after a house is built can be difficult. Hard wired smoke detectors can be used in homes with attic space or other access for wiring. If wiring smoke detectors isn't possible, wireless smoke alarms are available.


After work is complete, the installing Alarm Company can issue a certificate to the insurance agent verifying compliance with their terms.
Smoke Alarm Placement Do's and Don'ts
Installing smoke detectors incorrectly can reduce or even eliminate their effectiveness. Poor smoke alarm placement is also a major cause of smoke detector problems.


Here are some general guidelines to follow when choosing smoke detector locations:

Install a smoke detector on every floor of a home, including finished basements.
When mounting smokes on walls, stay within 12 inches, but no closer than 4 inches of the ceiling. The point where a wall meets a ceiling is an area of "dead air", and smoke from a fire may never reach into these spaces.
When mounting to a sloping ceiling, keep the detector within 12 inches of the highest point. Smoke rising up from any area of the room will find its way to the peak.
Install smoke alarms at least 3 feet from air returns and registers. Otherwise, air currents might draw or blow smoke away from the detector.
Don't install smokes in dusty areas like garages, carports, crawlspaces, or unfinished attics and basements. Dust in these areas can accumulate inside the smoke chamber, causing false alarms and possible damage to the unit. Use other types of fire protection, such as heat detectors for these areas.
Don't mount smoke detectors immediately outside bathrooms. Steam from showers can cause false alarms, and could corrode metal parts and wiring.
Don't use smoke detectors in or near a kitchen. Even normal cooking vapors can cause false smoke alarms. Use a heat detector instead.

These are general best practices to follow. As always, check with your local building inspector for specific restrictions for your city. Local security alarm dealers can also be a good source of information on what's required in your area.
Looking for smoke detectors? See Smoke Alarms at Amazon.com.
Related articles:
Other ideas for Preventing Smoke Alarm Problems.
More information on using Hardwired Smoke Detectors.
For nuts and bolts info on fire alarm wiring, see Smoke Detector Circuit Basics.
For details on connecting the two main types of low voltage smoke alarms, see Connecting 2 Wire Smoke Detectors and Connecting 4 Wire Smoke Detectors.
If you're a real do-it-yourselfer, check out Smoke Detector Wiring - Connecting Multiple Runs.
If you'd like to add or replace smoke alarms but don't have a home security system, check out these pages:
Return to Home-Security-Systems-Answers from Smoke Alarm Placement


Return to Hardwired Home Security Systems from Smoke Alarm Placement


Return to Home Smoke Detectors from Smoke Detector Placement
Note: Feel free to print any of the articles on this site for personal, non-commercial use. Just look for this button:

If you found this website especially helpful, you might want to consider making a small donation. Since 2011, AzAlarmGuy has been providing free help and advice on home security systems to all of those in need.
Your gift, in any amount, will help me keep this website a free resource for anyone needing help with alarm system issues or questions.