Simplisafe Security

Cheap Alarm Monitoring with a Wireless, DIY System

SimpliSafe is a wireless DIY alarm system (do-it-yourself) that you purchase online, then self-install in your home. The system consists of a base unit, keypad, and several wireless sensors. The door, window, and motion sensors install using 3M sticky tape, so no tools are required. The equipment comes to you pre-programmed, and voice prompted start-up makes installation quick and easy.
There are various packages or kits available with prices starting at $230,  each with a different level of protection. This should make the Simplysafe system a good fit for anything from an apartment alarm to a medium or large home.

The Simplisafe system can be expanded to include additional door & window sensors, motion detectors, smoke detectors, cameras, and other devices. This makes it easy to start with a basic package, then add more devices as your budget allows.
By the way, the SimpliSafe company seems happy to use various spellings of its brand name. Besides the main spelling, I've seen Simplysafe and Simply Safe, all associated with the same product. Not to be one to rock the boat, I'll also use the terms interchangeably here.

The systems are offered with UL certified monitoring for only $14.99/month, with no contract. This price is roughly half the rate charged by most other national chain alarm companies. Simplisafe can offer savings like this largely because you purchase the system online (no sales commissions to pay) and install it yourself (no installation crews). 

The $14.99/month price covers the "Standard" level of protection, which includes central station monitoring. If you also want features like remote control via smartphone and text alerts, you'll need to upgrade to the "Interactive" plan, which costs $24.99/month.


Learn more about saving money here: 5 Ways to Get a Cheap Home Security System

Simplisafe Advantages
There is no phone line needed, since the system communicates over the cellular network. This means you don't have to have a landline, and a burglar can't cut phone lines to keep the alarm from reporting.
The Simplysafe equipment is wireless, so no wiring, drilling, or holes in the walls are needed.
Monitoring starts at $14.99 per month, with no contract.

Smoke detectors can be added to the system, allowing homeowners to take advantage of discounts on insurance rates for having a monitored fire system.
If you're looking to save money by getting a DIY home alarm, this is probably one of the easiest systems around. Once you self-install the equipment, it's basically "plug and play". With all of the programming done for you, you can start using the system right away.
The Simplisafe alarm is expandable up to 41 components, so it will work for an apartment security system up to all but the largest homes.
The Simply Safe alarm system will operate as a stand-alone system, if you decide you don't want to pay to have it monitored. If you go this route, consider buying an auxiliary siren. These units are much louder than the basic sounder in the keypad, and will be the only real deterrent without the monitoring feature.

For help deciding whether or not you should monitor your alarm, see these pages:

Home Alarm System Monitoring

Should You Self Monitor Your Alarm System?
Possible Disadvantages with Simplysafe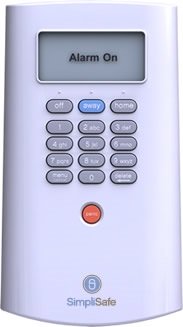 You'll have to install the system yourself, but granted, it's very easy. A reasonably handy person should find this a breeze. The pre-programmed devices use peel and stick mounting, so no tools are needed. If you do have any problems, their customer support is very good based on the Simplisafe reviews I've checked.
 Like most DIY home security systems, you'll be doing any required service work (like battery changes). Again, fairly handy folks shouldn't have any problem. 
Although the monitoring is very cheap, you do have to purchase the equipment up-front. As with most burglary alarm systems, it's a compromise. You can get a free or cheap system at a higher monitoring rate, or purchase the equipment outright and pay monitoring at a lower rate. For more on how this works, see this page on home security alarm monitoring.
As with any wireless burglar alarm, there is always the chance that radio communication between the base and the remote transmitters could be lost. However, with an advertised range of 400-500 feet, this likely won't be an issue unless you have a very large house.
Like most other security brands, the Simplysafe alarm system is proprietary equipment. This means it can't be used with any other brand of alarm system. If you decide to switch companies, you'll have to pay for a new system.
Simplysafe Conclusions
So, who should choose a Simply Safe security system?
If your home has fewer than 40 openings on the ground floor, the system should be adequate. If you own a home bigger than this, you'd probably be better off with a larger alarm panel with zone expansion capabilities.
Because no holes have to be put in the walls, this system is ideal for renters. When you leave, you can remove the equipment, take it with you, and still get your security deposit back.
For those on a tight budget, Simply Safe offers cheap alarm monitoring with a reasonable initial cost.
For do-it-yourselfers, this is one of the easiest DIY alarm systems you could ask for: Pre-programmed, voice-prompted installation, and no tools!
If you plan to self-monitor your alarm system, you'll need to upgrade to the Interactive plan for $24.99 per month. Since there are other systems available that allow you to self monitor for free, SimpliSafe may not be the best choice for you.
For more advanced do it yourself alarm system fans, I think the Simplysafe alarm may appear to  be a little too easy. With almost everything done for you, there's not much left to tinker with!
Simply Safe could become the system of choice for many people who are already considering a DIY alarm system. For those unable or unwilling to install equipment themselves, traditional professional alarm companies will always be there. I'll update this section with any new developments as they happen.
Visit the Simplisafe website

Read a Simplisafe Review at mymoneyblog link

More information on home security prices
Finding a cheap home security system
If you haven't done so already, get a few Free Home Security Systems Quotes from companies in your area.

This will give you a good idea of what it would cost to have a system installed, as well as how much you could save by doing it yourself.
Return to Home Security Systems Answers from Simplisafe Security
Note: Feel free to print any of the articles on this site for personal, non-commercial use. Just look for this button:

If you found this website especially helpful, you might want to consider making a small donation. Since 2011, AzAlarmGuy has been providing free help and advice on home security systems to all of those in need.
Your gift, in any amount, will help me keep this website a free resource for anyone needing help with alarm system issues or questions.