The Best Ademco
Alarm Systems
for Apartments, Smaller Houses, and Rental Homes
There are Ademco alarm systems designed for every type of house, large or small. For apartments, townhouses, and smaller homes, the Ademco Lynx is the perfect choice.
The Lynx is an all-in-one type system, combining the circuitry, keypad, dialer, and sounder all in a single unit. This makes installation fast and easy, and keeps the cost of the equipment low.
For do-it-yourselfers, the Lynx is one of the best options of any Ademco system. If you're a renter, the Lynx offers affordable security without needing a lot of holes in your landlord's walls.
---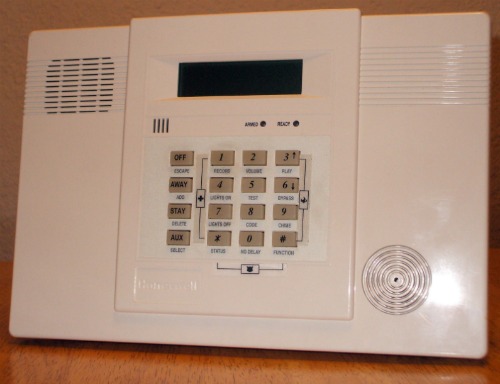 ---
Ademco Lynx Location
The Ademco Lynx can be located in the kitchen area, where there is usually an existing telephone jack.
This allows the alarm to be connected for dialing to an outside monitoring station. By placing the unit above an electrical outlet, power is also readily available. These are the only hardwired connections required for the Lynx alarm system.
---
Securing the Perimeter and Interior
In a typical apartment, there will only be one or two doors. These can be protected with the standard door/window transmitters used on many Ademco alarm systems. These same transmitters can be added to any windows you want to secure, although bugging the doors alone is still a good basic security system.
A single wireless motion detector will cover the typical apartment or townhouse. It can be located in the main living area, the master bedroom, or in a hallway. The goal is to "break up" the square footage, so a burglar will be likely to trip the motion sensor as he moves through the house.
---
Using the System
All Ademco alarm systems allow you to arm the system in at least two different modes. These are referred to as "Stay" and "Away". The difference between them is that in Stay mode, the motion detector is turned off, while in Away mode, it is left active.


This allows you to move around the house in Stay mode with the perimeter armed. When you leave the house, arming in Away mode arms the perimeter and interior for maximum protection.


Most Ademco systems use the keypad buttons not only for numerical code entry, but as command buttons. In use, you enter your four-digit security code, followed by the command digit. Here is a list of the commands used by nearly all Ademco alarm systems:
Ademco Alarm Systems Commands


1 "Off" – This disarms the system from any armed state. It's also used as a general purpose "Reset" to clear any trouble conditions or alarm memory display.
2 "Away" – Arms the alarm in Away mode, with door, window, and motion detectors active. Gives programmed delay time on entry doors to allow disarming the system on arrival.
3 "Stay" – Arms the system in Stay mode, with doors and windows armed, but with motion detectors off. Gives delay time on entry doors.
4 "Maximum" – Arms same as Away mode, but without delay time on entry doors. Used when arming or disarming from outside the home, as with a wireless remote.
5 "Test" – Used during installation and troubleshooting.
6 "Bypass" – Temporarily bypasses protection of specific zones. Enter (Four-digit code) + 6 + (one or two digit zone number).
7 "Instant" – Arms same as Stay mode, but with no delay time granted on normally delayed doors.
8 "Program" – Used for system programming, user codes, central station monitoring, etc.
9 "Chime" – Toggles Chime mode on and off. When the system is disarmed, Chime gives a tone and voice announcement of any perimeter zone opening.
These commands stay virtually the same across all models of Ademco alarm systems. Once you've learned one Ademco security system, you can operate any of them.
---
Ademco Lynx Chime Feature
While a "Chime" feature is found on almost every alarm panel, regardless of maker, it has a unique function on the Ademco Lynx.
The Lynx has a "voice library" of words that it can reproduce, allowing it to verbally announce the opening of a door or window. The volume of these voice prompts can be adjusted, making the feature very useful for apartment- and townhouse-sized homes.
While some may not use the chime feature often, others leave it on all the time.
---
Ademco Home Security Systems in All Sizes
The bottom line is that even in a small house, rental, or apartment, you can still get a full-featured alarm system at a reasonable price. If you eventually move into a bigger house, you can install any of the more powerful Ademco alarm systems. All will have the same arming and disarming command format that you've grown used to.
If you haven't done so already, get a few Free Home Security Systems Quotes from companies in your area. This will give you a good idea of what a system would cost to have installed, as well as how much you could save by doing it yourself.
Return to Home-Security-Systems-Answers from Ademco Alarm Systems

Return to Ademco Home Security Systems from Ademco Alarm Systems
Note: Feel free to print any of the articles on this site for personal, non-commercial use. Just look for this button:

If you found this website especially helpful, you might want to consider making a small donation. Since 2011, AzAlarmGuy has been providing free help and advice on home security systems to all of those in need.
Your gift, in any amount, will help me keep this website a free resource for anyone needing help with alarm system issues or questions.