Wireless Alarm Monitoring


More Secure than Phone Lines or Internet


Wireless alarm monitoring over cellular networks is becoming more and more common, as many people move away from standard landline telephone service. Cellular communication not only eliminates the need for landlines; it is more secure than a wired connection that can be cut by a potential burglar.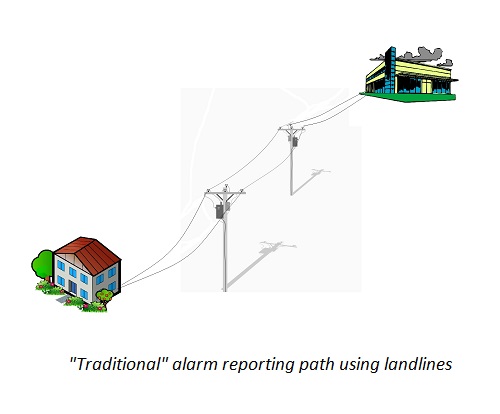 Many newer house alarm systems have built-in cellular communicators, and older systems can often be retrofitted with cellular transmitters. When an alarm or other important event occurs, the system transmits a signal to cell towers in the area. This signal is then relayed over the cellular network to the receiver.


To be clear, by "wireless monitoring" I'm referring to communications between the main alarm panel in your home and a location offsite, usually an alarm monitoring station. Wireless monitoring does this using cellular signals rather than a hardwired connection.




Wireless alarm monitoring does not include typical wireless home security systems which are only wireless within the home, but must then send alarm signals to a central station via landlines.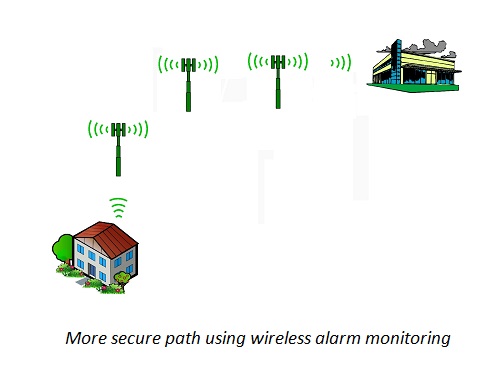 My definition of wireless monitoring also does not include Internet alarm monitoring that uses a wired Internet connection between your house and the outside world. Broadband cable and DSL data lines are hardwired, and can be cut just as easily as a phone line.
There has been some concern that wireless monitoring could have its own security issue: The possibility that the cell signal could be blocked by a radio transmitter. To learn more, see "Wireless Security Monitoring Versus a Cellular Jammer".
Wireless Central Station Alarm Monitoring
Wireless home security monitoring over cellular networks is most often used to communicate with a central monitoring station, just like landline-based reporting. When alarm signals are received at the central station, an operator will take the appropriate action. This can include dispatching the police or fire department, and/or calling you or someone you designate as a responsible party.
How Much Does Wireless Alarm Monitoring Cost?
Basic wireless alarm monitoring will start at $30 per month or so, with upgraded features available at additional cost. These upgrades often include enhanced alerts and notifications, as well as remote control options. Remote control using a Smartphone, tablet, or other device can provide capabilities like remote arming and disarming, door locking and unlocking, lighting and climate control, and even live streaming video surveillance.
Where Can I Get Cellular Home Alarm Monitoring?
The easiest way to gain the benefits of cellular alarm monitoring is to have a modern cellular alarm system installed by a professional company. While this isn't the cheapest solution, you'll have greater peace of mind knowing the system is installed and programmed correctly, and that you can count on it to perform as expected.


By choosing a professionally installed system carefully, you'll also be sure you're getting the latest features that you will use and benefit from the most.


Systems that offer wireless security monitoring are widely available from companies like Frontpoint, ADT, Monitronics, and Protect America.


If you don't want to replace your existing land-line-based alarm, you may want to consider adding cellular back-up reporting. This gives you the benefit of wireless alarm reporting in the event your phone line is cut or otherwise out of service.


Back-up reporting is typically limited to a few basic signals, which usually include general "alarm," "fire," "panic," and "trouble" conditions. Although these signals aren't as detailed as those sent by a dedicated cellular alarm system, they still ensure that help is on the way when needed.
Just looking to see how much a new system would cost?
Get free alarm quotes by answering a few questions below.


Can I Get Discount Alarm Monitoring and Still Use Cellular?

If you'd like the advantages of wireless alarm monitoring at the cheapest price, one of your best choices is SimpliSafe. They offer cellular alarm monitoring for just $14.99 per month, with no monthly contract.


In fact, monitoring is optional. If you prefer, you can just buy a SimpliSafe package and use it as a stand-alone system.


All SimpiliSafe systems are designed for do-it-yourself installation, and their site features a video showing how easy it is. Currently (December, 2015), they offer an Economy Package for $259.95.


Learn more about SimpliSafe Security systems.

Wireless Self Monitoring
A few cellular based alarm systems, like the Fortress GSM system described below, use wireless alarm monitoring to send signals directly to your smartphone or other device. This "self monitoring" eliminates the expense of a central monitoring station, and requires no contract with an alarm company.


While this can be a good way to save money, there are some things you should consider carefully.
Are You the Do-It-Yourself Type?
Most self-monitored systems are also DIY alarm systems, and are designed to be self-installed. If you're fairly handy, this won't be a problem. But, if you don't feel "hands on" or technically able to install, set up, and maintain the system, you might be better off going with a professional alarm company.
For help deciding, see "A DIY Home Alarm System – Is it Right for Me?"
Security Concerns
Understand that with self-monitoring you are responsible for answering the call from your security system, whenever it may occur, and then deciding what action to take. Should you call the house? Call a neighbor? Or should you go home and check it out, risking a possible confrontation with an intruder?


Also realize that if you're asleep, away from your cell phone, or in the dentist's chair, the call could go unanswered, resulting in no response to the alarm at all.
 
If any of these issues make you uncomfortable, self-monitoring is probably not for you.
Money Concerns
Remember that even with self-monitoring you'll still be paying a monthly charge to a cellular carrier for the use of the network. This will likely be much less than the cost of 24-hour central monitoring service, but it won't be zero.


If you're a homeowner, consider that having your system monitored by a 24-hour central station will typically earn you a 10%-20% discount on your homeowners' insurance premiums.

If you rent, but would prefer the peace of mind of having 24-hour central station monitoring, consider a wireless all-in-one system like the Ademco Lynx.

If you're a renter, and you're comfortable with the security concerns mentioned above, self monitoring may be a great option.

Learn more about self-monitored alarm systems.
Fortress Security Store GSM-B Wireless Cellular GSM Home Security Alarm System Kit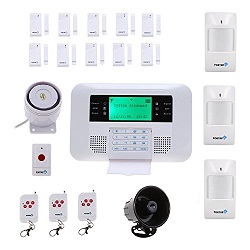 This system allows self-monitoring via a landline, cellular network, or both. Cellular communications require the addition of a standard SIM card, sold separately. The Fortress system can dial up to 6 phones and send a 10-second recorded message. It can also send a text message to up to 3 phones.

Of course, you can also use the system as a strictly local system that sounds the included interior and exterior sirens.

 Click this link for a very thorough review of the Fortress system at peaceofhouse.com.



Related Article:
Internet Alarm Monitoring - How to Ditch Your Landline Phone and Save Money


Return to Home Security Systems Answers from Wireless Alarm Monitoring

Return to Home Alarm System Monitoring from Wireless Alarm Monitoring
Note: Feel free to print any of the articles on this site for personal, non-commercial use. Just look for this button:

If you found this website especially helpful, you might want to consider making a small donation. Since 2011, AzAlarmGuy has been providing free help and advice on home security systems to all of those in need.
Your gift, in any amount, will help me keep this website a free resource for anyone needing help with alarm system issues or questions.