DSC 832

Tips and Advice for Older Systems

The DSC 832 has been used for DIY alarm systems and professional installations for years. Its great features, ease of programming and reasonable price made it a favorite of many in the alarm business.


The DSC Power 832 security system is no longer in production, although systems are still available from several vendors. The panel will remain relevant for years to come, due to the sheer number that have been installed.


People often inherit a DSC 832 as part of an existing home security system when they buy a house. If you happen to be one of these people, the tips below can help you get the system up and running. With the alarm working, you may be able to avoid or postpone replacing the panel.


If your DSC system isn't in such good shape, I'll give you some thoughts on that at the bottom of this page.
Ready? Here we go!
Replacing the Alarm System Battery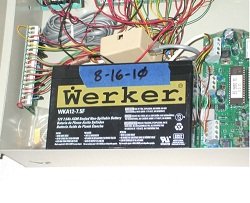 Have you been awakened by your DSC alarm beeping in the middle of the night? If so, a bad battery is the most likely cause.


A dead or dying backup battery is the most common problem found with any security system, and the DSC Power 832 is no exception.


Replacing an alarm panel battery is an easy do-it-yourself task, even for a beginner. For detailed steps on how to do it, see this page on DIY Alarm System Battery Replacement.


Most DSC 832 alarm panels will have the 12-volt, 4 amp/hour (4 AH) size battery in place. This is the smaller of the two standard types used for alarm panels.


If you have to replace your battery, I advise getting the larger 12-volt / 7 AH unit. It will give you more run-time than the smaller unit in case of a power outage. The DSC 832 enclosure should have plenty of room for the 7AH battery, unless other devices have been installed in it.


Be sure to observe polarity when connecting the new battery. The red, positive terminal connects to the red battery wire, and the black negative terminal goes to the black wire.


Expect to replace the battery in your DSC alarm panel about every 3-5 years or so. Of course, when the battery begins to fail, you'll be alerted by a beeping DSC keypad. Magical powers in the universe cause this to happen only in the middle of the night, it seems…!
---
How to Default a DSC 832
If you've acquired a DSC Power 832 as part of a home purchase, you may not know the arm/disarm code. You'll need a valid code to do almost anything with the system, so it's worth a little effort to figure out what it is.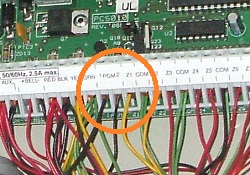 If the previous owner is known, they're usually happy to give you a code. Realtors may also have a code to let them show the house.


Installers and homeowners sometimes write the code somewhere on the main panel. Check the outside of the main panel box, as well as inside the lid. If there is a DSC alarm manual or any other paperwork, look for a 4-digit code there.


Check the kitchen drawers for any alarm panel keys. Sometimes, a code is written on a key tag or scrap of paper with the key.


If the code can't be found, a factory default can often be performed. This will restore the panel programming to original values, including the installer and master codes.

Before attempting to do a default, you should check to see if your DSC panel is locked out. Alarm companies sometimes lock out panels to prevent other companies from reprogramming them.


How to See if Your Panel is Locked Out:
1. Completely power-down the system by disconnecting one battery lead, and unplugging the low-voltage transformer.

2. Power up the panel by plugging in the transformer.

3. Listen carefully: If you hear 8-10 clicks from the panel, it is locked out. If no clicks are heard, the panel is not locked. Reconnect the battery.
If your panel is locked out, your only practical option is to replace it.
If you discover your panel isn't locked out, you can continue with the factory default procedure.



WARNING:

A factory default will remove ALL current programming from the panel!

This will require re-programming all information for the zones, communicator, partitions, etc.

If you're not comfortable doing this, contact a local alarm company professional for help!



To Do a Hardware Default:
Disconnect AC power, either at the circuit board terminals or by unplugging the low-voltage transformer.
Remove one battery lead, doesn't matter which one.
Remove all wiring from the "PGM1" and "Zone 1" terminals.
Use a piece of wire to connect the PGM1 and Zone 1 terminals together.
Re-connect AC power. (Battery power will NOT default the panel.)
Go to a keypad, and verify that the Zone 1 light is lit.
Remove AC power, and reconnect the original wiring.
Reconnect AC and battery power.


The default master code is 1234, and can now be used to arm and disarm the DSC Power 832 system. Get a copy of the programming manual to complete installer programming of the system, and enter the user codes you prefer.


You can find links to free DSC manuals on my alarm system manual sources page.
---
Checking for Open Zones on DSC 832 Keypads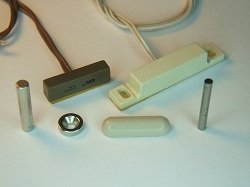 DSC 832 systems with hardwire contacts can develop problems with doors and windows not "setting up". This can be caused by sagging frames, loose fitting doors and windows, and missing magnets.



The first step is to find any problem openings and correct them. Close all the exterior doors and windows (as well as the interior garage door), then move to a keypad.


To check for open zones at a DSC Power 832 LED keypad like the PC5508, see if any zone lights are lit. If none are, all is well for the moment. If any are lit, note the zone numbers.


Open zones on a DSC 832 LCD keypad like the LCD5500 will be displayed as text. Just make a note of the zone description. If more than one zone is faulted, press the "<" or ">" keys to scroll through them.
---
Finding the Open Zones
If a zone list is available, you'll be able to find the open zone(s) fairly easily.


Just go to each area shown as "open" on the DSC keypad. Look for loose, missing, or mis-aligned magnets and switches.

Also, see if any door or movable portion of a window is very loose in the frame. This can prevent the magnet and switch from lining up, causing an open zone and false alarms.
If there is no zone list, you'll need to make one. Not to worry, it's really very easy! Here's what to do:
Have a trusty assistant open and close each door and window in the house, one by one, while you watch the keypad.
When opened, each door and movable window should show up as a zone light or LCD text display on the keypad.
Write down which zone light or description appears for each opening.
Follow the steps above to locate the problem areas.


You can download and print out a FREE copy of my Basic Alarm Zone List to use as a fill-in form to make this easier.
It has 28 lines for alarm zone information, including zone numbers, descriptions of protected areas, loop and serial numbers, and more.


Are you an alarm installer, and need a sheet to record system info for your customers?
Download a FREE copy of my Alarm Installation Record Sheet.
This has spaces to enter a homeowner or business name, address, phone numbers, and panel make and model details. The lower portion of the form is a shorter, 20-zone version of the Basic Alarm Zone List above.

Each of these PDF documents will print out as a single 8-1/2 x 11 page, and I created them both to work with any type of alarm panel - wireless, hardwired, or hybrid. Modify them as you like to suit your needs.


---
DSC 832 Options
Your DSC Power 832 should now have a battery in good shape, a fresh set of your own codes, and working door and window contacts.
This alone gives you a good, basic home security system.


The DSC 832 can be customized with zone expanders, enhanced alarm keypads, programming, and other options. Most of this also applies to the successor to the DSC 832, the DSC 1832.
Learn more from these pages:

The DSC Power 832

The DSC Power 1832
My DSC Home Alarm is Beeping! - Causes and Solutions

Hardwired Home Security Systems

DIY Home Security Systems
---
What if your DSC 832 isn't in very good condition?


Depending on what kind of "wear and tear" your system has been through, consider these points:

Most newer DSC keypads are backwards-compatible with older models of panel, so you can probably find a replacement for a worn-out keypad. Depending on the age and condition of the rest of the system, this could be a good option

A new system can easily be had these days for as little as $99, or even free in some cases, provided you go with monitoring. This makes spending money on a very old or worn-out system much less cost effective than it used to be
If you own a smartphone or other web-enabled device, consider how handy it would be to use it to remotely arm and disarm your system. Many newer systems are designed to be smartphone-compatible from the ground up. If you happen to have (or plan to have) cameras, many systems allow remote live viewing and playback on smart devices
Even after all your efforts, you may decide that your system is beyond reasonable repair. If this happens, find out what a new system would cost by getting a few Free Home Security Systems Quotes from companies in your area.

These quotes can help you decide whether to pull the plug on the old system, install a new system yourself, or step aside and let a professional security company do the work.

Return to Home-Security-Systems-Answers from DSC 832
Return to DSC Security Systems from DSC 832

Note: Feel free to print any of the articles on this site for personal, non-commercial use. Just look for this button:

If you found this website especially helpful, you might want to consider making a small donation. Since 2011, AzAlarmGuy has been providing free help and advice on home security systems to all of those in need.
Your gift, in any amount, will help me keep this website a free resource for anyone needing help with alarm system issues or questions.