The Best Hardwire Contacts
for Doors and Windows
Hardwire contacts are the most common way to protect doors and windows. They are cheap, reliable, and usually last for many years.
They come as a set consisting of a sensor and magnet. The sensor contains a reed switch in a sealed glass tube. Reed switches are very sensitive, and are designed to be activated when placed near the magnet.

Hardwired contacts are often listed by the "gap" between the sensor and magnet. As long as the magnet is within this gap distance, the switch will stay activated, usually as a closed circuit. Moving the magnet away causes the sensor to open. The security panel sees this, and if the system is armed, an alarm will occur.

Gap distance is important for false alarm prevention. Over time, doors and windows can sag, warp, and become loose in their frames.


This can cause switches and magnets not to line up. Wide-gap switches can help make up for this sloppy fit, and keep the alarm from triggering just because of poor alignment.

Hardwire contacts come in a variety of sizes, styles, and colors. Here are the major types, along with the best ways to use them.
---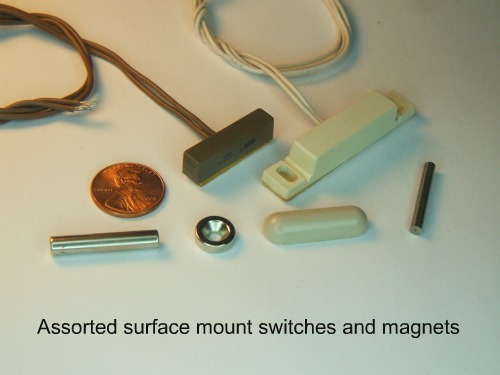 Surface Mount Contacts
Mount the switch to the surface of the door or window frame, and place the magnet on the moving part. They can be attached with double-sided sticky tape or screws.


When mounting with sticky tape, add a thin bead of latex or silicon caulking along the sides, for added strength.

Advantages of Surface Mount Hardwire Contacts:

Easy to install


No holes drilled into window frames, so there are no warranty issues


They are usually the best choice for a hardwired DIY alarm system

Surface mount switches are also the easiest type to use for "zone venting". This allows a door or window to remain open slightly, even with the alarm system armed.


See how it's done here: Adding a Vent Zone to a Home Alarm System

For garage protection, learn about:

Connecting a Garage Door Contact to a Home Security System

The Best Overhead Door Contact Mounting Locations
---

Recessed Contacts


Install the switch into a hole drilled into the outer door or window frame, making wiring connections first. Install the magnet in a hole drilled into the moving frame. A dab of caulking in each hole will keep these "press fit" units from popping out.


Recessed Hardwire Contacts Advantages:

Cleaner looking installation, since no parts are visible when the door or window is closed


Recessed units are not likely to get knocked off or damaged during routine window cleaning


Recessed contacts are very easy to install during the construction phase of a house

Many home alarm companies prefer to install recessed contacts during the pre-wire stage of construction. This makes the final alarm installation neater, faster and easier.
---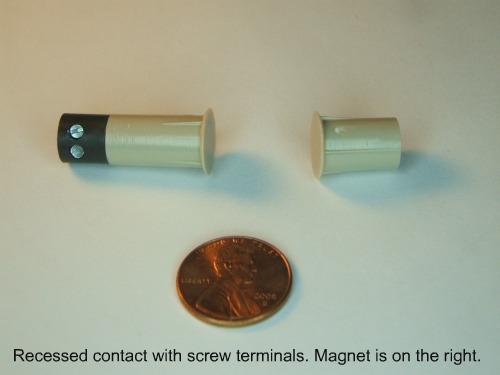 Connecting Hardwire Contacts

Both surface and recessed contacts are available with flying leads/pigtails, and with screw terminals.

Each type has its advantages:

Flying leads are more widely used, because they tend to be cheaper. For surface mount switches, the leads often match the switch color, making them look better than the plain alarm wire connected to screw terminals.


Screw terminals are useful if the existing alarm wiring at the opening is too short to make a splice or solder connection. In this case, simply strip off a bit of insulation, insert the wires into the switch, and tighten the screws.


Hardwired contacts with terminals are also good when there is little room to tuck wiring back into the hole in the frame. Here, cut the wire back to a short length, and make the connections with the screw terminals.


If you're a do-it-yourselfer, security alarm parts are readily available on the web. Contacts and magnets are often sold in bags of 10.


For some examples of window and door sensors available from just one manufacturer, see this page on Honeywell Switches.


Always order a few more than you think you'll need, since a switch or two may eventually fail, or a magnet may fall off and get lost. The replacements will then match the originals in style and color.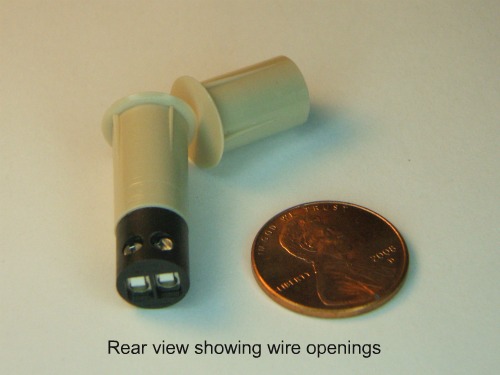 ---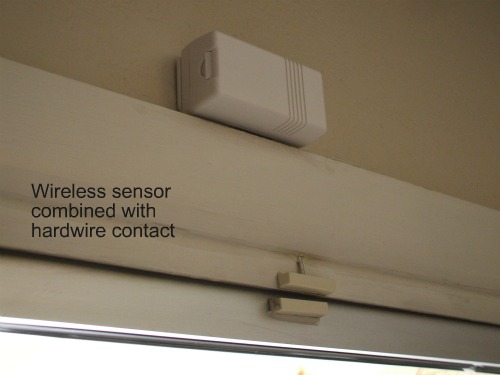 Hardwired Contacts and Wireless Transmitters

Hardwire contacts are mainly used in wired home security systems, where they do an excellent job. With a little creativity, they can be even more useful.


Many wireless transmitters also have a set of screw terminals for a hardwired contact. This allows a switch to be connected, and send signals when it opens and closes. This can make installation of wireless sensors neater and quicker.


Many doors and windows don't lend themselves to mounting a transmitter directly to the frame of the opening. Wide trim moldings and window screens can sometimes leave no room to install the transmitter. By adding a hardwired switch, the wireless unit can still be used.


Another great money saver is using two or more switches tied to a single wireless transmitter. This saves you the cost of extra transmitters if you have a set of bay windows, for instance. Wire will just have to be notched into the drywall to connect the contacts at each window.


For troubleshooting purposes, don't group more than three or four openings on one transmitter.

For tips on how to prewire doors and windows, see these pages:

Burglar Alarm Wiring for Securing Doors

Burglar Alarm Wire for Protecting Windows
---
Existing Alarm Systems

You may "inherit" an older alarm system as part of an existing home security installation. If so, check out this page on DSC 832 - Tips and Advice for Older Systems.


Find recessed alarm contacts and surface mount contacts at Amazon.com.
If you haven't done so already, get a few Free Home Security Systems Quotes from companies in your area.

This will give you a good idea of what it would cost to have a system installed, as well as how much you could save by doing it yourself.
Return to Home-Security-Systems-Answers from Hardwire Contacts

Return to Hardwired Home Security Systems from Hardwire Contacts
Note: Feel free to print any of the articles on this site for personal, non-commercial use. Just look for this button:

If you found this website especially helpful, you might want to consider making a small donation. Since 2011, AzAlarmGuy has been providing free help and advice on home security systems to all of those in need.
Your gift, in any amount, will help me keep this website a free resource for anyone needing help with alarm system issues or questions.