Burglar Alarm Wiring
for Securing Doors
Burglar alarm wiring connects the main panel to every device in a hardwired home security system. Burglar alarm companies can install wiring during construction, or after a home has been built. Or, if you're the hands-on type, hardwired DIY security systems are available.


With the wiring is installed, the system needs sensors to be able to detect an intruder.


Perimeter protection is provided by hardwire contacts on doors and windows. The perimeter is considered to be the first line of defense against intruders. Any door or window that opens to the outside of the house will have a sensor, which is wired back to the main alarm control panel.


Interior protection is covered by motion detectors for the most part. Certain sensitive areas, such as master bedroom and bath windows are often protected with glassbreak detectors. Interior devices make up the second line of defense, in case a perimeter door or window fails to detect an intrusion.



This page deals with perimeter protection, specifically doors.
For windows, see Alarm Wire for Protecting Windows.
Interior devices are covered here:
How to Run Motion Detector Wiring
Alarm Wiring for Glassbreak Sensors

For tips on burglar alarm wiring for basic functions of the control panel and alarm system keypads, see "Alarm System Wiring for the Main Panel".


For an overview of all wiring needed for a complete security system, see "Home Alarm Wiring for a New House".


If you're (wisely) including fire protection in your system, you can find details at "Fire Alarm Wiring for More Complete Home Security".



The most common burglar alarm sensors for doors are hardwired magnetic switches, also known as contacts.


Perimeter contacts use 2-conductor burglar alarm wiring, run from each opening to the main alarm panel. When possible, every opening should be "home-run", meaning each has its own individual wire running to the main panel. You can loop adjacent openings together in some cases, which I'll explain below.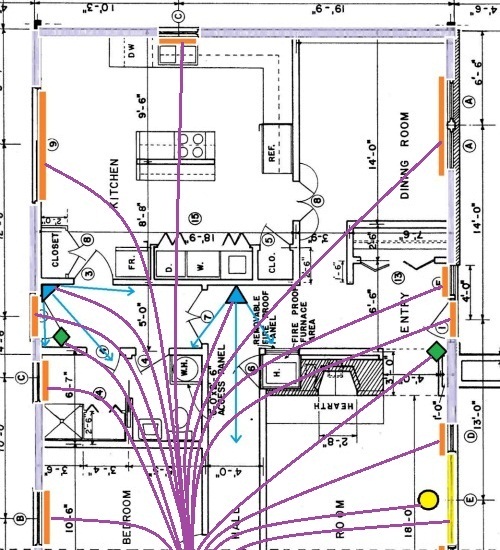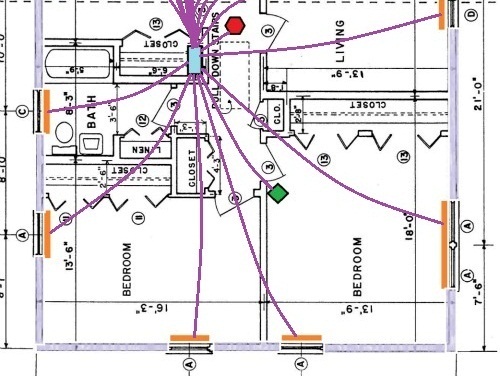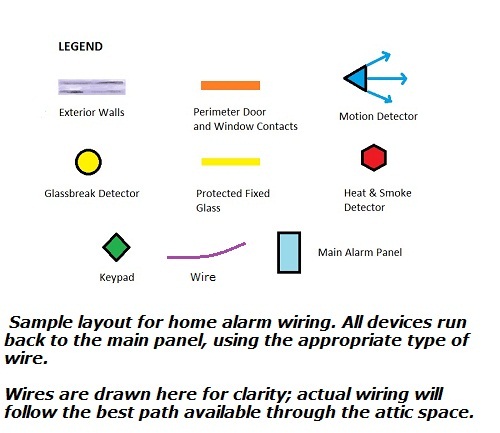 Perimeter Doors
Use 2-conductor burglar alarm wire for each door that opens to the outside of the home. The garage interior door should also be wired, as well as any garage side doors. Include wiring for the overhead garage door(s), if you feel a need to do so.


Treat a detached guest house or workshop as a separate space, and run burglar alarm wiring to each of those exterior doors as well.


Because of the many styles of doors, several types of burglar sensors are typically used. Here are some common door types, along with tips for wiring and contacting them.


Standard swinging doors are the most common type, and are usually made of wood. Use recessed magnetic door switches for these openings.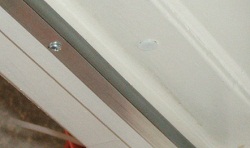 Standard swinging doors should be wired either at the top, or on the latch side opposite the hinges. If you're wiring to the side, bring the wire out about 18" above the floor. Wiring at the top is slightly preferable to the side, but there are pros and cons for both locations:


Running burglar alarm wiring in from the side is usually easier. There is usually less framing to drill through, and the switch and magnet can be installed without a ladder. The downside? Over time, doors tend to sag. If it sags too much, the magnet and switch may hit each other, which can damage the switch.
 
Wiring at the top eliminates the chance of a switch being struck if the door sags. Be sure to squirt a dab of latex caulk into the hole when installing the switch, to prevent it from dropping down and being struck.


Headers above doorframes can be very thick, meaning more drilling.


Ductwork or other obstacles above the doorframe may make it difficult to run a wire.


Another glitch comes if you have a low ceiling near the doorway. The ceiling may not allow enough clearance to drill for a magnet, which will require taking the door off its hinges to be drilled.
The Bottom line: If you have room, go for the alarm wiring in the top. Otherwise, choose the side.


Metal clad doors, like those used for side access to a garage, need a little extra care in installing the magnet. Use recessed contacts on these, along with a plastic grommet or "donut" to install the magnet into the door. Otherwise, the magnet will lose strength over time due to the steel cladding, and may cause false alarms.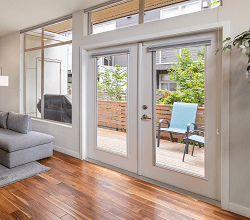 French doors are similar to a pair of standard swinging doors. The main difference is that usually one door half is pinned, and can't be opened unless the other half moves. These kinds of doors only need burglar alarm wiring on the main, unpinned half.



Double doors that can move independently of one another should be wired and contacted on both sides. In this case, looping the two sides is OK.



Sliding glass doors should have wiring at the top if possible, to allow making a vent zone later. Using a surface-mount magnetic door switch and will make this easier, in most cases.


The second best location for alarm wiring is at the opening side, about 18" above the floor. This location calls for a recessed contact and magnet.


Always try to home-run doors if at all possible. Doors tend to get much heavier use than windows. This causes wear and tear on the burglar alarm sensors that can lead to false alarm problems. These issues are much easier to troubleshoot if the doors are wired separately from each other.


Types of Burglar Alarm Wiring
Doors and windows use regular 2-conductor, 22-gauge alarm wiring. 4-conductor wire is sometimes used, and I'll cover that in a future article.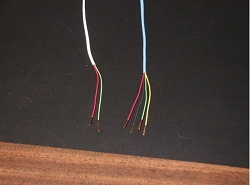 Shop for Cat-5 cable, alarm, and fire wire at Amazon.com.
Related Articles:
Magnetic Door Switch Installation – Surface Mount Type

Installing Magnetic Door Switches – Recessed Type

Using Hardwire Contacts
---
If you're thinking about a do-it-yourself alarm system, you may want to know how much a professional alarm company would charge. The best way to do that is by getting some free alarm system quotes.


Just answer a few easy questions below, and quotes will be sent to you via email.

Return to Home-Security-Systems-Answers from Burglar Alarm Wiring
Note: Feel free to print any of the articles on this site for personal, non-commercial use. Just look for this button:

If you found this website especially helpful, you might want to consider making a small donation. Since 2011, AzAlarmGuy has been providing free help and advice on home security systems to all of those in need.
Your gift, in any amount, will help me keep this website a free resource for anyone needing help with alarm system issues or questions.