Alarm Wiring for Glassbreak Sensors
Glassbreak sensors are devices for interior protection, similar to PIR motion sensors. They are needed mainly to protect fixed glass. Fixed windows are often found in master bathtub or closet areas, living and family rooms, and as sidelights around doors.


Opening or operable windows are easily protected using magnetic reed switches, since a burglar will nearly always open the moving window panel to gain entry. Fixed windows don't move, so detecting glass breakage is the only way to protect them.


Glass doors can also be secured with glass-break detectors, but try to use a magnetic door switch as well.



Types of Glassbreak Detectors
The two main kinds of glassbreak sensors are surface-mount (or stick-on) and audio discriminators. Both are designed to do the same job, but they use different technologies.


This page focuses on glassbreak sensors for hardwired home security systems. Several types of wireless glass break detector are available for wireless systems.


Surface mount glass break sensors are a type of shock detector that attaches to window glass. These shock sensors detect glass breakage by direct vibrations. They are a good choice in rooms with one or two fixed windows to protect, like those often found in a master bedroom closet. Rooms with opening windows or several fixed panes are cheaper to protect with audio discriminator-type sensors.


---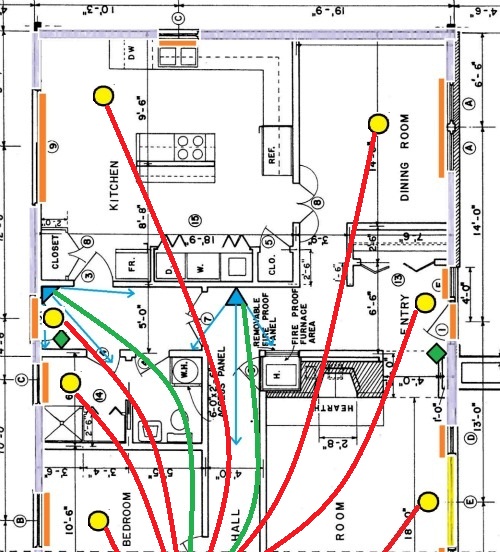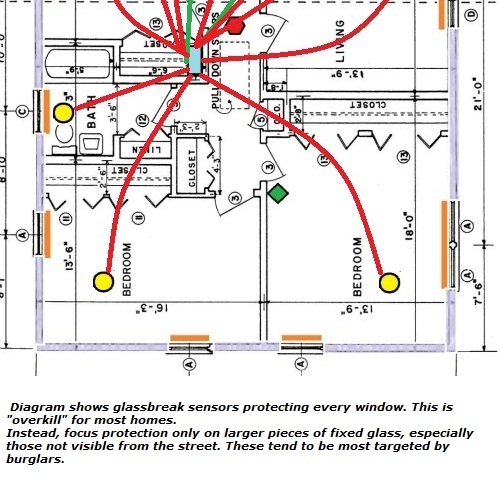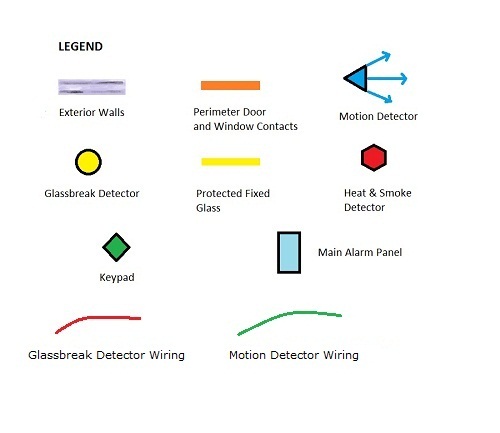 ---
Stick-on glass break sensors require either 2- or 4-conductor burglar alarm wire, depending on their design. Wires should be run to the edge of the window opening near a corner, to make the sensors less noticeable. Install the sensors at least 2" or so from the corner of the window frame, or according to the manufacturer's instructions.


Audio discriminators are actually sensitive microphones that analyze room noises. They trigger an alarm when they detect audio frequencies consistent with the sounds made by shattering glass. They don't mount directly to the window, but rather on a nearby wall or ceiling. This makes them a good choice for larger rooms with several pieces of glass to protect.


4-conductor burglar alarm wiring for audio shock sensors should be brought to a point in the ceiling several feet away from the glass to be protected. Manufacturers typically specify a radius of detection within which to locate their sensors. For example, the Sentrol Shatterpro unit shown here specifies a coverage radius of 25 feet.


Place audio glass break sensors near the middle of a group of windows you're trying to protect. This will give you maximum coverage for each unit.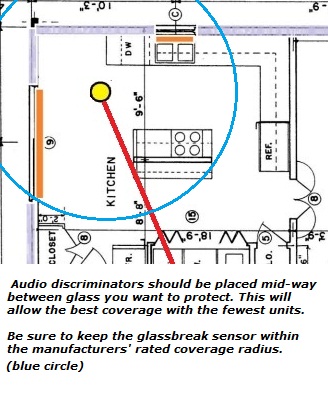 Be aware that shutters, draperies, carpeting and other room furnishings reduce the effective range of audio discriminators. If you need to protect windows with shutters or heavy drapes, use stick-on type glass break sensors to be certain of good detection.


If your windowsills are deep enough, an audio-type glass break detector could be installed at every window. This would also give you good window protection, but it would be much more expensive than using stick-ons.


Some types of recessed shock sensors are designed to fit into the frame of the window, which could also be an option for shuttered or draped windows. This variety of glass break sensor has the added advantage of being virtually invisible once installed.



---
Types of Alarm Wiring for Glassbreak Sensors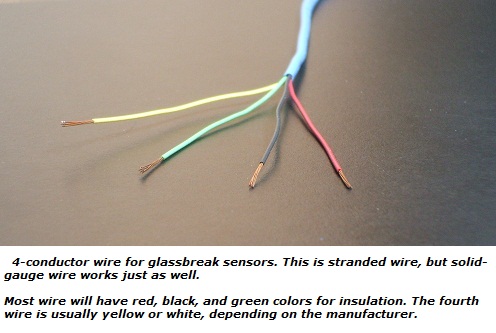 It's best to run 4-conductor, 22-gauge alarm wiring for all glass break detectors. This gives you the option of using any glassbreak sensors you choose, whether they're 2- or 4-wire devices. The cost difference between 2 and 4 conductor wire is minimal.


Shop for Cat-5 cable, alarm wire, and fire wire at Amazon.com.

Related Articles:
For an overview of alarm wiring, see "Home Alarm Wiring for a New House"

Alarm System Wiring for the Main Panel

Burglar Alarm Wiring for Doors

Burglar Alarm Wire for Protecting Windows

How to Run Motion Detector Wiring

And don't forget to consider adding Fire Alarm Wiring for Complete Home Security


If you're just thinking about installing a do-it-yourself alarm system, you may want to know how much a professional alarm company would charge. To find out,
Get Free Home Security Systems Quotes
from companies in your area. This will give you a good idea of what a system would cost to have installed, as well as how much you could save by doing it yourself!
Return to Home-Security-Systems-Answers from Glassbreak Sensors


Return to Hardwired Home Security Systems from Glassbreak Sensors

Note: Feel free to print any of the articles on this site for personal, non-commercial use. Just look for this button:

If you found this website especially helpful, you might want to consider making a small donation. Since 2011, AzAlarmGuy has been providing free help and advice on home security systems to all of those in need.
Your gift, in any amount, will help me keep this website a free resource for anyone needing help with alarm system issues or questions.