Alarm System Wiring
for the Main Panel
Hardwired home security systems need some basic alarm system wiring for main panel operation. This allows charging the backup battery, arming and disarming the system, sounding alarm conditions, and communicating with a central station. Wiring a home alarm system is easiest to do while the house is being built, but it can also be done in an existing home.


This page focuses on the wiring needed for main panel functions. The types of wiring to use are listed at the bottom of the page.
For an overview of wires needed for the complete system, see this page on Home Alarm Wiring.
For details on how to protect doors and windows, see:
Burglar Alarm Wiring for Securing Doors
Burglar Alarm Wire for Protecting Windows
Interior protection is covered here:
How to Run Motion Detector Wiring
Alarm Wiring for Glassbreak Sensors


In order to function, the main alarm panel needs wiring for:


Power
Telephone
Keypads
Sirens
Auxiliary devices
Ground (optional)
Whether you're planning a DIY home security system or using an alarm company, begin by choosing a location for the main panel. Good choices are in a master bedroom closet, laundry room, or other out-of-the-way place.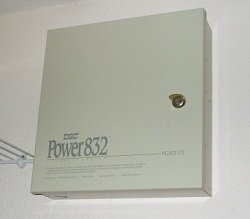 Power Wiring
A home alarm system is powered by a low-voltage transformer, which charges a 12-volt backup battery. The battery can usually run the system for a few hours in case of an electrical outage. Alarm system wiring from the transformer location to the main panel should be 4-conductor fire wire, 22-gauge minimum.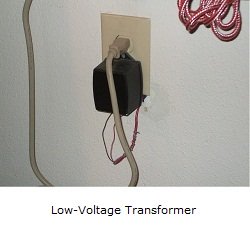 Run the wire to an unswitched electrical outlet as close to the panel as possible. If the distance is over 50 feet or so, use 18-gauge wire if you can. Some panels are sensitive to small voltage drops over long power runs, and can give a low battery indication even under normal conditions.


Telephone Wiring
It's always a good idea to run telephone wiring for the security panel, even if you don't plan on using home alarm system monitoring right away. Providing for a telephone connection is considered a standard part of a professional security prewire, and you never know when you may decide to use it.


Run a phone wire from the main panel to the telephone service entry point. This is usually located outside the house, near the main electrical breaker panel.


Alarm System Keypad Wiring
Keypads are used to arm and disarm the security system, and to view zone and system status. The system also uses them to sound alarm and trouble tones.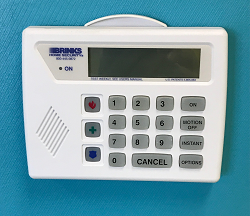 As part of any basic prewire, run 4-conductor alarm system wiring to each of these locations:

Front door
Garage interior door
Master bedroom
Coil up two or three feet of wire at each location, just above the light switch. At the garage interior door, loop the wire above the light switches both inside the house and in the garage itself. These locations are often back-to-back anyway, in which case a single coil of wiring is fine. This allows the option of installing a keypad at either location, or both.


Depending on the layout of your home, you may want to run additional 4-conductor alarm system wiring to any location that might need a keypad. Maybe you have a side entrance to the house, or a floor plan with a second master bedroom option. Other places that might need a keypad for convenience include a detached garage, guesthouse, or workshop.


Click here for more information on Alarm System Keypads.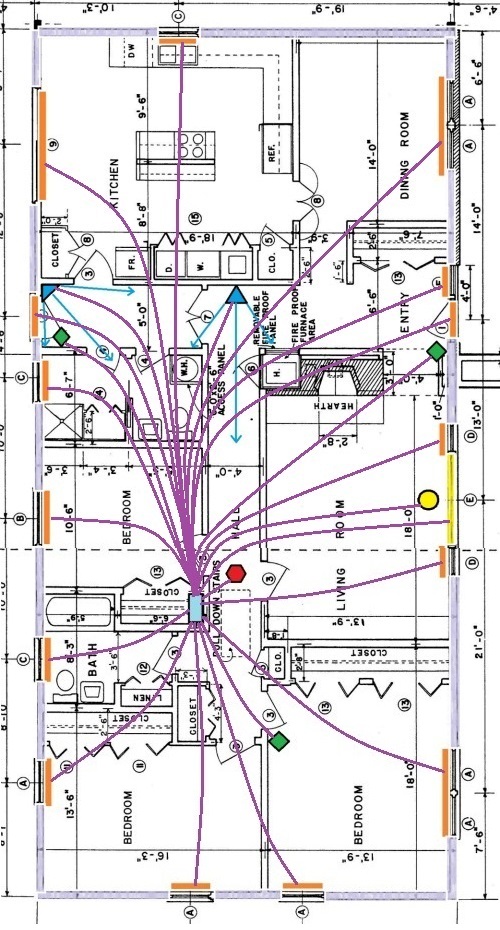 Sirens and Sounders
Sirens are your best method to alert a would-be thief that he has been noticed. A blaring peizo alert or other loud audible sounder will drive most intruders from your home, meaning you won't have to run into them accidentally.


Interior sirens are very effective, and can also double as your fire alarm sounder if you include smoke detectors with your security system.


Exterior sirens are not as frequently used anymore, though it's a good idea to prewire for one just in case. Outside sirens only help if someone is nearby during a break-in, and even then most people ignore alarm sirens.


Your money is much better spent on adding a smoke detector, an extra keypad or motion detector, or any other upgrade you may have been "on the fence" about buying.

Wiring for inside sirens should be 2-conductor fire wire. Exterior sounders should be wired with 4-conductor fire wire. This allows two conductors to power the siren, and two more for a tamper switch.



Wiring for Auxiliary Devices
Modern security panels can do much more than just sound a siren and send alarm signals. Most alarm panels offer auxiliary output relays and triggers that can be programmed for various responses. These outputs allow a panel to control lights, door strikes, appliances, and almost anything else that can be operated by a switch. These devices can be activated in response to an alarm or other condition that the panel detects, or on a timed schedule for repetitive events.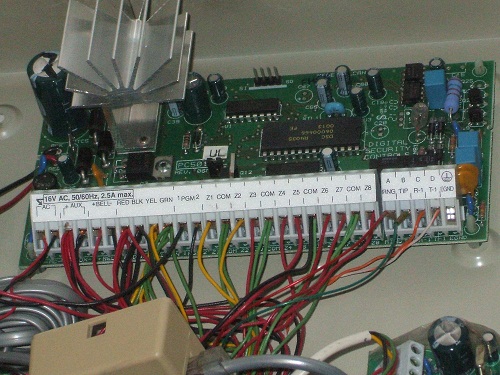 Alarm system wiring for auxiliary devices will depend on the specific lighting system, device, or function you want to perform. Your alarm company can advise you on what options are available, along with any additional wiring that may be needed.


Ground Connection
Ground wiring for an alarm system makes the lightning protection built into the panel more effective. The ground must be a good one, though, or it can cause more harm than good. Most alarm system panels will have a clearly labeled "ground" terminal where you should connect the ground wire.


Use heavy-gauge copper wire for ground connections, 12-gauge or larger. Attach the wire to a copper cold water pipe or grounding rod, using a correctly sized grounding clamp.


Newer homes may be built with only a short length of copper water line entering the house; the rest of the water line is plastic, and useless for grounding purposes.


The bottom line: If you have access to a good ground, use it. Otherwise, don't worry about it. These days, the cost of a good grounding rod would likely be more than the price of the alarm equipment!


Types of Alarm System Wiring
Keypads and most auxiliary devices use regular 4-conductor, 22-gauge alarm wiring. Wiring for sirens and power runs is 4-conductor fire wire, which can also be used for smoke detectors.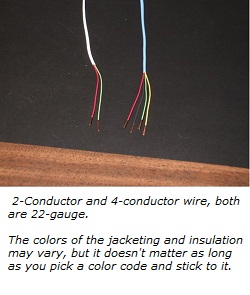 If you decide to run ground wiring, use 18-gauge or heavier single copper conductor, along with a grounding clamp to match the type of connection you need.


Shop for Cat-5 cable, alarm wire, and fire wire at Amazon.com.

---
If you have an older system that's starting to have problems, you may be thinking about replacing it.

To find out how much a new system might cost, get some free price quotes from alarm dealers in your area. Just answer a few questions below, and you'll receive your quotes via email.
These quotes are absolutely free!
Related Articles:
Return to Home-Security-Systems-Answers from Alarm System Wiring

Return to Hardwired Home Security Systems from Alarm System Wiring
Note: Feel free to print any of the articles on this site for personal, non-commercial use. Just look for this button:

If you found this website especially helpful, you might want to consider making a small donation. Since 2011, AzAlarmGuy has been providing free help and advice on home security systems to all of those in need.
Your gift, in any amount, will help me keep this website a free resource for anyone needing help with alarm system issues or questions.