Alarm System Keypads

Basic and Enhanced Features
Alarm system keypads are the main interface between you, the user, and your alarm system. They accept commands through the keys, and output information using a visual display and audible tones.

The keypad shown above is an older LCD keypad for the very popular DSC Power 832 system. Although it's now discontinued, thousands of these systems are still protecting homes and businesses everywhere.

For tips on how to deal with an older keypad that's wearing out, see this page on Brinks Home Security Systems.


Alarm system keypads, also called touchpads, all have a few things in common. Regardless of the brand or model, here are some truisms for any modern security keypad.


---
Proprietary Alarm System Keypads
Security system keypads communicate digitally, but there are no industry-wide standards or protocols. This means that keypads are specific to their parent brand of alarm panel, and will not function on another maker's panel. So, if you have a DSC alarm system, you can only use DSC brand keypads with it.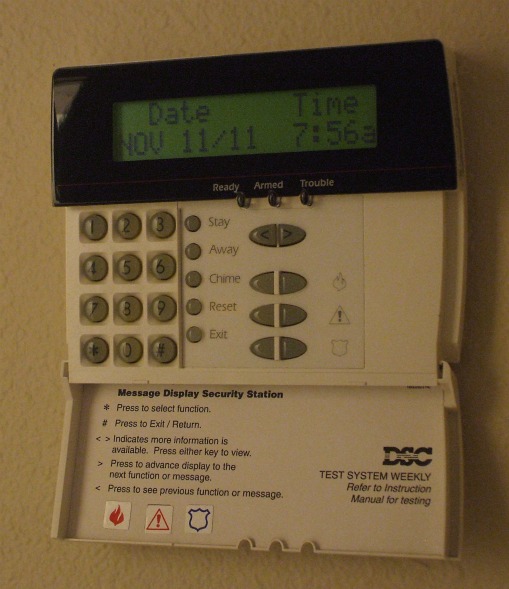 In addition, many keypads are also specific to a certain "family" of panels within their brand. Panels and keypads generally only operate with others in their product line.


A good example is the Radionics brand of security systems. Keypads designed for the older Radionics Model 6112 system will not operate on any of the newer Radionics alarm panels, and vice-versa. This is mainly due to microprocessor speeds becoming increasingly fast to handle more zones, users, and other functions. Older equipment was never designed to operate at these faster speeds, and isn't compatible.


---
Indoor Use Only
Few, if any mainstream alarm manufacturers offer weather-rated alarm system keypads, at least in the normal sense. Keypads exposed to the elements will fail, sooner or later. Choose keypad locations that are indoors or in an enclosed garage.

If a keypad absolutely must be installed outdoors, there is an option. Many aftermarket keypads are available that provide a relay closure whenever a valid code is entered. This can be used to arm and disarm an alarm system, provided it is capable of keyswitch arming. These keypads are fully weather-rated, and will last for years.


These weatherproof keypads only give limited functionality. You can arm, disarm, and see if the system is on or off, and that's about it. Zone bypassing, viewing individual zone information, and other functions aren't supported.


---
4-Wire Connection
Home security keypads use a 4-wire connection to the main alarm panel, in almost all cases. Two of the conductors are used for 12-volt power, while the other two are for data.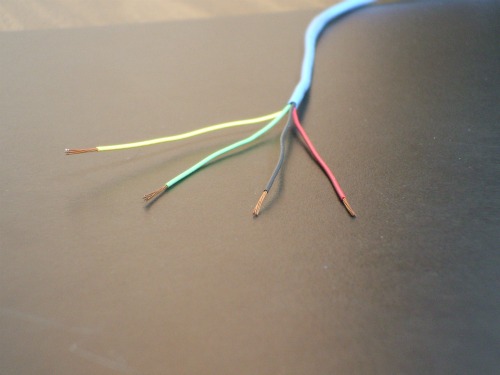 This 4-wire layout is not only simple, but very secure. An intruder attempting to tamper with a keypad couldn't do much more than damage the unit. Alarm keypads are basically "dumb" terminals, and nothing short of entering a valid code sequence will actually disarm the system.
One exception to this idea occurs with keypads like the Ademco/Honeywell 6160RF, which contains a wireless receiver inside the keypad. Damage to this type of keypad could result in the signals from wireless zone transmitters not being received, which is a concern.

Balance this against the fact that in an actual break-in situation, the transmitter signals would normally be sent and received well before an intruder could reach and damage the keypad. Still, something to consider.


Basic Functions
All keypads in a system will have the ability to perform basic functions such as arming and disarming the alarm, and displaying system status in some way.

Most basic displays use LED's (light-emitting diodes) or LCD's (liquid crystal displays). These give you an indication that the system is armed or disarmed, and the zone numbers for any faulted areas. beyond that, they usually aren't designed to give much detailed information.


---
Advanced Functions
More advanced functions require the use of full-function alarm system keypads, often referred to as "alpha", "deluxe", or "enhanced" keypads.

These will usually look better than standard keypads, and have larger alphanumeric displays capable of showing customizable zone descriptors and other information.


They often have additional programmable buttons for panic alarms, shortcut arming, bypassing of zones, and other system actions.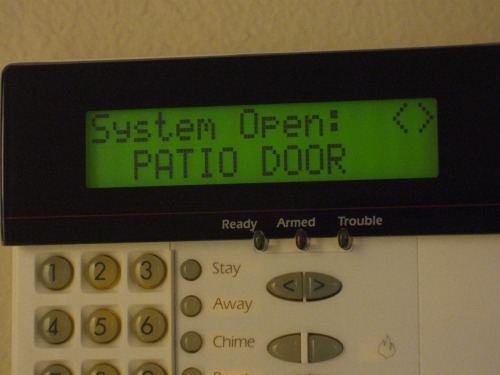 The higher-end alarm system keypads are usually required for programming the system, on panels that offer that ability. Their enhanced displays and/or added buttons make entering and reading data possible.

The Ademco 6160 keypad is a good example of this. The 6160 is required to do most system programming, as the fixed LCD 6150 keypads can't display data fields.

If you need to temporarily connect a 6160 or other program-ready keypad to an existing system, see this page for an
Alarm Programming Quick Keypad Connector.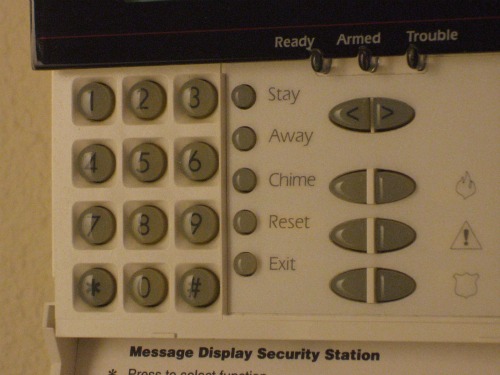 Some of the best systems have the option to program buttons to perform macros. A macro allows you to fire off a pre-programmed sequence of keystrokes with the touch of a single button. This is often used to arm the system in a particular mode, or with certain areas bypassed.


---
Keypad Locations
Alarm system keypads are used mainly to arm and disarm the alarm system, so they are typically located near entry/exit doors. Another keypad in the master bedroom may be needed, depending on the floor plan.

If possible, try to locate alarm keypads so they can't be seen from outside the house. This will prevent a would-be burglar from learning if the system is armed or disarmed by seeing the red or green LED indicator.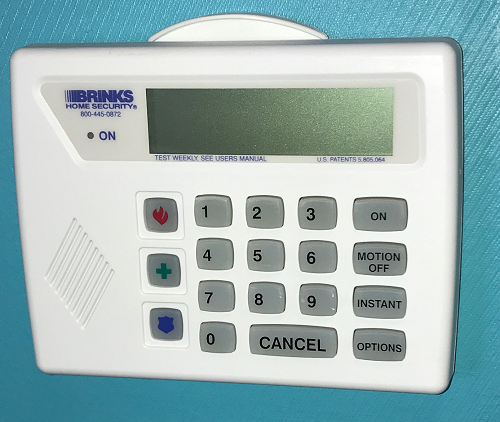 Alarm Keypads and System Cost

If you're trying to save a little money on the cost of a system, consider installing just one deluxe keypad, and basic units everywhere else. This saves money while still giving you the flexibility of a full-featured keypad for programming, checking trouble conditions, etc.

It's always a good idea to include at least one enhanced keypad in the system, even if it's not required. The larger display makes it easier to read information like event logs, zone lists, and diagnostic reports.


For information on what wires are needed for a complete system, check out Home Alarm Wiring for a New House.
For details on keypad wiring, see Alarm System Wiring for the Main Panel.



---
Replacing Alarm System Keypads

Over time, alarm system keypads can become worn, causing the buttons to fail to register keystrokes. Keypads are also sometimes damaged when moving furniture, or during attempts to remove them from the wall.


If you have a keypad in need of replacement, you'll need to identify the keypad model number. There are several ways to do this:
The easiest way to identify a keypad model is to remove it from the wall. Most alarm manufacturers place a label on either the back of keypad, or on the back of the baseplate or mounting bracket
Check the sticker inside the lid of your main alarm control box. This will usually have a schematic wiring diagram, and will often list all keypads that are compatible with the system.
Identify your main alarm panel model, then do an image search on Google for your make and model of panel, adding the word "keypad" to the search parameters. You can identify many specific keypad models just by doing a visual comparison.


Once you've identified the keypad you need, search online for a replacement. Look for keypads listed as "New" condition, since used units may have similar problems to the keypad you need to replace.

If all you can find are listings for "Used" keypads, this is a sign that your system is old, and possibly out of production. In that case, you may want to save the expense of a replacement keypad, and look for a new system instead.

Assuming you find an adequate replacement, you can swap out the old keypad for the new one. 

NOTE:
If your system uses addressable keypads, download a copy of the Installation Manual for your system.
This will contain instructions for setting the address of the new keypad, which will be necessary for the new keypad to function correctly.

Replacement Steps:


Power down the main panel by disconnecting the battery and unplugging the low-voltage transformer.


Remove the old keypad. If the keypad uses a plug-in connector to attach the wiring, simply unplug it, and plug it into the new keypad. If there are screw terminals, remove each wire from the old keypad, one-by-one, and connect them to the new unit. This will allow you to easily match up which wires go where.


When you're done making wiring connections, re-apply battery and AC power to the main panel. If your keypad is an addressable type, follow the Installation Manual instructions on setting the address for the new keypad.
After installing the new keypad, check its operation by arming and disarming the system, checking the display, and making sure it registers all keystroke that you make.
---
If you have an older system that's starting to have keypad problems, you may be thinking about replacing it.
If your keypad just has a button or two that aren't registering keystrokes, you can simply change your code to use other, less worn digits.
Or, you can swap the worn out keypad with another keypad in the house, if your system includes more than one.
Since many keypads are unique to the main panel they were designed for, getting a new system may be easier and cheaper in the long run than buying a matching keypad.
To find out how much a new system might cost, get some free price quotes from alarm dealers in your area. Just answer a few questions below, and you'll receive your quotes via email.

These quotes are absolutely free!
Return to Home-Security-Systems-Answers from Alarm System Keypads
Return to Hardwired Home Security Systems from Alarm System Keypads
Note: Feel free to print any of the articles on this site for personal, non-commercial use. Just look for this button:

If you found this website especially helpful, you might want to consider making a small donation. Since 2011, AzAlarmGuy has been providing free help and advice on home security systems to all of those in need.
Your gift, in any amount, will help me keep this website a free resource for anyone needing help with alarm system issues or questions.