Home Burglar Alarm Systems Monitoring
Not Always Necessary?
Home burglar alarm systems are far more effective and powerful when they are monitored. I would usually advise that you monitor any system you choose to install…
Still, there are some situations where you may be better off NOT monitoring…
Temporary Residence
Newly Installed System
Rural Areas
Temporary Residence
Before you move into a new home, you may end up renting a temporary house or apartment. You probably won't have all, or even most of your belongings in your temporary home during this time.
Unless personal safety is your main concern, paying for home alarm system monitoring just to protect a few items may not be smart.
Instead, save this money for a well-planned, complete security system for your permanent home.
Home burglar alarm systems monitoring contracts usually run a minimum of 6 months to a year, often longer. If you don't expect to be at the temporary location that long, you may be able to transfer the contract to the permanent residence. Be sure to work this out ahead of time with your alarm representative.
Recently, SimpliSafe security began offering monitoring with no contract. It requires a fairly easy do-it-yourself installation, but it might be the best choice if you're a handy person. Check out this page on SimpliSafe Security.

---
Newly Installed Home Burglar Alarm Systems
If you've just had a new system installed, or if home alarm system monitoring is new to you or your family, you may not be comfortable with it.
Why not take a "test drive" with the system for a few weeks?
This will help reduce any fears of causing false alarms, since tripping the alarm by accident just makes noise. You'll learn the system faster, and no authorities or false alarm fines will be involved.
Some home alarm companies will program new home burglar alarm systems to send signals to the central station, with temporary instructions for "no police dispatch". During this "break-in" period (no pun intended!) they will simply call you if the alarm goes off, but won't send police unless you ask them to.
This is a stress-free way to get comfortable with your new system. And, you'll do it pretty quickly, since you won't be as hesitant to use it. After all, even the best home alarm system is worthless if you never use it!

---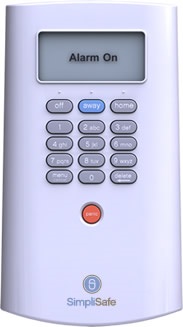 Rural Areas
Home alarm system monitoring may not give you much peace of mind if you live in a rural community with no regular police department.
In these areas, the county sheriff may be the only responding law enforcement. Houses may be scattered over many miles, and response times may be longer than you'd like. You may feel that the expense of monthly monitoring fees just isn't worth it.
I would almost always recommend monitoring the system anyway. I think any response is better than no response, especially if you have smoke detectors tied to your alarm system.
Burglars can and do leave fingerprints and other clues before they leave. A few even remain in the house for long periods of time, though that's unusual. The point is, even the delayed arrival of law enforcement officers would be helpful in these cases.
Monitoring the system also gives you the benefit of "maintenance" signals, like Low Battery, Opening & Closing, and 24-Hour Test reports. (If you're lucky, these are the only signals you'll ever get from your alarm system!)
---
Non-Monitored Systems
If you do decide that paying for standard home alarm system monitoring isn't in your budget right now, then consider a system that will do paging or cell phone notifications without using a central monitoring station. Since you are getting the alarm signals, this is also referred to as "self monitoring".
The features work differently depending on the system, but basically they allow the alarm panel to send a numeric, text, or voice message to your pager or cell phone. These are "people friendly" versions of the information the panel would normally send to a central monitoring receiver.
The message will contain the event type, like "Burglary", "Fire", or "Trouble", followed by a numeric or text code, telling exactly which part of the system is affected.
Based on this information, you can decide whether to call authorities to go to your house, check it out yourself (carefully!), or get advice from your alarm company.
Learn more here: Should You Self Monitor Your Alarm System?
---
Additional Options
As you compare home alarm systems, remember this: Home burglar alarm systems, monitored or not, are just one part of keeping your home safe. Things like outside lighting and good quality door and window locks also help deter would-be thieves.
Home security alarm monitoring is well worth the money, in most cases. Use the information here, along with your own good judgement, to weigh your options before deciding which way to go.
If you haven't done so already, get a few Free Home Security Systems Quotes from companies in your area.

This will give you a good idea of what it would cost to have a system installed, as well as how much you could save by doing it yourself.
Related Articles:
How to Use Opening and Closing Reports to see who's coming and going in your house.

Return to Home-Security-Systems-Answers from Home Burglar Alarm Systems

Return to Home Alarm System Monitoring from Home Burglar Alarm Systems
Note: Feel free to print any of the articles on this site for personal, non-commercial use. Just look for this button:

If you found this website especially helpful, you might want to consider making a small donation. Since 2011, AzAlarmGuy has been providing free help and advice on home security systems to all of those in need.
Your gift, in any amount, will help me keep this website a free resource for anyone needing help with alarm system issues or questions.