Top Reasons to Choose a Varifocal Camera
A varifocal camera is one of the best options to consider if you're planning a video security system. They give a lot of "bang for the buck", and make your images more useful.
So, what does "varifocal" mean? Often abbreviated as "VF", the varifocal description actually refers to the lens of the camera. Think "variable focal length". Non-varifocal lenses have a fixed focal length measured in millimeters, which determines their field of view and magnification. Common lenses for CCTV system cameras are 6 mm for "standard" viewing, 3.5mm for "wide-angle" images, and 12 or 16mm for "telephoto" or distance viewing.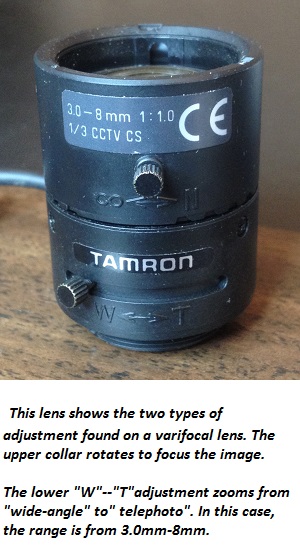 ---

A camera with a built-in varifocal lens will have a range of focal lengths. Look for two millimeter numbers, as in 4.5-10mm, 3.5-8mm varifocal, etc…


Varifocal cameras can be had with any of the features you'd get from a fixed camera. These options include indoor/outdoor, day/night, auto iris, high resolution, motion detection, etc.


Varifocal versus Zoom?

A VF lens is similar to a zoom lens, except for one important difference: Zoom lenses stay in focus as they are zoomed in or out; a VF lens must be re-focused after any significant "zooming" adjustment.

Varifocal Lens Camera Benefits

Higher Quality Video Recordings
Whether you want to watch live video, or you're planning on a DVR security camera system to record your images for later, a varifocal lens camera can be a big advantage.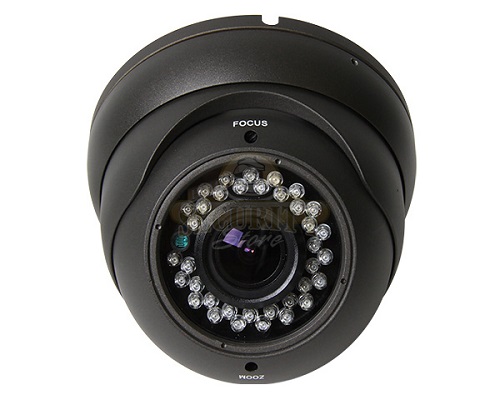 Images from a typical 6mm wide-angle CCTV camera won't contain much detail past 20 to 30 feet or so. Trying to zoom in or enlarge the image may help, but there is simply not that much "image" to "enlarge".

With a varifocal lens camera, the image can be adjusted to bracket the specific area of concern, such as a doorway, safe, or jewelry case. This can be done even if the camera is located across a large room or at a distance, making the recorded video much better.

To start with, the "raw" video is more likely to be focused in on the action. The varifocal cam has been adjusted to cover exactly the area you expect activity to occur, so the people and objects of interest will appear as large as possible.


Because the original video contains so much information, any enhancement done to the images later will be of better quality.

For instance, you can use digital zoom features to magnify details in the recorded picture with less distortion than a wider-angle view would have allowed. Facial features, license plate numbers, and other details can then be more easily recognized.

After all, why pay for a "hi res" or high-resolution camera, then handicap it by viewing a scene that's mostly background?
Mounting Location Flexibility

Unlike a fixed-lens camera, a varifocal lens camera allows you to zoom in or out to get just the view you want. This is especially helpful when your only mounting location doesn't give you a good view of the area of interest.


This often happens with an outdoor security camera system. Many times, the only place to install the camera is under the roof overhang. But, this is often too far away from the desired viewing area; so, what can you do?


With a fixed-focal length camera, not much…But with a varifocal camera, you can simply zoom in until you can see exactly the area you want to cover, re-focus to get a clear image, and you're done!


Simplified Wiring


When installing multiple video security cameras, it's often desirable to run two cables together, and mount two cameras in the same spot. Each camera is pointed to view activity in a different direction. If these two viewing areas are not an equal distance, one camera may not have a very good view.

Using varifocal cameras eliminates this problem. Each camera can be adjusted for the best image size, even if one area is much further away than the other is.


Re-location Options

If you ever decide to re-aim the camera or move it to another location, a varifocal camera makes this easy. If the new viewing conditions are different than the original, you can adjust the field of view to compensate for it. Without the varifocal option, a new viewing location might mean buying another camera.
Varifocal Camera Disadvantages

The only downside to using a varifocal unit is cost. Varifocals do tend to be priced higher than fixed cameras, but not by a lot.

As a quick price comparison, at the time of this writing (2014) the Home Security Store.com lists a night vision dome camera with a 2.8-12mm varifocal lens for $64.50. The same unit fitted with a 3.6mm fixed lens is listed at $47.95.


As you can see, in this case the varifocal dome camera isn't that much more money. However, the wide range of view you'd get between 2.8mm and 12mm is fantastic. The 3.6mm fixed camera would only be useful for wide-angle, close-in views. The varifocal camera can give the same close-ups, or could be adjusted for viewing people and objects out to a hundred feet or more!

Security camera companies like being able to use one camera for a wide variety of applications. But, homeowners and do-it-yourselfers may even get more benefit from a varifocal lens camera than the pro's: Those installing cameras for the first time don't have any experience with focal lengths and camera placement, and are more likely to choose a less-than-perfect solution. By using varifocal cameras, they may be able to erase these mistakes by simply adjusting a camera or two.

In short, choosing a varifocal can be thought of as cheap insurance for the future of your video security camera system.

---
Are you wondering how much a video surveillance system would cost?
A quick way to find out is by requesting a few Free Video Surveillance Systems Quotes from BuyerZone.com. Just answer a few easy questions below, and you'll receive quotes from video security companies in your area.

There is no cost or obligation on your part. Just choose the options you would like in a potential system (number of cameras, indoor and/or outdoor, etc.) and your quotes will be sent to you via email.
To get started, here's the first question:

Related Articles:

4-Channel Video Security Camera System

Wireless Security Camera Kit

DVR Security Camera System with 8 Channels

Choosing DVR Camera Systems

Choosing a Smoke Detector Spy Camera


Return to Home Security Camera Systems from Varifocal Camera Advantages
Return to Home Security Systems Answers from Varifocal Camera Advantages

Note: Feel free to print any of the articles on this site for personal, non-commercial use. Just look for this button:

If you found this website especially helpful, you might want to consider making a small donation. Since 2011, AzAlarmGuy has been providing free help and advice on home security systems to all of those in need.
Your gift, in any amount, will help me keep this website a free resource for anyone needing help with alarm system issues or questions.