An Ademco Alarm System

Perfect for Medium-Sized Homes
An Ademco alarm system like the Vista 20P is a good fit for a typical 3-bedroom, 2-bath type home. It allows for multiple keypads, expansion up to 48 zones, and many advanced features for the price.
The Ademco Vista 20P is a hybrid panel, meaning it supports both hardwired and wireless zone expansion. This is a big advantage if you ever decide to re-model your house or add a room. You'll have the option of running wires to the new addition, or you can simply add wireless sensors.

All Vista series panels require at least one Ademco 6160, 6160RF, or 6160V keypad for programming the system. The 6160RF combines a keypad with a built-in wireless receiver.


I recommend that you make one of your keypads a 6160RF during the initial installation, even if you don't have any wireless sensors now. The receiver portion can be left "off", and then activated if you ever do add wireless devices. This is an easy and inexpensive way to "future-proof" your Ademco alarm system.


Including a wireless-ready keypad also makes sense if you think you might want to add a wireless remote for arming and disarming.
Find an Ademco system for apartments or townhomes
Find an Ademco system for large houses

---
Ademco Alarm System Layout
Main Panel
Locate the Ademco alarm system in an area that has easy access, but is out of the way. Good spots are usually a laundry room, bedroom closet, or a hall closet, depending on your floor plan. Bonus points if it can be placed near a power outlet and/or a telephone jack.


Keypads
Ademco home security systems use keypads that are all surface-mountable, and they can go anywhere your installer can run a wire for it. Popular areas are by the garage entry/exit door, the front door, and the master bedroom. These locations are the most convenient when you're coming and going during the day, as well as when you arm the system at night.


Ademco keypad wiring is standard 4-conductor, 22 AWG cable. If your house was pre-wired for security, odds are very good that the three locations above are already wired.


Motion Detectors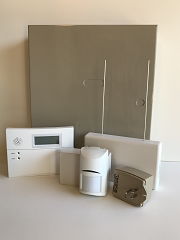 Motion detectors should be placed so as to divide the floor plan up into smaller areas. They should be able to view main traffic paths through the house. This usually means a bedroom hallway, main living room, and the master bedroom.


Glassbreak Detectors
You can also add glassbreak detectors to your alarm system. Unless you can afford to put one in every room that has glass, focus only on larger glass doors and windows. These are often found in the living or family room, and sometimes the master bath.


Smoke Detectors
You should definitely consider adding smoke detectors to your Ademco alarm system. If you also have the alarm monitored, they protect your home even when you're away, by sending a fire signal to a central station. And, they might earn you a discount on your home owner's insurance.


Sirens
An interior siren is always recommended for any alarm system. A good, unobtrusive location is near the door chime, usually in a hallway.


Exterior sirens are still available, and many swear by them. I've found that neighbors these days don't respond the way they used to when they hear an alarm going off. Most tend to assume that it's "just another false alarm". Your area may be different, so decide accordingly.


Be sure to check that your homeowners' association doesn't have any restrictions on exterior sirens. If they do, you can get an exterior alarm strobe light instead. This won't make noise, but will help authorities find your house in an emergency.


Then again, you may just want to put the money toward other security measures, like outside motion lights or landscape lighting.

---
For details on making connections to a Vista 20P, see Ademco Vista 20P Wiring Diagram.
If you haven't done so already, get a few Free Home Security Systems Quotes from companies in your area.

This will give you a good idea of what it would cost to have a system installed, as well as how much you could save by doing it yourself.
Return to Home-Security-Systems-Answers from Ademco Alarm System

Return to Ademco Home Security Systems from Ademco Alarm System
Note: Feel free to print any of the articles on this site for personal, non-commercial use. Just look for this button:

If you found this website especially helpful, you might want to consider making a small donation. Since 2011, AzAlarmGuy has been providing free help and advice on home security systems to all of those in need.
Your gift, in any amount, will help me keep this website a free resource for anyone needing help with alarm system issues or questions.