How to Compare Home Alarm Systems
Hardwired or Wireless?
Trying to decide between the two? Here's how to compare home alarm systems of both types. Not sure which kind you can install? See how to find the best home alarm systems, regardless of your situation. Click here to see which are the best home alarm systems for you.

Assuming you can go with either type, here are the biggest things to consider.
Compare by Cost
To compare wireless and hardwired home alarm systems by cost, remember that many dealers often "mix and match" equipment prices, installation charges, and monitoring fees. A company may take a loss on the equipment, then build that money back into the monthly monitoring. As you compare home alarm systems, make sure you're comparing "apples to apples", and not "apples to oranges".
The fact is that wireless alarm equipment costs more than hardwired, since every device is basically a radio transmitter and/or receiver. Hardwired systems can use inexpensive magnetic contacts on doors and windows. They also use wired keypads and other devices, with no need to use radio signals to function. This simpler design is cheaper to produce than wireless models.

The trade-off is that hardwired systems must have a wire from the main panel to every device. Running those wires takes time, and the cost of the labor often outweighs the savings on equipment.

Ask home alarm companies to itemize costs when giving estimates. Look at the total costs involved for the whole system, along with the monitoring rate.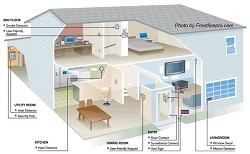 Compare Ease of Installation
If you are considering a do it yourself home alarm to save money, planning is especially important. You'll want to compare home alarm systems based on ease of installation.
Here's the scoop:

Wireless systems are generally easier and quicker to install. They require very little drilling or running of wires, and no attic crawling. Transmitters can be mounted with screws or double-sided tape, so no special tools are needed. Wireless alarms are especially good if you don't have a second person to help you with the installation.

Hardwired systems are just the opposite. Drilling is required, so you'll need a drill and bits. While drilling, you'll need to avoid hitting electrical wiring and plumbing lines.
Fishing wires through walls or an attic is difficult if you've never done it before. Skilled alarm technicians prefer to do this work using two people, and even then can have a tough time on a window or two. If you're not in reasonably good shape physically, a hardwired self-install is probably not a great idea.

Some programming will be required with either type of alarm, but all systems typically come with an installation and programming guide. Information is also available here or elsewhere on the Internet.

The decision to attempt a DIY alarm installation boils down to your skills, confidence level, and available time. The money you save in labor may not be worth the headache. But, if you enjoy a challenge and want to give it a try, by all means, do so. Work out all the details ahead of time, including specific alarm equipment, wire, and tools. Take your time, refer to the installation manual, and visit DIY forums for extra help. It can be done!
Compare Home Alarm Systems Maintenance

As you compare alarm systems, don't forget maintenance. While any alarm system will need some service, there is one big difference between wireless and hardwired systems in this area: Battery changes.

Hardwired alarm systems have a battery located in the main control panel. Its main purpose is to run the system in case of a power outage. This battery should last 3-5 years, when it will have to be replaced. Many alarm owners change their own panel battery and save the cost of a service call.

Wireless systems not only have a battery in the main control, but in each transmitter as well. Transmitter battery life is about 3-5 years, more on some systems. Eventually, they will all need to be replaced. Newer transmitters use lithium or other high-quality batteries for longer life.
Changing all the batteries in a wireless system can cost a bit of money in a larger house. If you're fairly handy, you may be able to change these batteries yourself. You'll have to be physically able to reach the transmitters, remove the battery cover, and replace the old battery. The system will have to be reset, since removing the covers sends tamper signals to the main control panel.

This battery issue isn't a huge deal, and it shouldn't be the deciding factor as you compare home alarm systems. Just take it into consideration along with cost, ease of installation, and other factors before you choose your system.
---
Looking for Pricing on a Home Security System?
Just fill out the form below for a fast and free price quote from a professional alarm company in your area. There is no obligation, and no credit card information is required.
Return to Home-Security-Systems-Answers.com from How to Compare Home Alarm Systems

Return to Compare Home Security Systems from How to Compare Home Alarm Systems
Note: Feel free to print any of the articles on this site for personal, non-commercial use. Just look for this button:

If you found this website especially helpful, you might want to consider making a small donation. Since 2011, AzAlarmGuy has been providing free help and advice on home security systems to all of those in need.
Your gift, in any amount, will help me keep this website a free resource for anyone needing help with alarm system issues or questions.