Custom Security System Features

And What They Can Do For You

A custom security system can be tailor-made to fit your needs, and can include almost anything you want it to. Custom alarms can give you better protection and convenience, although they usually cost a bit more to install. Depending on your needs, one or two custom features can be added to a basic security system to personalize it without breaking the bank.


Let's first see what's included in a typical basic security system package. Most national chain dealers like ADT and Broadview will give you good, basic protection at a competitive price.


These basic systems often include:

A control panel with battery back-up and built-in communicator/dialer
One keypad

A wireless remote key fob for arming and disarming

One motion detector
2-3 door sensors

Rolled into the security package will of course be a monthly monitoring fee, costing around $15 to $25 per month. With some offers you may get the system for free, and pay a $99 installation fee. Or, you may get free installation on a $99 security system… The bottom line is that you get a decent basic system at an affordable price… While the alarm dealer gets to collect your monitoring fees for length of the contract.

For more details on alarm costs, see this page on home security prices.

In many cases, these basic alarm packages are fine. Even most "basic" alarm panels, d can be "semi-customized" to provide opening and closing reports, duress codes, and other specific functions. Many people just want a no-frills, basic security system at a reasonable price, and don't require any bells or whistles. For them, an alarm system is just one more thing on the to-do list. Once it's done, they can cross it off the list and move on to something else.


But for lots of other people, home security has a higher priority. They may want additional features, custom functions, and equipment that only a custom security system can provide.


When is a Custom Security System Necessary?

Some everyday home situations that aren't covered well by a basic alarm package may require a custom security system. Here are a few of the most common issues, along with the solution you can get by choosing a custom system:


Separate Areas
Your floor plan may include a separately occupied space, besides the main house. This could apply to a guesthouse, home office, workshop or other section of the home. It's often convenient to be able to arm and disarm this area independently from the main part of the home security system.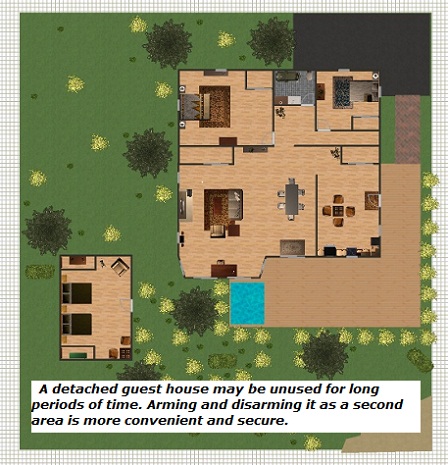 The solution is to use a more advanced alarm system panel capable of using partitions. Partitioning allows the panel to be "split" into two or more parts. Each part can be custom-programmed to behave like a separate system, and can be armed and disarmed on its own. Security system keypads are installed in both areas, and each keypad controls its own part of the house.


Special Custom Zones
Maybe you have a wall safe, hidden room, gun safe, jewelry drawer, or some other area of special importance or value. If you only go into this secret room or area occasionally, you may want to make it a 24 hour zone for constant protection.


Custom zone programming can be used to make that zone continuously armed. When you need access, you can temporarily bypass the custom zone by entering a special code or keypad command. Afterward, the special zone is re-armed again.


Vent Zones
Homes with evaporative coolers need a way to vent incoming air. This is often done by leaving a window or two cracked slightly open.


Alarm systems normally need all openings to be fully shut before they can be armed. So, what can you do?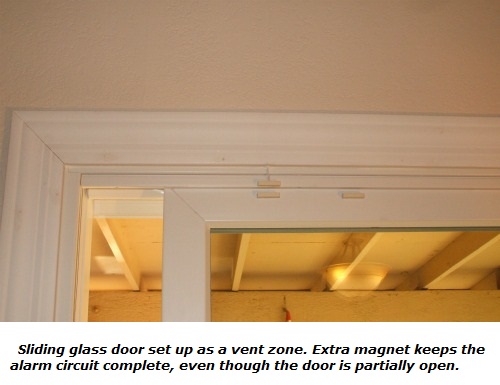 A custom vent zone is the answer. By careful placement of hardwire contacts like magnetic switches and magnets, certain windows or doors can be left partially open for ventilation. The opening gap is held to about six inches or less, to prevent an intruder from squeezing through. For more information on custom vent zones, see Magnetic Door Switch Installation.


Environmental Zones
Besides burglary and fire signals, modern security systems can also monitor non-alarm conditions. These events can be programmed to cause a sound or display at the security system keypad, and also reported to a central monitoring station if needed. Probably the most common uses for a custom environmental zone are high/low-temperature alerts and leak detection.


Temperature sensors can monitor conditions in freezers, refrigerators, wine vaults, and any other place where extreme temperatures are a concern. This can prevent the loss of valuables, and alert a homeowner to problems for homes in areas where freezing is possible.


Leak detectors can signal the presence of water on a floor, indicating a burst pipe or failed water heater. If caught early, water damage can be minimized and the source of the problem repaired.

See more details on Home Monitoring Systems.
Using Custom Functions for Special Responses


Sometimes, the "standard" security system response of a noisy siren is either too much, or not enough.


For example, what would you want your security system to do if it went off while you were home at night? Would you want only the alarm siren? Or, would you also like for some lights to come on, so you could see what's happening? By adding output modules or relays, most systems can trigger other devices when an alarm occurs.


On the flip side, less response is sometimes wanted. Take the case of a pool gate: You might like to know when it gets opened, even while the security system is off, but you would hardly want a full-alarm or police response. A custom security system can be programmed to give various responses to zone inputs.


The pool gate could be set up with a custom function to sound a chime or beep the keypad, rather than the loud main siren. Reports to the central monitoring station can also be inhibited, or set to report only when the system is actually armed.


How to Get a Custom Security System
Some home alarm companies specialize in custom security systems, while others tend to stick with fairly basic installations.


Even national chains like ADT, Brinks/Broadview, and others typically go through local dealers to install their systems. Each of these alarm dealers has their own specific set of custom security skills and experience.


When shopping for a system, ask alarm representatives about what level of customization their company offers. You may be able to get the custom security system you want by adding a few upgrades to one of the standard alarm packages being offered.



If you haven't done so already, get a few Free Home Security Systems Quotes from companies in your area.

This will give you a good idea of what it would cost to have a system installed, as well as how much you could save by doing it yourself.
Return to Home-Security-Systems-Answers from Custom Security System Features


Return to Compare Home Security Systems from Custom Security System Features
Note: Feel free to print any of the articles on this site for personal, non-commercial use. Just look for this button:

If you found this website especially helpful, you might want to consider making a small donation. Since 2011, AzAlarmGuy has been providing free help and advice on home security systems to all of those in need.
Your gift, in any amount, will help me keep this website a free resource for anyone needing help with alarm system issues or questions.