Wireless Driveway Alert System
from Bunker Hill Security
A driveway alert system can be a nice addition to a standard home security system. If your home layout includes a long driveway, a perimeter alert will give you advance notice that someone is approaching.
It's best to use a stand-alone driveway sensor, as opposed to connecting it to the main alarm system. Animals, dust and blowing debris and other environmental factors can cause false alarms for any outdoor motion detector. Tying a driveway monitor to the main system will likely cause more headaches than it solves!
Bunker Hill Security Wireless Driveway Alarm
The Bunker Hill Driveway Alert shown here is available online as well as through one of my favorite stores, Harbor Freight Tools.
1byone offers an identical driveway system called Driveway Patrol. Aside from the brand-name label, both the Bunker Hill and 1byone systems seem to be made by the same manufacturer.


Both versions of this driveway alert system are wireless, and consist of two units. The first is a passive infrared motion detector, which also includes a built-in transmitter. It senses motion and sends a signal to the second unit, a wireless receiver. The receiver gives an audible two-tone alert, along with flashing LED's.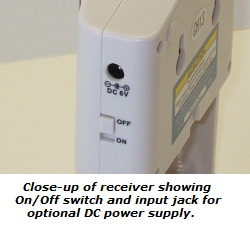 The Bunker Hill transmitter is powered by a single 9-volt battery, and signals a low battery condition with a steadily lit LED indicator. The 1byone transmitter uses (3) AAA batteries.

The receiver/sounder unit operates on battery power using (3) C-cells. It also gives an LED warning if the batteries get low. Optionally, a plug-in power supply can be used to power the receiver (purchased separately). The jack is 5.5mm diameter, with center terminal positive.

The AC adapter shown here is by Ideal Security, but any-brand  plug-in transformer rated at 5 or 6volts DC and a 5.5mm connector, center positive should work fine. I use a unit made by 1byone rated at 5-volts, which they also sell with their version of the driveway alert system.

Update: Since this was originally written, 1byone now offers a version of this system with (2) motion sensor units and an included plug-in transformer to power the receiver. It costs a bit more than the basic system, but if you can use a second motion detector, it might be a better choice for you.

The transmitter is weather-resistant, so it can be located outdoors without a cover. Because I live in Arizona, I always prefer to mount exterior equipment under an eave or overhang if possible. This offers some protection from the sun, and will give any device a longer service life.
The receiver unit is not weather-rated, and should be placed indoors on a table or shelf, or wall-mounted.


Driveway Alert System Set-up and Testing
After unpacking the drive way alert components, I inserted the appropriate alkaline batteries.

Note: The small screws for each battery compartment are not captive, and are easily dropped!

Remove and install them over a table, towel, etc. to avoid losing them.


I the installed the wireless driveway alert system transmitter at one side of my garage overhead door, facing the street. For testing the receiver was placed nearby so I could hear it when it tripped.
Both wireless driveway monitor units mount with screws and keyed slots, making installation pretty simple.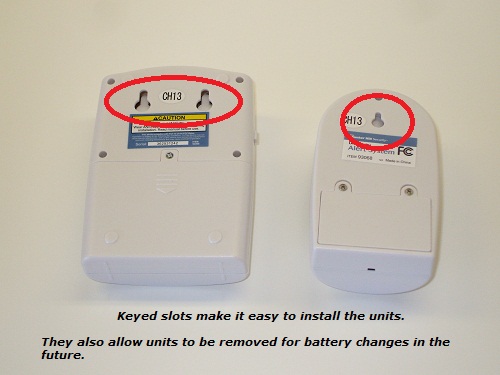 Notice also in the photo above the small stickers showing the channel number on each unit. This set is coded to Channel 13 ("CH13"). If you want to use multiple Driveway Alert sets triggering together, just be sure to buy units with matching channel numbers.



Driveway Alert Transmitter Detection Range
The spec sheet included with the unit lists the rated detection distance at 30 feet, although it repeatedly "caught" me walking at a distance of about 45 feet. This means it should easily sense the motion of a vehicle at that range, maybe a bit more.

The horizontal field of view is listed at 40 degrees, which matched what I saw. This is fairly narrow, compared to a motion light or standard alarm motion detector. Most home security motion sensors have a wide-angle detection pattern of 90-150 degrees. So, what does this mean?



If you have a wide driveway (about two cars wide or more), the alert system transmitter should be mounted facing across the driveway. All infrared motion sensors are more sensitive to movement across the detection pattern, so this will give you the most reliable operation.
Facing the driveway head-on, the driveway alert transmitter may not sense a vehicle approaching unless it lines up directly in front of the sensor.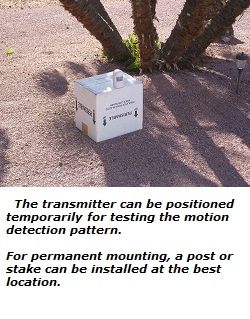 Driveway Alert System Transmission Range

The transmission distance of the wireless driveway alarm is listed in the specs at 400 feet. To test this, I carried the driveway alert sensor away from my house, leaving the receiver inside at its normal location in my home office. In order to hear when the receiver was triggered, I set a cell phone next to it. I carried a second cell phone with me, and called the first phone so I could listen in.



The driveway alert sensor tripped the receiver repeatedly as I walked along with it. As I got farther down the street the signal grew weaker, and the trips became intermittent. I walked back and forth a bit, until I got an idea of the usable range of the system.
The maximum distance at which I could trigger the wireless receiver at all was about 160 yards, or 480 feet. This exceeds the 400' promised in the paperwork for the system, but was not consistent.
For reliable triggering every time, I had to be within a distance of 140 yards, or 420 feet. This still beats the advertised range, and should be adequate unless you have a very large property.
Conclusions for the Bunker Hill Wireless Driveway Alert System

Overall, I'm initially impressed with this wireless driveway alarm system.

For one thing, I wasn't expecting anything special from a driveway alert system at this price ($29.99 regular price, under $20 on sale, or with a handy Harbor Freight driveway alert coupon). I wouldn't have been surprised if the alert system had limited range and/or sensitivity to motion.
Instead, I found that not only were the rated ranges accurate, but also very good for the intended purpose of the system.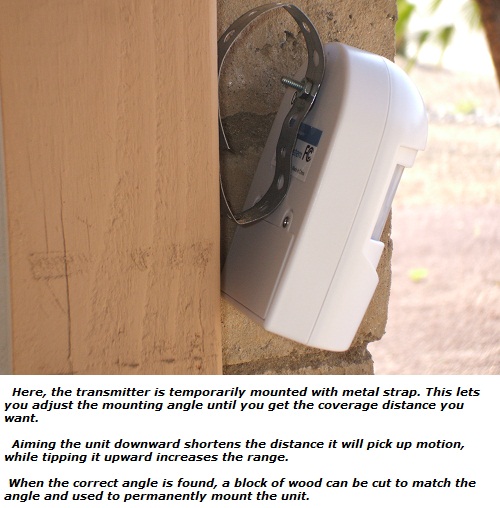 A detection distance of 30' is reasonable for driveway security systems, and this unit did that and more. I even had to aim the sensor unit downward to reduce its effective range for my 33-foot long driveway.


Even more impressive was the radio transmission range, which I found a little surprising. In my experience, most manufacturers of radio-frequency devices usually quote "open-air" ranges, meaning nothing can be in between the transmitter and receiver. For my tests the receiver was inside my house, which is of slump-block construction. Brick, block, and other masonry materials will reduce radio signals to some extent.



In my case, the Bunker Hill Security system worked at or just beyond the specified distance. Your mileage may vary, depending on the construction type of your home, the actual distance between units, etc.

For best results, always test wireless devices in their intended locations  before you begin drilling holes and mounting them.



The Bottom Line…

If you're looking for some type of driveway bell or alert system, this Bunker Hill system may be just what you need. It's an inexpensive perimeter alarm system, and easy enough to install with just a screwdriver.
Check back here for future updates on the Bunker Hill Driveway Alert System. I'll report my findings on battery life, and any other developments that may come up.
Initial install date: April, 2013.


Update: October, 2013
Replaced 9-volt battery in transmitter unit. This means about a 6-month lifespan for one battery, with the unit being tripped about 6-8 times per day. Receiver battery still going strong.

Update: March, 2014
Replaced 9-volt transmitter battery. This time, the battery held up for only about 4 months. However, during this period we had solar panels installed on our home. All of this extra activity caused many more "trips" of the motion sensor than normal, so this probably cut down on battery life.
The receiver is still on the original battery; though to be fair, I often turn the unit off when I'm moving around the outside of the house a lot.

Update: August, 2014

Replaced transmitter battery. Receiver is still on original battery.

<< End of Updates >>

---
Product Links:

Related Articles:

For help in planning a wireless alarm installation, check out
Home Wireless Security Systems Layout.
Adding a wireless keyfob remote control makes an alarm system more convenient to use. Learn more about
Wireless Burglar Alarm Systems Made Even Better!
For protecting the garage itself, see these pages:
Connecting a Garage Door Contact to a Home Security System.
The Best Overhead Door Contact Mounting Locations
You may also like to find the best wireless home alarm for apartments and rentals.

If you haven't done so already, get a few Free Home Security Systems Quotes from companies in your area.

This will give you a good idea of what it would cost to have a system installed, as well as how much you could save by doing it yourself.
---
Return to Home Security Systems Answers from Driveway Alert System

Return to Wireless Home Alarm Systems from Driveway Alert System


Note: Feel free to print any of the articles on this site for personal, non-commercial use. Just look for this button:

If you found this website especially helpful, you might want to consider making a small donation. Since 2011, AzAlarmGuy has been providing free help and advice on home security systems to all of those in need.
Your gift, in any amount, will help me keep this website a free resource for anyone needing help with alarm system issues or questions.