Nexx Smart Alarm Review

Have you ever wished you could self-monitor your existing alarm system?       If so, this Nexx Smart Alarm Review may help you do just that. 
The Nexx Smart Alarm NAXL-100 Controller is a communications module that connects to the keypad data bus of a compatible alarm system. The NXAL-100 provides an internet connection to the alarm panel via your home or office Wi-Fi network, allowing it to communicate with smartphones, home controllers, and other devices and services.

This page is Part 2 of a 2-part article, and describes the basic operation of the Nexx Alarm NXAL-100 unit, along with some of the pro's and con's of self-monitoring your own alarm system.

My goal is to help you decide if the Nexx module is a good choice for you, based on your preferences and situation.


For detailed steps on setting up and installing the module, see my Part-2 page here: Nexx Alarm NXAL-100 Setup and Installation.


Learn more about self monitoring.

The Nexx Smart Alarm module effectively turns your existing alarm into a smart alarm.


The Nexx NXAL-100 allows you to remotely monitor, access and control your existing compatible alarm system from your smart device, without paying a monthly monitoring fee.


Using the Nexx Home App, you can check on the status of your alarm system, arm, disarm, receive alerts and push notifications, and self-monitor, right from your smartphone, and all without signing up for a monitoring contract.


You may already know about other products from Nexx, like the NXG-100B and NXG-200 Nexx Smart Garage Controllers  and the Nexx Smart Plug. These devices, used along with the Nexx Home App, have been adding remote control and other features to garage doors and plug-in appliances for several years. The NXAL-100 provides this same functionality for your existing home security system.

How Much Does It Cost?

The NXAL100 Module costs around $149, depending on where you buy it. The purchase of the module also includes the Standard (Free) plan. The Free Plan has no monthly charge, and provides the basic features that include the ability to self-monitor, remote arming/disarming, receive notifications via phone and email, and voice control through Siri, Alexa, and Google Assistant.

For $3/month, the upgraded Pro plan provides all of the above features, and also includes custom zone names, bypass zone arming, schedule/timer/ reminders, and more.


Summary of features provided with each plan:
Standard Plan:
Self-monitor
Remote Control
Voice Control
Notifications
History
Share - Maximum 2 Users
Group Monitoring
Best in Class Security Encryption
PRO Plan Includes the above PLUS:
Schedule / Timer
Share - Maximum 10 Users
Custom Zone Names
Bypass Zone Arming
Reminders
Notify on zone detection
 
These are the features for each plan at the time of this writing (March 2022). Be sure to check which features are currently included before you buy any products or plan. 
Which Alarm Systems is it Compatible With?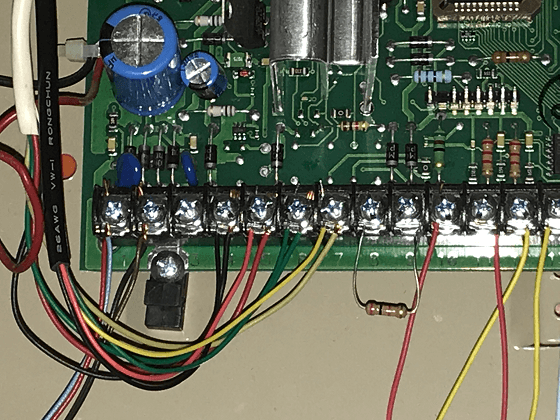 The Nexx Smart NXAL100 controller works with the following alarm panels:


DSC
Ademco
Honeywell
ADT 
Safewatch
First Alert

To make sure your alarm system is compatible with the NexxSmart NXAL-100, use the compatibility checking tool on the NexxAlarm website here:
Compatibility Checker for Nexx Alarm
This page also shows a list of panels that are NOT compatible, to help you know quickly if the Nexx module is not an option for you.


Which Devices Can Be Used to Control My Alarm System?

For controlling the alarm system, you can use the NexxSmart Alarm module with many popular devices and services. NexxSmart Alarm is compatible with iOS and Android phones, and works with Amazon Alexa, Siri, Google Assistant, OmniFob, and SmartThings.
Note that the NXAL-100 Module requires a 2.4Ghz Wi-Fi connection.
---
Do you have an older system that's starting to have problems, and you don't think adding the Nexx Alarm will help?

Or, do you have a working system, but no programming information, so you can't connect the Nexx Alarm module?

Many newer alarm systems will have smartphone control and monitoring built in, so you won't need to add any modules.

Why not get a few Free Home Security Systems Quotes from companies in your area?

Just answer a few basic questions below, and you'll receive free quotes from alarm dealers in your area. There is no credit card information needed, and there is no obligation to buy anything!


---
How to Order the Nexx NXAL-100

The NXAL100 is available online through various sellers including Amazon here: 

Nexx Smart Alarm at Amazon


If you buy the Nexx module through the above link or through ads on this Nexx Smart Alarm Review page, I may receive a small commission. This isn't added to your price, but if you'd rather I didn't get this commission you can order through this generic link:

Nexx Alarm Generic Link at Amazon
Nexx Smart Alarm Review and Evaluation

I ordered the NXAL-100 for this Nexx Smart Alarm Review from Amazon, and added the protection plan for an additional small fee just in case there were any defects in the unit.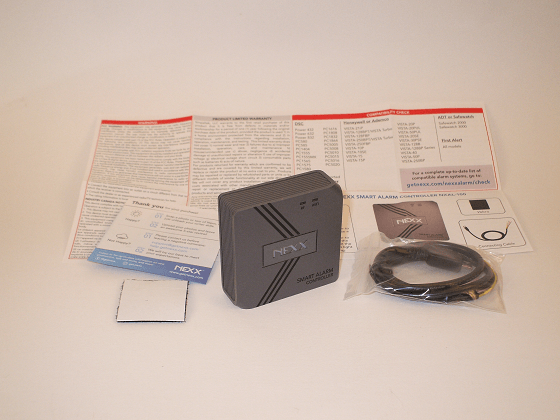 Evaluation of NXAL-100

On receiving the Nexx Smart Alarm module, I followed the instructions included with the unit to set up and install it. I found the written instructions easy to follow, and had no trouble during setup.


If you are more comfortable with video tutorials, Nexx Alarm has many how-to videos showing steps to do almost everything with the unit. You can find these through links on their site when you create your account.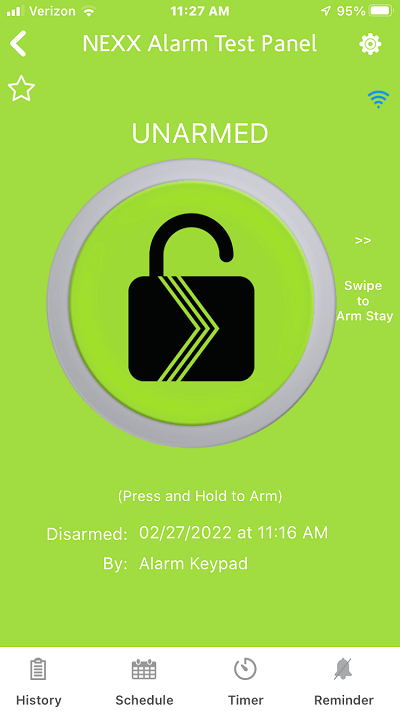 Arming and Disarming


After wiring up the NXAL-100, it connected with my home wifi network with no problems. I was able to view the status of the test system (armed or disarmed). I was also able to arm using the hardwired keypad and through the Nexx Home app.

Note that when arming most alarm systems, regardless of brand or model, the main panel will not send a closing/armed report until the exit delay has expired (Typically 60 seconds or so) 
So, when testing, be sure to wait until exit delay ends before expecting to receive an "Armed" status message.
Alarm Reports

I was able to operate the alarm panel through the module, and I also received alerts when I tripped the alarm to test it, although there was a delay of 45-60 seconds.


The system also transmitted keypad Fire Panic and Medical Panic alarms just fine, but did not send alerts when I triggered the keypad Police Panic buttons. 



I contacted Ness Support via an email describing the problem, and got an automated reply acknowledging my request for help, followed shortly by an email letting me know that the issue was being escalated to their 2nd tier team.


The next day, I received an email from the support team that they were checking with the developers to see if the Police Panic was programmed to be recognized.

I heard nothing back in the next few days, and was busy with work and didn't work with the system at all.


A few days later, I tested the Police Panic buttons again and got an alarm  response on my iPhone within a few seconds. I then tripped a few burglary alarm signals, and also got alerts within a few seconds.

I'm not sure if anything was changed by Nexx Support, or if the initial missing and delayed alerts were due to something else. I hadn't had any issues with my wi-fi network, at least none that I had noticed.


Normal Operation Restored

Once the early missed and delayed signals problem was resolved, the Nexx reported armings, disarmings, zone, and panic alarms as expected.


I noticed that several other Nexx Smart Alarm reviews complained about the module losing and regaining connection to the home Wi-Fi network, resulting in numerous alerts of "system off-line'/"system back online". In my testing, covering several weeks, my test unit only lost connection twice, and both of these were through no fault with the Nexx unit:


Once was when the unit was moved for floor cleaning, and the data cable came loose from the Nexx module; the other was when I unplugged the entire test setup to move it to another room. In both cases, reconnecting the cable(s) got everything back up and running with no problems.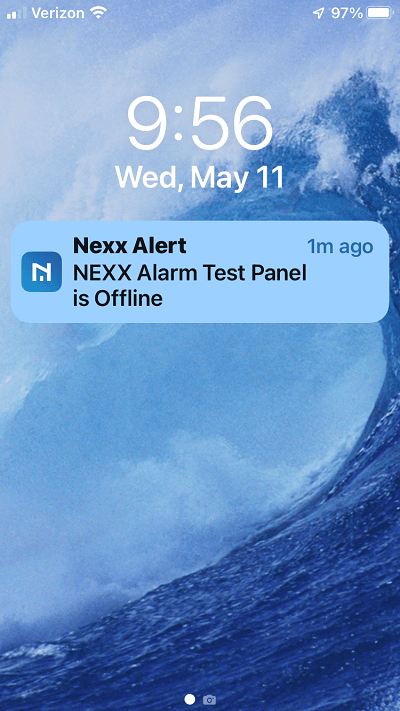 I suspect that the earlier reports of lost wi-fi connections have been fixed, since my test unit experienced no unexpected off-line issues.


Daily Usage


During the writing of this Nexx Smart Alarm review I left the test panel setup running for several weeks, putting it through many arming, disarming, and alarm cycles. The system reported all alarm signals, indicating time of the event and zone number. 


I occasionally armed and disarmed the system multiple times quickly, just to test the reporting reliability. The system failed to report some arming and disarming signals, which is actually to be expected. As explained in the above info box, because most alarm systems don't send an "Armed" report unless the programmed "Exit Delay" time is allowed to expire, disarming the system early will usually cancel both reports.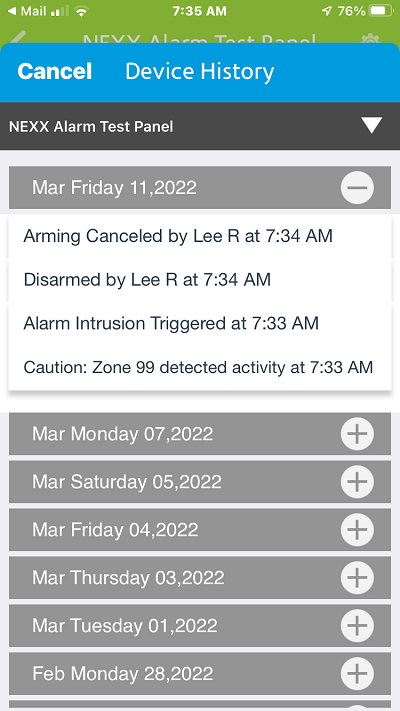 Summary/Conclusion

Overall, the Nexx Alarm NXAL-100 did a good job of monitoring my test panel. Remote control via the Nexx App was very prompt, as were alarm reports from the module back to the smartphone regarding system status.


Pro's of the Nexx Smart Alarm unit:
Allows remote access, control, and monitoring of many older systems
Cost of the unit is comparable to the only currently competitive product (The EnvisaLink EVL-4EZR by EyezOn, at about $120), but works with many more models of alarm system
Monthly cost is zero for Free Plan, and only $3/month for premium
No monthly contract
Installation of the actual module is relatively easy
Nexx Alarm works with a wider variety of older hardwired systems than anything else on the market as of this writing (May 2022)
Cons of the Nexx unit:
Initial missed 'Panic' signals, with no follow-up response from Support (Even so, issues DID clear up shortly)
Programming existing system for setup may be tedious for some owners (Though this is to be expected given the diverse variety of compatible systems)
Nexx Smart Alarm module relies on Wi-Fi connection, and may require the addition of a Wi-Fi extender /repeater or wireless access point for reliable operation
May require adding an upgraded Alpha keypad, to make programming easier

Hopefully, this Nexx Smart Alarm Review will help you decide whether or not the Nexx module is a good choice for your situation.


If you're still not sure if you want to self-monitor your own home alarm system, see this page for help in deciding what to do:

Should You Self Monitor Your Alarm System?
Limitations of Older Systems

Up until several years ago, all alarm panels that were designed to communicate over telephone landlines had no options for being controlled by smart devices.


Then, EyezOn introduced the EnvisaLink EVL-line of add-on modules. These devices enabled certain brands and models of alarm systems to interface with a home or business data network via a hardwired connection. This opened up a whole new way for owners of some older, pre-smartphone era alarm panels to get many of the features being offered in the latest systems. 


Even better, the EVL devices allowed these owners to self-monitor their existing systems for free. Of course, alarm monitoring is also offered, but it isn't required with the basic purchase of the EVL module.


Significance to Owners of Existing Systems
One of the things that frustrates many owners of older hardwired alarm systems is that the vast majority of newer alarms are wireless, with no provision for connecting hardwired devices. 


This means that all of the existing door and window contacts, as well as motion detectors, glassbreak sensors, and other hardwired devices, are rendered useless.


These hardwired resources represent a substantial investment, and replacing every hardwired  sensor and contact with (and expensive by comparison) wireless equivalent seems like a waste of money to most homeowners - And I agree completely!


Devices like the EVL and Nexx modules give many hardwired alarms a 'new lease on life' with more modern features and monitoring options, and I think this is a great thing! Replacing an existing hardwired alarm system (and its associated hardwired devices) that's still in perfect working order, just to achieve modern functionality, is a huge waste of resources.


The Nexx Alarm NXAL-100 lets homeowners self monitor their home alarm systems, with no monthly costs and no contract.

Learn more about the Envisalink EVL-4



Related Pages:

Should I Self Monitor My Alarm System?
Nexx Alarm Setup and Installation
Return to DIY Systems from Nexx Smart Alarm Review
Return to Home Security Systems Answers from Nexx Smart Alarm Review
If adding the Nexx Alarm module seems too involved for you, or if your system just isn't compatible with it, you may be thinking about upgrading to a new alarm system.
Most newer systems have modern features like remote smartphone control already built-in, eliminating the need for add-on modules completely.
You can get free alarm quotes from alarm dealers in your area by answering a few questions below.
The price quotes are completely free, and without any obligation to buy. 
Note: Feel free to print any of the articles on this site for personal, non-commercial use. Just look for this button:

If you found this website especially helpful, you might want to consider making a small donation. Since 2011, AzAlarmGuy has been providing free help and advice on home security systems to all of those in need.
Your gift, in any amount, will help me keep this website a free resource for anyone needing help with alarm system issues or questions.