How to Disable the Alarm System in Your Home
Most people will never have to disable the alarm system in their home. Rarely though, a malfunction will cause a security system to beep and/or go into alarm for no apparent reason. Your first instinct is probably to use your code to turn off the system, and this is the correct thing to do.

Unfortunately, some problems can prevent the keypads from communicating with the main panel. The keypads can then become unresponsive to the usual arm/disarm codes and other commands. If the alarm keeps going off, it may be necessary to shut down the system until service can be arranged.

If you have home alarm system monitoring, and/or use a home alarm company for service, call them before doing anything else. They know your system, and are in the best position to help you!

If you only have a beeping keypad, you may not need to disable the alarm. See "My Alarm Keeps Beeping - What Can I Do?"

WARNING: The instructions below show how to disable the alarm system found in many typical homes, without a code, regardless of make or model. They are intended for use only by the homeowner or other authorized person, to enable them to power down an alarm system in "runaway" condition.

ADDITIONAL WARNING: Many residential burglar alarm systems also have home smoke detectors connected to them. In these cases, shutting down the alarm system will not only disable alarm functions, it will also disable fire alarm protection.

If you must turn off an alarm system of this kind, have your alarm professional correct the alarm issues and restore the fire protection as soon as possible!





Before trying to disable the alarm system, check to make sure that it's actually the alarm system that's going off.


How can you be sure? Here are some tips:


In almost all cases, a security system in alarm will have keypads beeping or blaring, with lights flashing, and displaying an "Alarm", "Alarm Memory", or "Trouble" condition. The main siren, if any, will also sound until it times out, usually programmed for 10 minutes or so.
Smoke detectors that are tied to the alarm system will also cause the keypads to beep or show a trouble condition. A beeping noise that doesn't come from a keypad is likely not an alarm problem.
110-volt smoke alarms and stand-alone battery-powered smokes will often beep for a low back-up battery, but will not cause the keypads to beep.
Fire alarm beeping sounds are notoriously hard to locate, and a beeping smoke detector is often mistaken as being part of the alarm system. If you find that a smoke alarm keeps going off, see this page on How to Stop a Beeping Smoke Alarm.

If you're sure the problem lies with the security system, read on…

Where to Disable the Alarm System

Locate the main alarm panel, not to be confused with the alarm system keypads used to arm and disarm the system. For most systems, this will be a metal box located in a closet, laundry room, or utility area.

The metal enclosure contains the control circuitry and back-up battery, and connects to keypads and other devices with either wired or wireless technology.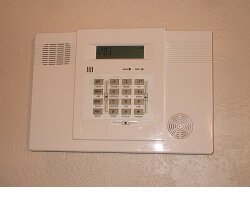 Wireless "all-in-one" systems, like the Ademco Lynx system above, have a main control console containing a keypad, sounder, circuit board, and back-up battery. Doors, windows, and motion sensors connect wirelessly to the main console.



Remove AC Power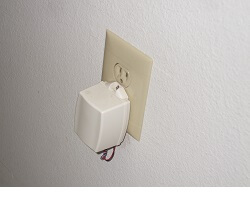 For either type of system, disable the alarm by first unplugging the low-voltage transformer. This will be a 3" cube-shaped module, plugged into a wall outlet, usually near the main control unit. Sometimes a screw is used to hold the transformer in place; if so, remove it.


If you can't unplug the transformer, or if you can't find it, don't panic. You can  disconnect its wiring when you open the main panel, which is the next step anyway.
Opening the Enclosure

For all-in-one units, disable the alarm by first separating the front face of the unit from its base. These usually snap together using hooks or tabs, and come apart easily by inserting a small screwdriver to release them.

For "standard" alarm systems with a metal enclosure, open the lid. It may be held shut with screws, which are easily removed, or secured with a lock.

If it has a lock, try to locate the key. Alarm panel keys are smaller than house keys and are often simply left on top of the panel enclosure. The image below shows an alarm key on the left, and a regular house key on the right.

If your panel uses a lock and you can't find the key, you have a few choices:
You can drill out the lock with a cordless or electric drill and 1/4" bit. If you ever decide to reactivate the system in the future, you can either replace the lock, or simply secure the lid with a screw.


You can also use a heavy straight-blade screwdriver to forcibly pry the lid open. Not pretty, but effective.


You can do nothing, and wait for the battery to run dead. This could take a while, depending on the condition it was in when you unplugged the transformer. Until it dies, you can tape a towel over the front of the keypad to reduce the beeping sound.


Call a local alarm company out to open the lid for you. This will cost you a service call charge, but it may be worth it depending on your stress and (dis)comfort level.
The alternative to disconnecting power is to locate and disconnect all keypads, sirens, and other sounders to silence the system.


Disconnect the Alarm System Battery


Once the panel is open, locate the back-up battery.

For standard alarm systems, this will be a brick-like unit resting in the bottom of the enclosure. Remove one of the leads from the battery by wiggling the connector from side to side while pulling.



For all-in-one panels, the battery can usually be unplugged where it connects to the main circuit board.

If you weren't able to find or remove the low-voltage transformer earlier, it can be disconnected now. At one end of the row of screw terminals, look for two screws marked "AC", "Power", or "XFMR". Any of these terms refers to the transformer connection.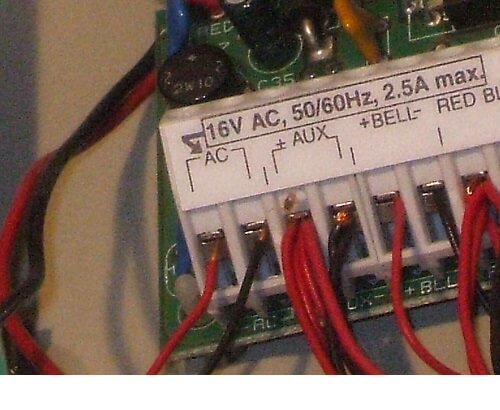 Use a screwdriver to loosen one of these screws, then pull the wire away from it. It doesn't matter which wire you remove; disconnecting either one (or both) will break the circuit and kill the AC power to the panel.


Also, the color of the wires doesn't matter. Unlike the battery, AC has no polarity, so your AC wires may be red and black, green and yellow, white and white, etc. If you later decide to reconnect the wires, it doesn't matter which wire goes to which terminal; if you accidentally reverse them, all will still work just fine.

This is low voltage, so there is no danger from electrical shock. However, don't allow this wire to come in contact with other wires, the circuit board, alarm enclosure, or anything else metal, or you could short out and blow the internal fuse in the transformer.

Move the wire well out of the way, or even better, wrap the bare wire with electrical tape.


Assess the Situation

At this point, the alarm system should be completely powered down and silent. If the alarm keeps going off, locate the source of the sound. Repeat the above steps to remove any electrical and/or battery power source it may have.


After you disable the alarm and all is quiet, you can relax a bit.
Congratulations! You've successfully silenced the system, and very likely saved yourself a chunk of change by avoiding a service call fee!

You can now decide on your best course of action, based on your situation:

If this was a deactivated home alarm going off, and you have no plans for activating and using it, your work is finished. Leave the battery and transformer disconnected, close up the panel, and forget about it.


If you have security monitoring, schedule a service call with your alarm company at the earliest convenience.



If the system is not monitored but you want to re-enable it, there are some simple steps you can take. These often include replacing a failing back-up battery, re-mounting loose alarm switches and magnets, and programming a user code.


If you have an older system that's starting to have problems, you may be thinking about replacing it.

To find out how much a new system might cost, get some free price quotes from alarm dealers in your area. Just answer a few questions below, and you'll receive your quotes via email.
These quotes are absolutely free!

For more help, see these Related Articles:

How to Replace an Alarm System Battery

Hardwire Contacts

Ademco Home Alarm System Code Programming

Ademco Manuals - How to Find and Download Them
Ademco Lynx System Code Programming
Return to Home Security Systems Answers from How to Disable the Alarm System


Return to DIY Home Security Systems from How to Disable the Alarm System
Note: Feel free to print any of the articles on this site for personal, non-commercial use. Just look for this button:

If you found this website especially helpful, you might want to consider making a small donation. Since 2011, AzAlarmGuy has been providing free help and advice on home security systems to all of those in need.
Your gift, in any amount, will help me keep this website a free resource for anyone needing help with alarm system issues or questions.