Considering a DIY Alarm System?
Why Now May Be The Best Time
A DIY alarm system can be a great choice for two big reasons:


The first is the economy. We're all trying to cut expenses, either by buying cheaper alternatives to the things we want, or by simply doing without.


Home security is not one of the things most of us would want to do without. So, you may be looking for a way to protect your home for less money.


The second reason to consider a do it yourself home alarm? It's something you're using right now: The Internet.
DIY security systems are available everywhere on the web. Most of them are sold in kits or packages, sized to fit different homes and budgets. Much of this alarm equipment is the same stuff used by professional alarm dealers. It's reliable, priced reasonably, and isn't all that hard to install.


So let's suppose you do your homework, and you find a DIY security system that you like. The price is great, a mere fraction of the estimate you got from a security company for a similar system. So you buy it. The system arrives, you open the package with your sweaty little hands, and you admire your shiny new parts.


The following weekend, you can't wait to start the installation. You choose locations, get the alarm devices mounted where they belong, and then start to program your system. Reading through the programming manual, you get completely confused. Can't figure it out. Stuck. Bummer!


But here's the good news: There's no need to panic!


Remember my second reason? Right, the Internet!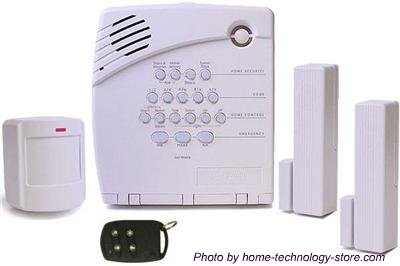 The DIY alarm system information available on the web is greater now than ever, and growing every day.


This site is just one example. There are DIY alarm forums, chatrooms, websites, and blogs devoted to DIY home security alarms. You can get security system help and information on installing and programming almost any do it yourself alarm system.
Do It Yourself Alarm Systems typically come with a programming and/or installation manual. This will give you, in riveting fashion, the "nuts and bolts" of getting the system installed and programmed. All useful information, as far as it goes…


Unlike printed alarm manuals, the Internet gives you access to millions of clever people. Many of them actually enjoy tweaking, tuning, and fiddling with diy alarm systems like yours. Look online, and you'll find lots of installation and programming tips and tricks.


If you've read this far, you just may be a "Do It Yourself Alarm" person. It's not for everybody, but those who do install their own home security system get a great feeling of accomplishment out of it. And, they save money!
Still not sure about getting a DIY alarm system?
Getting several price quotes from companies in your area will help you decide.

Once you know the cost, you'll know how much you can either spend or save.

Just answer a few questions below about what you're looking for in a system, provide an e-mail address, and you'll be sent free price quotes from alarm companies in your area.

There's no obligation, and no credit card information is needed.

Having price estimates will help you make a decision on whether to go the DIY alarm system route, or to step aside and let the professionals handle the job.
Return to Home-Security-Systems-Answers from DIY Alarm System

Return to DIY Home Security Systems from DIY Alarms
Note: Feel free to print any of the articles on this site for personal, non-commercial use. Just look for this button:

If you found this website especially helpful, you might want to consider making a small donation. Since 2011, AzAlarmGuy has been providing free help and advice on home security systems to all of those in need.
Your gift, in any amount, will help me keep this website a free resource for anyone needing help with alarm system issues or questions.