Brinks Home Security Help
Beeping Keypads
Brinks Keypad Trouble Light
Finding Manuals
Resetting Systems

This article is intended to help those who already have Brinks home security systems in their homes, and who are dealing with various problems as the equipment ages.

If you're having trouble with a failing keypad, see this Brinks page for help.


In June of 2018, MONI Smart Security acquired the branding rights for the "Brinks" name, and is now operating as Brinks Home Security.
Click here if you're looking for information on the NEW Brinks Home Security systems.
For help with original Brinks equipment (older than 2018), read on...


"My Brinks Alarm Keeps Beeping – What Can I Do?"
If your Brinks security system beeps the keypads, it could be for a variety of reasons. Two of the most common causes are communication failure and a low battery condition.
Low Battery
- "Low Batt" Trouble

A Brinks security system low battery condition is easy to recognize - the keypad display will show "Low Batt" followed by a service phone number. Silence the beeping by pressing the "Cancel" button. Replacing your Brinks battery is fairly easy, as described on this page: DIY Alarm System Battery Replacement.



Communication Failure


Brinks Security "CP" Trouble
If your Brinks alarm reads "CP TROUBLE" and beeps the keypad, it indicates a "Communication Problem". This usually happens when the phone line is disconnected from the panel. When the panel tries to call the central station to send its 24-hour test or other alarm signal, it can't get through and will begin beeping.

To temporarily stop the beeping, press the "Cancel" button. This will silence the beeps until the next reportable event or test time occurs.


The only way to permanently stop this beeping is to reprogram your Brinks home security system to NOT send the 24 hour test and/or the alarm reporting signals. For most other alarm brands, this is easily done using the programming manual. However, as mentioned below, Brinks equipment is proprietary, and programming manuals aren't available. Without the programming information, there is no way to change anything in the system.

You could probably have ADT security do the programming, but they will very likely only help you if you're willing to sign up for home alarm monitoring. If you don't want to monitor with ADT, you're pretty much out of luck with the old system.


Your best bet? Replace the panel and keypads with modern equipment and enjoy the benefits.

See this page for a complete list of Brinks Trouble Codes.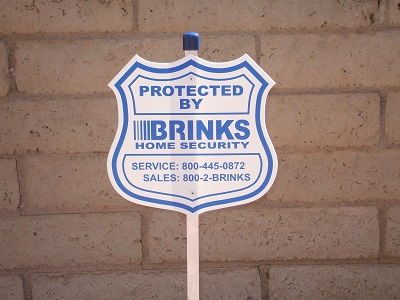 ---
Finding a Brinks Home Alarm Manual
Alarm User Manuals for all Brinks systems are readily available through several online sources. User manuals describe basic operation, how to program codes, bypassing zones, etc.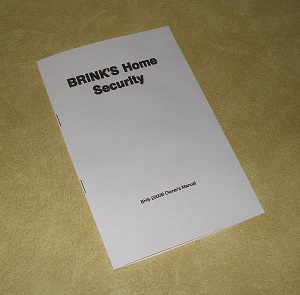 Finding a Brinks home security system programming manual is a different story. Brinks Inc. equipment has always been proprietary, meaning it can only be serviced by an authorized Brinks dealer. Since these no longer exist, there aren't many options.

ADT Security likely has the programming information, since they bought out Broadview/Brinks years ago. But, the age of most Brinks home alarm equipment makes it difficult to work with, even for alarm installers with the correct programming information.

ADT would most likely want to replace your older Brinks system with a much newer and user-friendly panel. This is a good thing, and would allow you to enjoy the smoother operation, flexibility, and improved features of a new alarm system.

You can find many older Brinks manuals, both User and Installer, at the Brinks page of Archive.org.
---
Resetting Brinks Keypads
How to Reset Brinks Alarm Systems After an Alarm

To turn the system off and cancel a sounding alarm, enter a valid 3-digit disarm code followed immediately by the "Cancel" key. This will send a signal to the central station telling them it was a false alarm.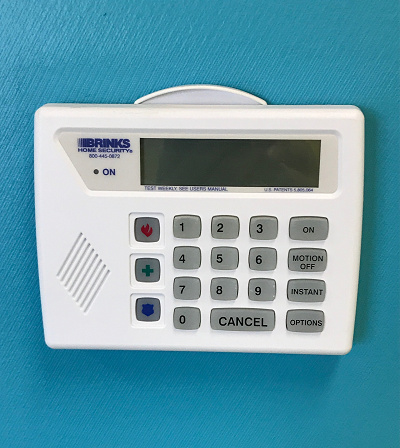 If the alarm occurred while you were out, just enter your disarm code. The keypad will beep and the display will flash the zone number(s) that caused the alarm. The display will then clear itself.


If you need to view the zones later, press the "Options" key until the display shows "Alarm Memory, Enter Code", then enter a valid 3-digit code.
---
How to Reset Brinks Home Security Fire Zones

If you accidentally trip a system smoke detector and the fire alarm is sounding, you can silence it by entering a valid code followed immediately by the "Cancel" button. If there is still smoke or dust in one of the detectors, the display will show the zone number, along with "Trouble".

The keypad will beep every 15 seconds. You can silence the beeping for 24 hours by pressing the "Cancel" key.

The system will automatically try to reset itself. If it cannot, the beeping will begin again after 30 minutes.
---
Replacing Brinks Home Security Systems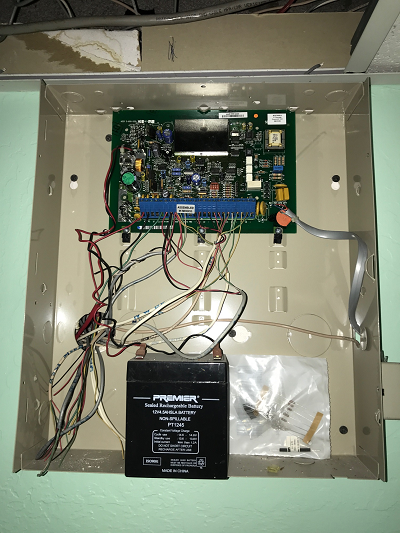 Unfortunately, there is no way to reset a Brinks master code. This is one of the major flaws in the design of Brinks home security panels, and one of the biggest reasons to upgrade an old system to something more modern. 
A visitor to this site contacted me about open-source software/code for interfacing with Brinks BHS-3000/4000 alarm systems that he has developed. This may be something you'll want to try before you decide to replace your system.

Here are some important points to consider:
Although replacement Brinks home security keypads can sometimes be found, these are all used equipment at this point. This means they will already have some unknown amount of "wear and tear" on them before you even get them


A new, modern system can easily be had these days for as little as $99, or even free in some cases, provided you go with monitoring. This makes spending money on a very old system much less cost effective than it used to be


If you own a smartphone or other web-enabled device, consider how handy it would be to use it to remotely arm and disarm your system. Many newer systems are designed to be smartphone-compatible from the ground up. If you happen to have (or plan to have) cameras, many systems also allow remote live viewing and playback on smart devices


If you do decide to replace the system, there is a little good news:
 All of your existing hardwire contacts on your doors and windows, and most likely the other hardwired devices such as motion detectors and glassbreak detectors can most likely be re-used. 

All that has to be replaced are the panel and keypads. Granted, this is an expense, but keep in mind that all original Brinks-branded equipment is, by now, several decades old. There isn't going to be much of a lifespan left in these components anyway.
To find out how much it would cost to replace your old Brinks system, just fill out the form below. You'll receive estimates by email, with no obligation to buy anything.
Related Articles

Brinks Security Systems - When to Hold'em, When to Fold'em
Brinks Security Alarm Help - Keypad Trouble Light and Trouble Codes, Low Battery Problems, Lost Master Code
New Brinks Security System Plans

Learn more about ADT security systems.
Help with ADT Alarm Battery Replacement.


Return to Home Security Systems Answers from Brinks Home Security Help

Return to Brinks Home Security Systems from Brinks Security Help
Note: Feel free to print any of the articles on this site for personal, non-commercial use. Just look for this button:

If you found this website especially helpful, you might want to consider making a small donation. Since 2011, AzAlarmGuy has been providing free help and advice on home security systems to all of those in need.
Your gift, in any amount, will help me keep this website a free resource for anyone needing help with alarm system issues or questions.