The MagLite LED Flashlight


And Other Small Flashlights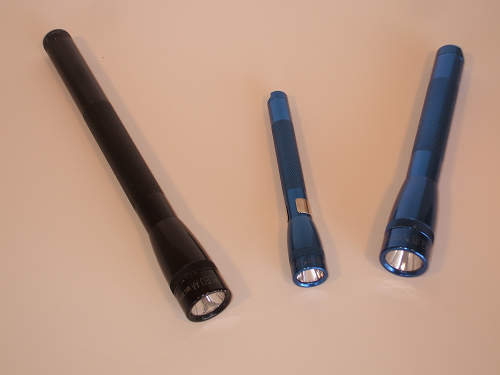 MagLite LED Flashlights in various sizes. From left to right:

(3) AA cell, (2) AAA cell, and (2) AA cell




A MagLite LED flashlight has been a "daily carry" item in my tool belt for years, as were the earlier, filament-bulb versions before that. MagLites are one of the best LED flashlights made; they are sturdy, reliable, and come in many sizes to fit almost any job.


They've also spawned many aftermarket accessories that make them even more useful, along with plenty of other LED aluminum flashlight copycats. Besides the Mag-Lite brand, similar pocket flashlights are also made by Garrity, Eveready, Rayovac, Energizer, and others.

The makers of the Mag Light flashlight are continually improving their product to keep pace with new technology (as well as staying ahead of the many knock-off products that mimic their design).
As an example, the last time I needed to replace a burned-out bulb in a well-worn incandescent-bulb Mag Lite several year ago, I instead bought the LED conversion parts. This increased the light output, battery life, and potential lifespan of my several-years-old existing Maglight, saving me the cost of total replacement.
MagLite LED Flashlight Accessories


Hands free flashlight accessories provide a way to position a MagLite LED flashlight (or a same-size copycat "Mag Light" flashlight) without your having to aim it manually. There are several products that perform this function:

The Bite Lite is a rubberized sleeve that slips over a standard Mini-Maglite, and allows you to hold it comfortably in your mouth. Not my favorite...But hey, different strokes, right?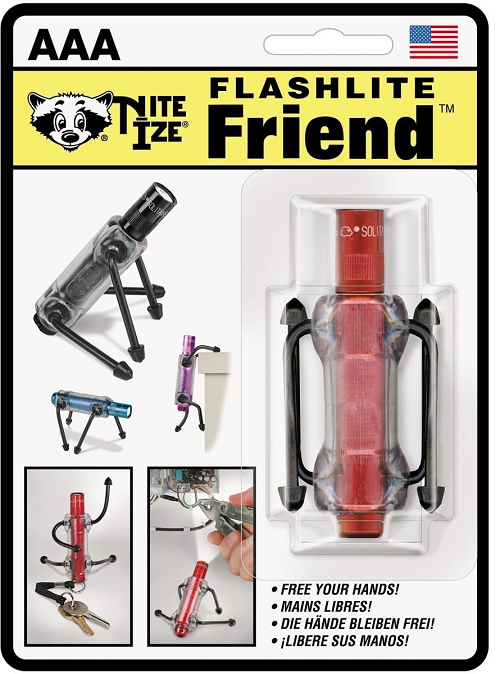 The Nite Ize Flashlite Friend Flashlight Holder slips over an "AA" or "AAA" powered Maglite (they make models for both), and has adjustable legs that allow you to aim the light wherever it's needed. I do have one of these, and it works well, but I've found it easier to use a small task light instead.
Also from Nite Ize, the Nite Ize Headband Flashlight Holder turns an "AA" or "AAA" size Maglite into a headband flashlight.

I used one of these for years, until it wore out. I then bought a Versalite 4 LED Headband Flashlight, which weighs less and is more comfortable than the MagLite flashlight and accessory.


If you don't already have a separate headlamp flashlight, the Nite Ize setup will work almost as well for keeping your hands free when crawling an attic or otherwise working in the dark.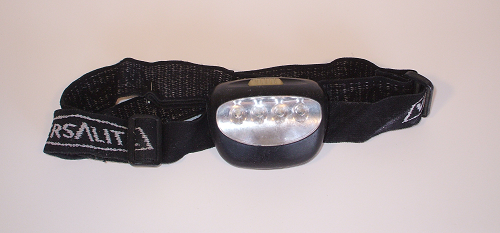 A Flashlight Holster comes standard with many Maglite packages. I almost never use them, since most of them attach with loops, not clips, and require threading your belt through them.
Call me lazy, but I just don't have the patience to thread, unthread, and rethread my belt through the pouch loop multiple times a day as I move in and out of a vehicle, up and down ladders, etc.
Small Flashlights with Clips, Hangers, and Magnets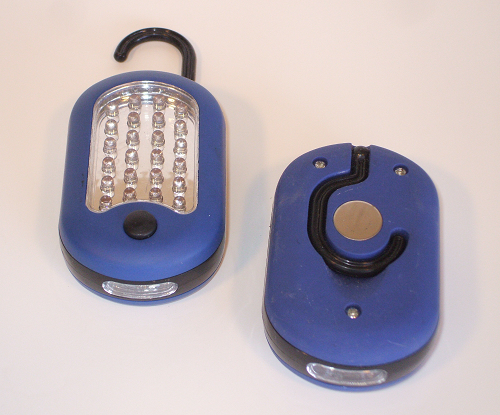 A category of lighting tool that has a million variations, these are smaller lights that  are designed to be easily placed in the immediate vicinity of your work. Some of these are very cheap flashlights.



Although "cheap" is often taken to be a negative adjective, it's not such a bad thing in this case. These flashlights  take a lot of abuse, and when they eventually break or wear out, I don't feel at all bad about replacing them.

Lights with a hanger hook and/or a magnet make placement as quick and easy as possible. These have worked well for me, and here's why:


The most useful (and cheapest, at about $4 on sale) units I've bought are from Harbor Freight, and use two or three "AA" or "AAA" batteries for power. Most of these portable lights have two banks of LED's, one set facing forward like a narrow spotlight flashlight, and the other, larger set facing out or away from the body of the light for area lighting. The light groups are powered up with repeated presses of a single "ON/OFF" button.



I like these because they can be stuck on a metal alarm can or shelf bracket using the magnet for attachment. They can also be hung from wiring, brackets, etc., using the hanger hook.


Larger Utility Lights

These include battery-operated or 110-volt corded drop lights, many of which use LEDs.


For lighting larger areas, I like a 110-volt corded fluorescent work light. If AC power isn't available, a battery-powered lantern will do.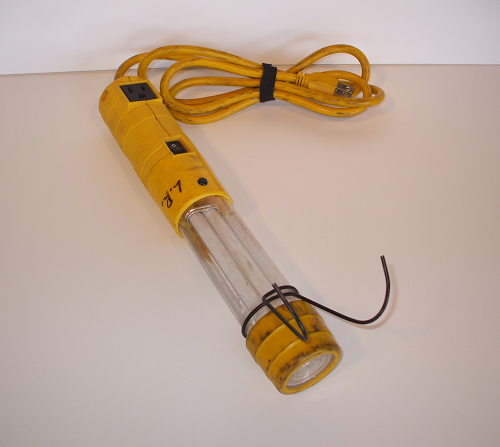 I have been using a corded Bayco fluorescent light for years, and it's been very reliable. I like the fact that it has a convenience outlet built in, so I can plug in a corded drill, battery charger, or even an electric fan to keep me comfortable in hot work areas.



I had never heard of the Bayco brand before, and wasn't sure what to expect from this light. I have to say, this light is very well-made and nearly bullet-proof. It's been dropped, tossed around, and abused without breaking, and it has never failed to work.

Corded lights like these provide far higher levels of light than my MagLite LED flashlight could ever do. Plenty of light is needed for longer, more involved tasks, like mounting or wiring a new panel, or changing out an alarm system.


Higher light levels help reduce eye strain, and make it easier to see all areas of an alarm circuit board, enclosure, or other work area.




Related Articles:

Wire Stripper Tools, Cutters, and Crimpers

The All in One Screwdriver and Other Useful Screwdrivers

The Digital Multimeter as an Alarm Installation Tool

Using a Tone and Probe Kit for Finding Cut Alarm Wires

Using a Continuity Tester for Alarm Installation and Service

Electrician Tool Pouch And Other Tool Bags and Buckets
Not sure you have the skills needed to install an alarm system yourself?

Or, do you have plenty of skills, but not enough time?
I understand completely. These are two of the reasons I've partnered with BuyerZone. Using their connections with alarm dealers across the country, you can quickly get free alarm quotes from companies in your area.


Just answer a few easy questions below, and you'll receive your free price quotes shortly.

Try it now!



Return to Alarm Installation Tools from MagLite LED Flashlight

Return to Home Security Systems Answers from MagLite LED Flashlight
Note: Feel free to print any of the articles on this site for personal, non-commercial use. Just look for this button:

If you found this website especially helpful, you might want to consider making a small donation. Since 2011, AzAlarmGuy has been providing free help and advice on home security systems to all of those in need.
Your gift, in any amount, will help me keep this website a free resource for anyone needing help with alarm system issues or questions.