Electrician Tool Pouch
And Other Tool Bags and Buckets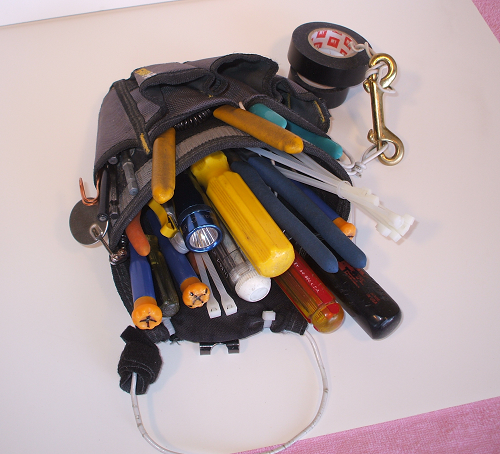 An electrician tool pouch is just about the right size to carry the essential alarm tools for daily work, without being so big that you won't want to lug it around.


There are so many sizes and types of tool pouches, bags, and belts available these days that it can be hard to choose what to buy. Here are my thoughts, based on what I've found to work best for me.

The Electrician Tool Pouch for Everyday Hand Tools
My top priority is having the tools I use most often within easy reach. I've found the easiest way to do this using two different tool bag set-ups: A clip-on pouch, and a utility belt with bags.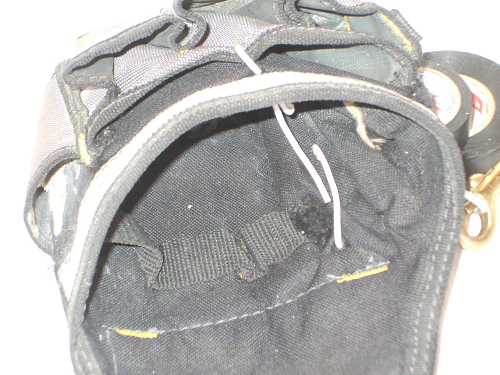 Romex dividers keep tools separated

and standing up so they're easy to grab


For day-to-day use, I use a fairly small, clip-on electrician's tool pouch made by AWP HP from Lowe's Home Improvement (under $15.) I refer to it as a "clip on" pouch, but it also has a belt tunnel in the top section; I jsut never use it that way. Pouches very similar to this one are made by Irwin, CLC, DeWalt, and others.
I believe my AWPHP pouch was sold as a "10-pocket tool pouch", but I have further subdivided the pockets using scraps of 14-gauge Romex wire punched through the ballistic nylon fabric.
The Romex subdivisions help keep my crimping tool and the longer screwdrivers from flopping down out of easy reach inside the pouch. I've been modifying all of my tool pouches this way for years, and it's a quick and easy way to customize your toolbag to work well with your particular hand tools.

The pouch holds a wire stripper, crimping tool, combination screwdriver, several specialty drivers, a MagLite LED flashlight, rolls of tape, and other small items I need for the most common home security jobs.


I also added a handle loop of 14 AWG Romex to the top of the electrician tool pouch to make it easier to pick up and carry.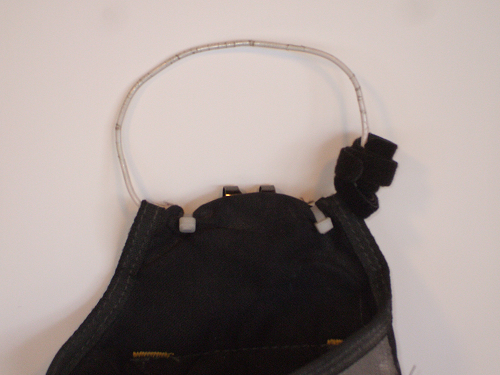 When wearing a small tool pouch, I much prefer a belt clip rather than a belt loop. I need to be able to remove and replace the pouch when getting in and out of a vehicle, working at floor level, or in a confined space. This can happen many times during a day, and removing and then re-threading my regular blue jeans belt through a fixed belt loop or tunnel each time is just too much trouble for me.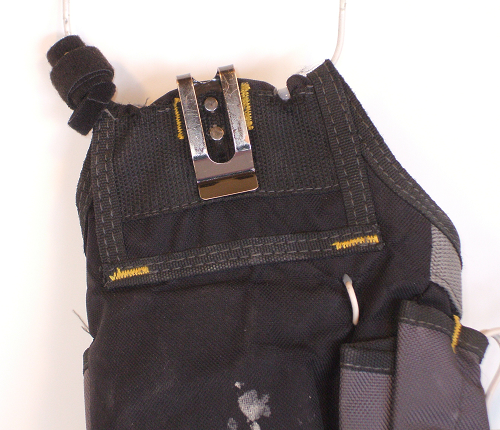 I also like a belt clip tool pouch because I don't always have to wear it. Instead, the clip can be hung on the edge of a tool bucket, ladder spreader, or other convenient surface. Depending on what you're working on, this will often keep your tools more accessible than they would be if they were clipped to your belt.

 


Belt with Synthetic and Leather Tool Pouches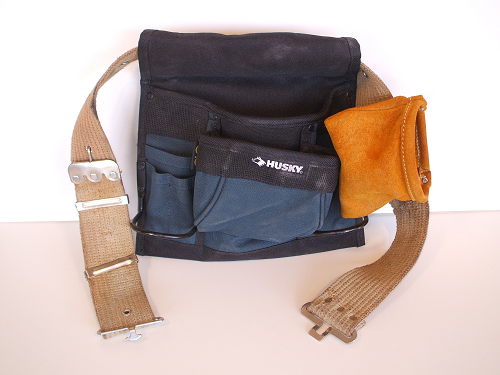 My second tool bag setup consists of a few different tool pouches and a hammer loop with their own dedicated web belt. I use this combination when I have to work on a ladder or other difficult to reach area, and need to bring along screws, anchors, or other loose parts as well as specific tools.
The main pouch is a larger version of the electrician tool pouch, with a few less pockets. It's a synthetic tool bag that fits on the web belt, and can be loaded up with whatever tools are needed at the time.
My cordless Hitachi drill/driver is small enough to fit into the largest compartment of the synthetic bag, if necessary.
A second leather bag with an open top can hold screws and loose parts. If you use plastic or metal anchors, drywall and sheet metal screws, and similar items, a pouch like this is perfect.


Before getting to work, I just transfer a few necessary tools from my tool bucket and/or pouch, add whatever fasteners or parts I need into the leather tool bag, and it's ready to go.
The beauty of the tool belt-and-pouches setup is that you can buy several different kinds of individual or multi-compartment pouches, bags, hammer hooks, cell phone holsters, drill holsters, etc. from almost any brand, and they will all work with the same belt. Just thread the bags you need for a given task onto the belt, load them up, and you're ready to work.

Tool Buckets, Bags, and Caddies
For tools you don't need for every job, a large tool bag or bucket works well. I use both, with the tool bag usually staying on the work truck, and the bucket being carried into the work area.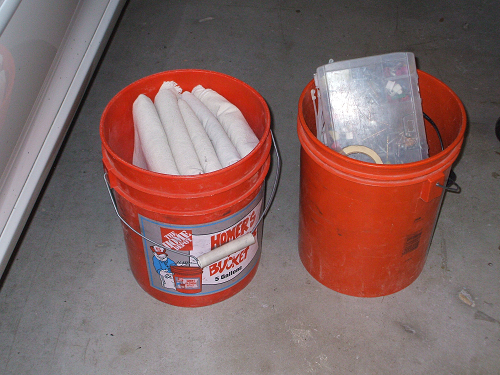 These days, tool buckets have become a more common item on job sites and in homes. Inspired, no doubt, by the empty 5-gallon paint buckets that resourceful workers have cleaned out and repurposed for tool-carrying duties, these are now sold  in new condition at Lowe's, the Home Depot, and many other outlets.




Tech Tip:

When I started working in the alarm business, my go-to "tool box" was a huge, 6-tray Flambeau fishing tackle box.

It had what seemed like a gazillion tiny trays and compartments, and it did a good job of holding all of my screws, bolts, nuts, connectors, and other small parts.

The biggest drawback was that it was an absolute nightmare to sort out when it occasionally rolled over in the back of the truck.

But, I digress...





I use two 5-gallon buckets to hold most of my everyday (and not-so-everyday) tools. One is fitted with a Bucket Boss multi-compartment tool holder, which, strangely enough, holds tools. It also has room to carry my electrician tool pouch when I'm not wearing it.



The other bucket holds drop cloths for use when I work over carpets or furniture, but also serves to carry job-specific tools, equipment, parts, etc. When turned upside-down, it also doubles as my seat when I need to work near floor level.
Rolling Toolboxes and Buckets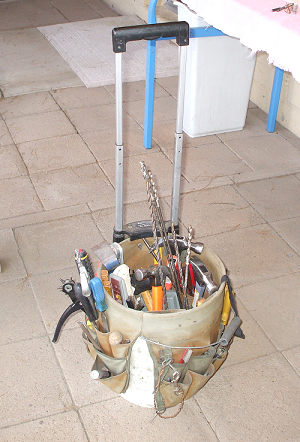 Bucket Boss Tool Organizer and Wheeled Cart Attachment
I've had a few wheeled tool buckets over the years, but they had a problem: They always seemed to be on the truck, not inside the area I was working.


The problem is that, at least for me, I tend to overload any wheeled tool holder so much that it's too heavy to move easily, especially over a dirt or gravel driveway or yard, or over stairs. This probably says more about me than the rolling tool bucket, since I see plenty of service trade people using them with no apparent problems.


If you're able to resist the urge to overload it, a wheeled tool holder makes good sense. It makes moving tools to and from a vehicle easier, and keeps anything that won't fit in an electrician tool pouch closer at hand.


Related Articles:

Wire Stripper Tools, Cutters, and Crimpers

The All in One Screwdriver and Other Useful Screwdrivers

The Digital Multimeter as an Alarm Installation Tool

Using a Tone and Probe Kit for Finding Cut Alarm Wires

Using a Continuity Tester for Alarm Installation and Service

MagLite LED Flashlight and Other Small Flashlights
---
Not sure you have the skills needed to install an alarm system yourself?

Or, do you have plenty of skills, but not enough time?
I understand completely. These are two of the reasons I've partnered with BuyerZone. Using their connections with alarm dealers across the country, you can quickly get free alarm quotes from companies in your area.


Just answer a few easy questions below, and you'll receive your free price quotes shortly.

Try it now!

Return to Alarm Installation tools from Electrician Tool Pouch

Return to Home Security Systems Answers from Electrician Tool Pouch
Note: Feel free to print any of the articles on this site for personal, non-commercial use. Just look for this button:

If you found this website especially helpful, you might want to consider making a small donation. Since 2011, AzAlarmGuy has been providing free help and advice on home security systems to all of those in need.
Your gift, in any amount, will help me keep this website a free resource for anyone needing help with alarm system issues or questions.