The All In One Screwdriver

and Other Useful Screwdrivers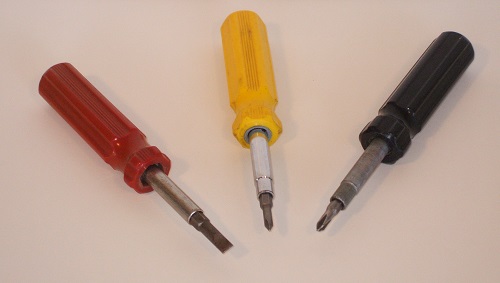 I've found that an all in one screwdriver, along with several other types of screwdrivers, are the best for various chores involved with alarm installation. These include:


    A 6 in One Screwdriver

    Various Specialty Screwdrivers
    A Pocket Screwdriver with Magnet
Here is a rundown of what each of these are best used for, and why I've settled on them.
All in one Screwdrivers

6-in-1, 4-in-1, and other multi-tip or combination screwdrivers can help you to keep a tool pouch as light as possible, while still giving you good versatility.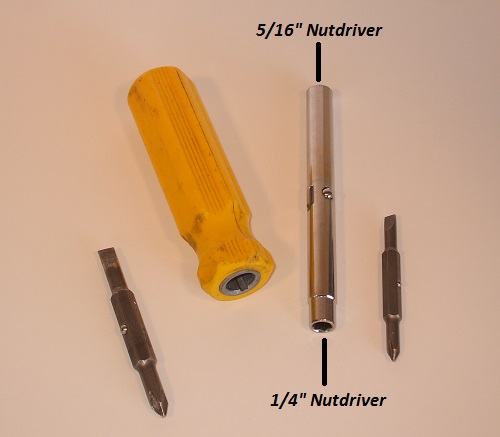 I like the 6 in 1 screwdriver because it covers the vast majority of "regular" screwdriving tasks. 6-in-1's usually contain a small and large flat-tip bit, and a small and large Phillips bit. That's 4 of the 6 functions; the other two are the "socket" ends of the bit holder shaft. These act perfectly as nut drivers, and on my favorite screwdriver are sizes ¼" and 5/16".

Of course, there are also many 4 in 1 screwdrivers available. The typical 4-in-1 has similar flat-blade and Phillips screwdriver sizes as the 6 in 1, but has the same size hex socket on both ends, so you only get one size for use as a nut driver.
Since both of these all-in-one screwdrivers tend to cost the same, why not have the extra nut driver of the 6-in-1?
Specialty Screwdrivers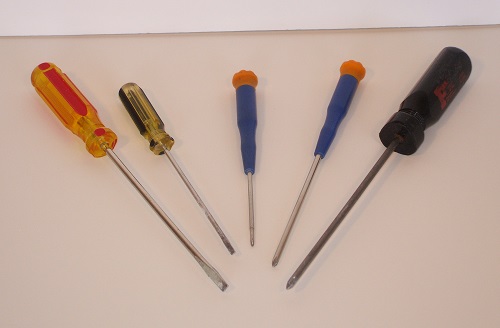 An all in one screwdriver will take care of most of your fastener work. But, certain alarm jobs are easier to do with a particular type of screwdriver that isn't included in the combination screwdriver. For me, I've settled on these:


Phillips Screwdriver with a 6" long, 3/16" diameter blade. This is ideal for reaching through the mounting ears of 66 punchdown block standoffs when removing or installing them. An all-in-one screwdriver, and most standard-blade Phillips drivers won't reach or fit through the narrow space.


Flat blade screwdriver with ⅛" blade. Small screwdrivers like these are perfect for making holes in drywall for plastic anchors; just twist and push until the blade penetrates the drywall, then wobble the blade around in circles to widen the hole enough for a snug fit for whatever size anchors you're using.


Flat-blade screwdriver with heavy blade. I use this for general prying, chipping, bashing, or other things we tend to use screwdrivers for, so you can avoid ruining your good ones.


Pocket Screwdriver with magnet. Unlike an all in one screwdriver, which must be carried in a tool pouch, a pocket screwdriver is small enough to carry all the time.
The magnet feature is especially handy for alarm work. Among many chores I've used mine for:


Turning smaller slotted screws of all types, including terminal screws, like those found on DSC panels.


In a pinch, it will turn Phillips head screws and various tamper-resistant screws, if they are close to the right size and not too tight.


A pocket screwdriver can also be used to turn larger slotted screws, like those found on exterior telephone interface boxes. Just lay the screwdriver sideways in the slot, and use it as a lever to break the screw loose.


The magnet can be used to trigger a magnetic contact for testing. When used with a continuity beeper connected to the alarm loop, you can easily hear when the switch 'makes" and "breaks" contact.


-The magnet can be used to test door and window frames for the presence of steel, which can help you decide what type of contact to install.


The magnet will pick up small screws and other parts from a parts case. It will also retrieve dropped parts that land in tight spots you can't fit your hand into.
Most pocket screwdrivers have a clip. I prefer a pocket clip screwdriver with the clip molded into the handle, rather than a slide-on clip. The molded-in clip gives you extra turning force for stubborn screws, while the slip-on clip will just spin when twisted.
Battery Powered Screwdrivers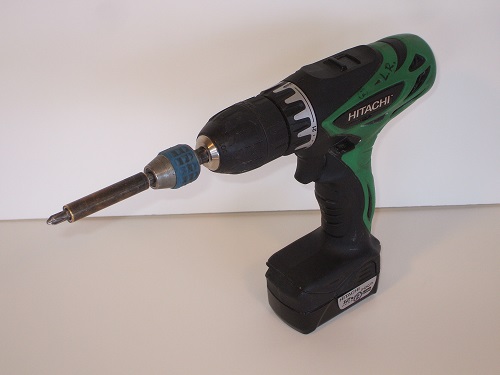 An electric screwdriver drill reduces time and effort spent on repetitive screwdriving jobs. I've owned and used many different types of these screwdrivers, and I've settled on a favorite: A Hitachi 12V cordless screwdriver.


The model DS 10DP is a two-speed cordless drill/screwdriver with surprising power for its size. The lithium ion batteries in this Hitachi cordless screwdriver will go for weeks without recharging, so it's always ready to work when I need it to.


This Hitachi also has an adjustable clutch, which lets me drive smaller screws and other delicate work quickly without overdoing it.


While this lithium-ion cordless screwdriver does have a single, trigger-activated LED to light up the work area, it's probably its worst feature. The LED is just above the trigger, below the chuck, so the chuck blocks almost all of the light around the tip of the screwdriver or drill in use. For drilling/driving in a darkened area, I use my Mag-Lite or other task light to see what I'm doing.


I actually own two of these Hitachi drill/drivers. I keep one of them on the truck, and the other in my home tool area. This eliminates the dreaded "where did I leave my power screwdriver?" Problem when I forget to put the home drill back on the truck.



For jobs where a Cordless Power Screwdriver isn't enough, I always have a corded 110-volt drill with quick-change socket and screwdriver bits.
Related Articles:

Wire Stripper Tools, Cutters, and Crimpers
The Digital Multimeter as an Alarm Installation Tool
Using a Tone and Probe Kit for Finding Cut Alarm Wires
Using a Continuity Tester for Alarm Installation and Service
MagLite LED Flashlight and Other Small Flashlights
Electrician Tool Pouch And Other Tool Bags and Buckets
---


Return to Alarm Installation Tools from All in One Screwdriver


Return to Home Security Systems Answers from All in One Screwdriver
Note: Feel free to print any of the articles on this site for personal, non-commercial use. Just look for this button:

If you found this website especially helpful, you might want to consider making a small donation. Since 2011, AzAlarmGuy has been providing free help and advice on home security systems to all of those in need.
Your gift, in any amount, will help me keep this website a free resource for anyone needing help with alarm system issues or questions.