Radionics Security System
Keypad Commands for Older Systems

If you have ever used a Radionics security system, you probably know that the older models use a series of commands to perform various functions. These control how the system is armed and disarmed, programming functions, panic alarms, and more.

Panels using this format include the Radionics D8112, D6112, and D4112, and use keypads like the D420, D620, 626, 630, and 636, D1252, D1255, and others.
For years these commands remained consistent throughout the entire line of Radionics alarms. This consistent format meant that once customers (and installers) learned the commands for one Radionics model, they could use the same commands on any other model.

Radionics D1255 Keypad


More recent models of Radionics alarm systems have strayed from this command structure, which I think was a mistake. Having a set of "standard" commands just seems to make good sense to me. 


In any case, this page explains what the more popular original commands are, and how to use them.


As always, I recommend you also get a copy of the Radionics alarm manual for both your main panel and the keypads that are installed in your home. For help finding a manual, see this page on Radionics alarm manual sources.



Radionics Security System Keypad Commands


Command 1 – Arm All

Arms both perimeter and interior protection, and provides delay time for entry/exit zones. Used when leaving the home with no people or pets remaining inside.


Command 2 – Arm Instant

Arms perimeter protection only, with no delay time on entry/exit zones. Typically used to arm at night while staying home, and no other family members are expected to arrive home.


Command 3 – Arm Delay

Like Command 2, arms perimeter protection only, but preserves delay time for entry/exit zones. Used to arm at night while staying home, and other family members are expected to arrive home later.


Command 8 – Arm Partial


Arms perimeter protection only, with delays on entry/exit zones, AND bypasses any open perimeter zones. This is used when a bad door or window contact prevents the system from arming with any of the other commands.



Note:
The above functions of these four arming commands describe "typical" Radionics security system operation. In other words, this is what they do "right out of the box".

The installing alarm company may have programmed some zones to behave differently than the above basic descriptions.



Command 4
 
By itself, Command 4 is used to acknowledge a trouble condition, and will silence a beeping keypad. For help in doing this, see how to stop a beeping Radionics keypad.


For most models of Radionics security system, Command 4 can be followed by other digits to perform diagnostic functions. Command 40, for instance, will display the first of up to four trouble conditions in the trouble event buffer on 6112 and related systems. Command 40 can then be entered 3 more times to display the remaining trouble conditions in the buffer, if there are more than one.


Command 47

This command performs the "smoke detector reset" function on Radionics fire alarm systems and on combined burglary/fire panels with fire alarm monitoring. This reset momentarily drops power to the 2-wire smoke detector loop, resetting tripped smoke detectors to normal operation.


Check the burglar alarm manuals for your specific Radionics security system and keypad for detailed use of other Command 4 functions.


Command 5 – Code Programming

For 4112 and 6112 systems, Command 5 is used to reprogram a code. The format is:

Command 5 
(Old code) Enter
(New code) Enter
(New code) Enter

The new code must be entered twice, and both entries must match or the code will revert back to the old value. (Note that some keypads may have an "ENT" key rather than "ENTER".)


For the 8112 Radionics system, code changes are started by entering Command 55. Since code changes on the 8112 can be tricky, please refer to the detailed instructions in the D1252, D1255, or other Keypad User Manual.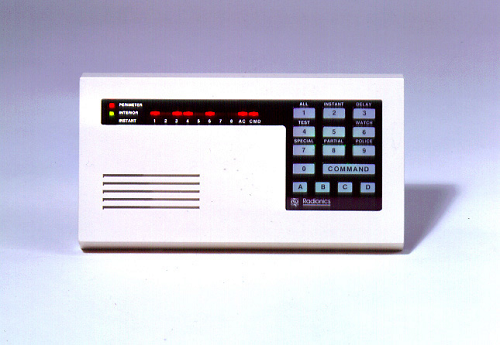 Command 6 – Perimeter Watch Mode

Toggles the Watch Mode on and off. This is known as the "Chime" feature on other brands of alarm system, and it causes the keypads to emit a sound when any perimeter zone is faulted. Depending on the model of Radionics security system, this sound can be a long or short beep, or a pulse of rapid chirps.


Command 7 – Special

 This is typically used as a 24-hour feature. It will sound the sirens and keypads, and transmit a "fire panic" signal to the central station for systems that report to an alarm monitoring service.


Command 9 – Police Panic

This is a 24-hour police panic button. Typically, this sounds the sirens and keypads, and sends a "police panic" signal to the central station for systems using home alarm monitoring.


The behavior of both Command 7 and Command 9 functions can be changed through system programming, and the specific fire and police response (if any) can be controlled through special instructions in the central station automation software.


Command 0 – Bypass a Point

Command 00 – Unbypass a Point


These two allow you to selectively bypass and unbypass individual points on a Radionics security system. They were rarely used in most installations, since the most common need for bypassing was a faulted point due to a bad switch or mis-aligned magnet. In this case, it's simpler to use Command 8 to allow arming around the faulted point until service can be arranged.



Related Articles

Radionics Home Security - Keypad Commands for Newer Systems

Radionics Security Systems – How to Stop Beeping Keypads

Radionics Alarm Manual Sources
If you have an older system that's starting to have problems, you may be thinking about replacing it.

To find out how much a new system might cost, get some free price quotes from alarm dealers in your area. Just answer a few questions below, and you'll receive your quotes via email.
These quotes are absolutely free!
If you haven't done so already, get a few Free Home Security Systems Quotes from companies in your area.

This will give you a good idea of what it would cost to have a system installed, as well as how much you could save by doing it yourself.
Return to Home Security Systems Answers from Radionics Security System Keypad Commands

Return to Radionics Alarm Systems from Radionics Security Keypad Commands
Note: Feel free to print any of the articles on this site for personal, non-commercial use. Just look for this button:

If you found this website especially helpful, you might want to consider making a small donation. Since 2011, AzAlarmGuy has been providing free help and advice on home security systems to all of those in need.
Your gift, in any amount, will help me keep this website a free resource for anyone needing help with alarm system issues or questions.