DIY Alarm System Battery Replacement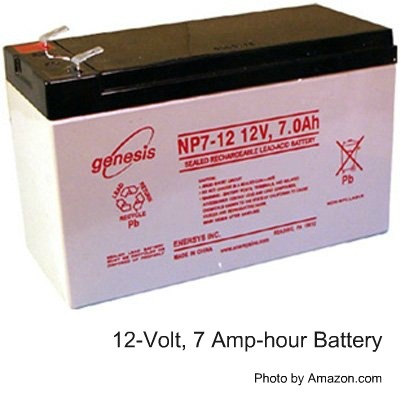 Your alarm system battery supplies backup power to operate your system during a power outage. Most alarm panels operate on 12-volts, and use one of a few different sizes of sealed lead-acid battery. Often referred to as SLA batteries, they're produced under brands like Casil, Power Sonic, Panasonic, and EnerSys Genesis (formerly Yuasa).
Battery capacity is measured in Amp-Hours, or AH, for larger batteries. Smaller batteries and battery packs are rated in Milliamp-Hours, or mAH.

After 3-5 years of service, a security alarm battery will be down to approximately 80% or less of its original rated capacity. This means it may not be able to run the system for very long in case of a power failure.

How to Know If You Need a New Battery
The first sign of alarm battery failure is usually a beeping keypad. The beeping or chirping will often occur at the same time every day (or night). This is because many panels do their automatic battery test every 24 hours. Less commonly, a low battery condition can cause false alarms at random times of the day or night.
Almost all alarm panels will also display a keypad trouble light to indicate a problem. Keypads with LCD displays will print out "low batt", "LB", or something similar. Keypads with LED's may need you to press a button or two for the lights to show the trouble condition.
You can find out how to read the system trouble codes from your alarm users' manual. If you don't have a manual for your alarm system, free downloads are available for many systems. For help, see my alarm system manual page.

For more help with beeping keypads, see these pages:
"My Alarm Keeps Beeping - What Can I Do?"
"My DSC Home Alarm is Beeping - Causes and Solutions"
Help with ADT Alarm Battery Replacement
If your system is beeping or in alarm and you can't silence it using your code, you may need to shut it down temporarily. For help, see this page on "How to Disable the Alarm System in Your Home".

---
If you have an older system that has more than just battery problems, you may be thinking about replacing it.

To find out how much a new system might cost, get some free price quotes from alarm dealers in your area. Just answer a few questions below, and you'll receive your quotes via email.

These quotes are absolutely free!