Alarm System Manual Sources
Finding Manuals for ADT, Ademco, Brinks/Broadview, DSC, GE, and More
   

Finding your Alarm System Model Number:
Finding an alarm system manual starts with knowing the brand and model of your system. Over the years, scores of manufacturers have produced many hundreds of different security panels, so you really need the brand and model info to narrow the search down to the right manual.
Most manufacturers usually place this information on a sticker inside the lid of the panel enclosure, but you may find partial model names or numbers on the outside of the enclosure too.
For decades, panelguides.com was the go-to source for manuals for virtually any brand and model of alarm system. Sadly, this resource was shut down in early 2017. This makes finding manuals a bit more difficult, but usually not impossible.

Note: If you need an Ademco alarm system manual, see my page on Ademco manuals.


Some alarm systems, most notably those from DSC, have two names: The Model Number and the Marketing Name. For example, the PC5010 (Model Number) is also known as the Power 832 (Marketing Name) which can be found on your control panel.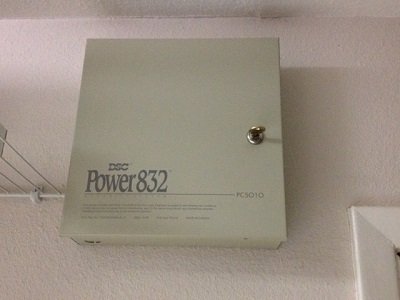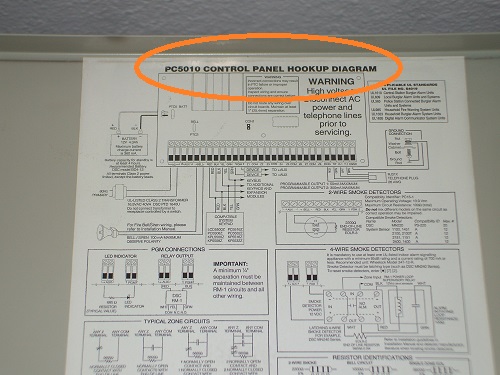 Types of Alarm Manuals


User Manuals
User Manuals, also called Owner Manuals, explain the everyday operation of the system, and only include basic, user-level programming instructions. A User Manual will typically show you in simple terms how to arm, disarm, bypass zones, and possibly change your own passcodes.

Functions covered in a User Manual usually include:
Arming/disarming the system
Finding faulted zones
Bypassing zones
Checking "Alarm Memory"
Turn "Chime" on/off
Limited code changes

Alarm User Manuals are widely available at no charge from many sites. Most manufacturers have a "Literature", "Manuals", or other support section on their website where you can download User Manuals. Aside from that, many third-party sites have User Manuals available for free download.

Installation and Programming Manuals
An Alarm Installation Manual is intended to help an alarm technician install and connect all components of a system. They usually don't have any background information on specific techniques for doing this; it is assumed that an experienced professional will be doing the work and has all the tools and skills needed.

Alarm Programming Manuals describe in detail how to access installer-level programming, and how to enter data to control every function of the panel.
Functions shown in Installation Manuals include all of the above, PLUS:
Changing all codes

, including Master and Installer Codes

Program system as reporting or local

Phone number to dial, if desired


Account number

Events to report, if desired


Zone definitions

Assign area partitions

All other aspects of system operation
Install and Programming Manuals are getting more difficult to find. Many alarm companies only share alarm system manuals with their own installers, and forbid third-party sites from posting manuals or programming sheets for public use. Other third-party sites, like Alarmsbc.com, charge a fee for them (although they still offer user manuals for free.)
The important thing to remember is that without an Installer and/or Programming Manual, you can't fully control how the panel works.
So, let's suppose you "inherit" an alarm system when you buy a new house. If the existing system was programmed to report to a central station, you have no way to turn that off without an Installer Code and  programming information.


If you're a do-it-yourselfer and you buy a new system, you will typically get a copy of each alarm system manual: alarm installation manual, programming manual, and user instructions included with the new panel purchase. These manuals may be either printed or on CD.
Links to Alarm System Manual Resources
Alarmsbc.com

Currently covers more brands than any other single resource.
Free User Manuals and paid Installation Manuals for dozens of models of alarm panel, including brands like:
Acron
Advisor
ADT
Ademco    

Alarm Lock   

Apex   

Aritech   

Arrowhead    

Brinks    

Caddx   

C&K   

Discovery    

DSC 

Detection Systems   

Eagle 

FBI  

Gemini  

Guardall  

First Alert  

ITI   

Magnum  Alert   

Menvier 

Networker   

Moose   

Nutech  

Napco    

Omni   

Paradox   

Radionics    

Ranger  

Scantronic
Silent  Knight
Sonitrol

 



InfoTechs.com

Free Ademco Installation and User Manuals.



DSC.com User

Free DSC Alarm User Manuals direct from the manufacturer.


DSC Install

Free DSC Installation Manuals direct from the manufacturer.


Geoarm.com

Free User Manuals for many brands, no Installation Manuals.

Good selection of free User Manuals, including:
    Acron
    Ademco (Honeywell International Inc.)
    ADT Security Services, Inc. (Tyco Fire & Security)
    Alarm Lock
    Apex (Honeywell Inernational Inc.)
    Aritech (GE Interlogix)
    Arrowhead (GE Interlogix)
    ATT
    Caddx (GE Interlogix)
    Detection Systems
    Discovery
    DMP - Digital Monitoring Products
    DSC - Digital Security Controls Ltd.
    FBII - Fire Burglary Instruments Inc. (Honeywell Int'l Inc.)
    Fire-Lite Alarms (Honeywell Inernational Inc.)
    First Alert (Honeywell International Inc.)
    Gardtec
    Guardall
    ITI - Interactive Technologies Inc. (GE Interlogix)
    Moose (GE Interlogix)
    Napco Security Systems
    Nutech (GE Interlogix)
    Omegalarm
    Optex Morse Inc.
    Paradox
    Radionics (BOSCH)
    Sentrol (GE Interlogix)
MyAlarm.com Install

Very limited selection of free Installation Manuals and Programming Sheets for GE and DSC panels.

Not sure you have the skills needed to install an alarm system yourself?

Or, do you have plenty of skills, but not enough time?

I understand completely. These are two of the reasons I've partnered with BuyerZone. Using their connections with alarm dealers across the country, you can quickly get free alarm quotes from companies in your area.


Just answer a few easy questions below, and you'll receive your free price quotes shortly.

Try it now!


There is no obligation to buy, and no credit card information is requested.
Return to Home Security Systems Answers from Alarm System Manaul Sources
Note: Feel free to print any of the articles on this site for personal, non-commercial use. Just look for this button: