Monitronics


Security Systems, Monitoring,
and More
After ADT security systems, Monitronics home security is the 2nd largest residential security provider in the nation as of 2014. They were founded in 1994, and have their headquarters in the Dallas-Fort Worth area. They protect well over one million customers.
The company has since rebranded to "MONI", or Monitronics International.

MONI uses local alarm dealers across the country to install and service their systems. Their dealer program authorizes over 600 dealers in the US, Canada, and Puerto Rico.

Like other national home alarm companies, they offer residential systems for security, fire and CO (carbon monoxide) protection. Their latest systems use wireless security products, which makes installation easy.
Available Packages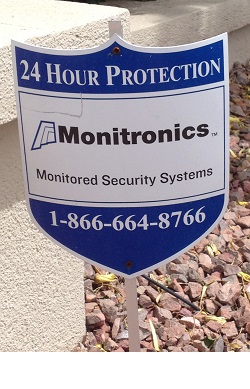 The company offers 3 packages with different levels of protection. All 3 include 24/7 alarm monitoring, and start at about $35 per month.
Within each level of protection, various upgrades are included in the price, with additional features available for an extra charge.

Basic Security
Their "Basic" residential security system includes:
(1) Color touch-screen control panel
(1) Key chain remote
(3) Door/window transmitters
(1) Pet-friendly motion sensor
(1) Yard sign
(4) Window stickers

HomeTouch Security
The next step up is "HomeTouch Security". This level includes everything you get in Basic level, plus:
Email and text alerts
Wireless cellular connection
Severe weather alerts
Remote security system access from your smartphone
HomeTouch Premier Security
The "HomeTouch Premier" level includes all of the above features, but adds extra equipment and more features. These include:
(2) Lighting controls
(1) Image sensor
2-Way voice verification
HomeTouch Premier also offers options for remote control of various home systems. These features allow you to integrate your security equipment with other systems in your house, including thermostats, appliances, lighting, electronic locks, etc.

This lets you adjust thermostat settings, turn lights and appliances on or off, and operate door locks. Those with home surveillance systems can even watch live and recorded images.

All of these functions can be controlled from a local or remote computer, smartphone, or tablet.
Alarm Reporting
This company seems to be embracing the idea of moving away from traditional land-line-based alarm systems toward cellular reporting. This will appeal to the growing number of homeowners who are choosing not to have a regular phone line. These customers instead use cell phones and data service for all of their communications, including their security systems.
Free Move Program
The "Free Move Program" is designed to make it easy to transfer your security protection and alarm contract from your old house to a new one.

The company will arrange to install and program a complete Monitronics security system in your new home, so that it's ready and waiting for you when the move happens. In many cases, you can even go to their company web site and schedule everything on line.
The Future of Monitronics
MONI is positioned to take full advantage of the growing trend toward combining home security, monitoring, and home automation.

Add to this the ability to view and control many of these functions from smartphones, iPads, and other mobile devices, and they will likely grow in popularity for years to come.
My Thoughts...
I can't help but wonder if ADT may attempt to acquire MONI at some point. After all, ADT has already bought out their previous major competition, Broadview Security (formerly Brinks alarm). This acquisition undoubtedly included many older systems, which were likely replaced in some cases.
By comparison, Monitronics is a younger company, and probably has more accounts with newer equipment. Many of these systems could simply be re-programmed to report to ADT monitoring stations.

This opinion is just my "two-cents"; I have no knowledge of what either of these alarm companies may or may not be planning…

As for quality, I've had very little experience with Monitronics systems. This tells me that their customers are either mostly happy, or that they don't own a telephone (!?). Seriously, I've heard some form of complaint about nearly every other major alarm company over the years, but I don't recall any about this one. That's strictly my opinion, based on my experience and not-so-perfect memory.
I did discover while writing this page that this alarm company won the 2012 and 2013 Consumers' Choice Award® for excellence in business and customer service.

Hmmm…

Maybe they are doing something right!


Pricing, packages, and offers vary, so for the latest information on available systems visit the Monitronics website.
For more details on the "Big 2" alarm companies in America, see "Monitronics Home Security - A Comparison with ADT".
If you haven't done so already, get a few
Free Alarm Quotes
from companies in your area. This will give you a good idea of what a system would cost to have installed, as well as how much you could save by doing it yourself.
There is no obligation to buy, and no credit card information is requested.
Return to Home Security Systems Answers from here
Note: Feel free to print any of the articles on this site for personal, non-commercial use. Just look for this button: